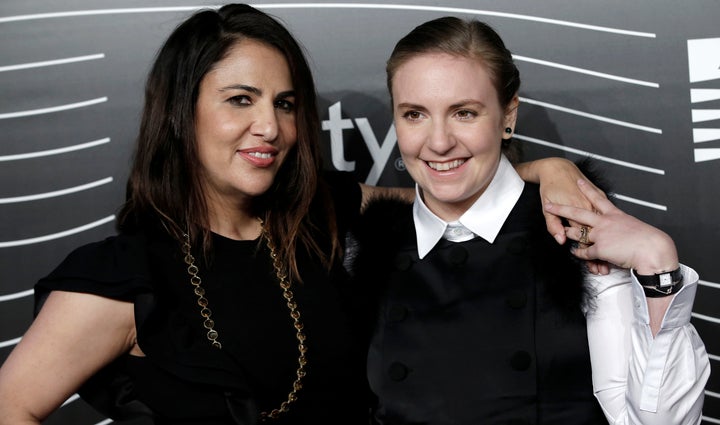 "Girls" producer, director and writer Jenni Konner is calling on women to speak up ― loudly ― when they experience sexism and misogyny. 
In "Our Voices Are Our Superpower," published yesterday on Lenny Letter, , Konner discussed an instance of fairly blatant sexism she witnessed alongside friend and colleague Lena Dunham earlier this week. Konner wrote that the director of a TV show "cornered" Dunham to ask her to have dinner with him and another actress.
"Not because he thought [Dunham and the other actress] should meet," wrote Konner, "but because he wanted Lena to persuade the actress to 'show her tits, or at least some vag' on TV."
This is something a man felt compelled to say to a Golden Globe–winning actor, showrunner, and best-selling author who just happens to be female. So it's easy to speculate what might be said to women working with him, under him, dependent on his approval. Despite Lena's obvious discomfort, he then went on to critique and crudely evaluate the bodies of all the women on his show.
Throughout the essay, Konner acknowledges that the sexual frankness of "Girls" ― and Dunham's own comfort with nudity ― often makes people feel like it's appropriate to say lewd things to or around her and Dunham. But it's not.
As Konner points out in her essay, there's a time and a place for such comments. And when those comments are made outside of that time and place, they cross a line:
Together with Lena and Judd we run one of the filthiest writers' rooms. You could argue we run one of the filthiest shows. Let me tell you why this is different. Why this isn't about taking a joke. The writers' room is a space where creative people need to feel safe taking chances. Even if they are offensive. Even if they are repulsive. This man approached a woman at a social gathering and asked her to help convince an actor to show her tits. It's another planet.
Konner wanted to write about this experience ― which, by the way, [just] happened on Tuesday ― because "the only thing standing between men and outdated, hideous behavior is their ability to get away with it."
Staying silent about these kinds of instances just enables more of them to happen, and Konner hopes to encourage all women to "call b.s." on the pervasive sexism they witness and experience. 
"Fear is what keeps us bound to situations that scare and antagonize us," she wrote. "Our voices are our superpower."
Calling all HuffPost superfans!
Sign up for membership to become a founding member and help shape HuffPost's next chapter
BEFORE YOU GO
PHOTO GALLERY
Lena Dunham