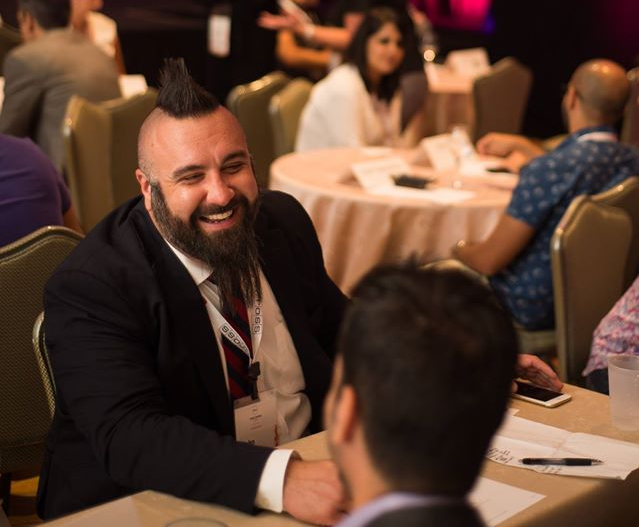 John Lemp isn't your average CEO. He started building companies at an age when most people were just starting high school. Today he's working on building Revcontent into the number one content recommendation service on the planet. It's the second time in his career Lemp has managed to leverage his previous experiences to build a multi-million dollar company from ground zero. I had a chance to sit down with John recently to talk about how his aspirations in the business came to be, and what the present and future of the industry hold for some of the business world's most recognizable brands. Here it is!
1.) Some of Revcontent's clients include PayPal, Reuters, Forbes, and more. How can Revcontent cater to similar brands that may want to reach their audience? How can they compete with the big boys?
We came together with this mission because we saw 7 years into this industry, native advertising and content recommendation was not all it was hyped up to be. We had friends at large media companies telling us the quality of advertising they were getting was horrendous, the revenue was nonexistent, and no one was willing to innovate and provide the user experience they desired. We have made a lot of mistakes along the way but we hope to continue pushing this market to create a better experience for consumers, media companies and brands alike.
There were two main players out in the content recommendation space. People were telling me the level of engagement and the rates they were getting, and they were embarrassing. They felt like there was not enough innovation, that there needed to be an alternative that gave them control and power.
So, we thought there was a need to give publishers and consumers what they want. I heard one of our engineers compare us to the iPhone of native networks - we weren't the first just as they weren't the first mp3 player, but we are the most simple and most empowering.
2.) Building a content recommendation network is definitely an innovative business model. How did you grow to become passionate about the idea?
Revcontent was built on a passion to help empower an open and free world of media and to protect the ideas and freedom of speech for people to share those ideas with the world. A passion to empower consumers as we help them navigate a truly personal web where they help define their own experience throughout that web, and a passion to help empower the media and publishing industry to continue innovating and growing with the revenue they deserve.
When Revcontent was founded, we were coming into a market where our competition had a 7 year jump on us, so we knew we had to be different from the start. The standards that we hold our publishers to is our biggest differentiation. We don't want to work with just anybody, and we are extremely selective. Having set standards is something we started with. We started with turning business down, only wanting to work with the best. We saw there was a race to the bottom in a lot of ways. Everyone is bragging that they have 80,000 or 100,000 people they are working with, but the quality of our network, content, and brands are so important.
Our goal (and we know we're still growing in this) is to create the best user experience possible. As an industry, the better we get at creating a great user experience, the better we can be. It's more than just us, we want to see the entire industry get better at that.
3.) Many people use content recommendation, content marketing and native advertising and assume they are all the same. Can you explain to the average person where Revcontent fits in?
The biggest thing is we don't see ourselves as a content recommendation network because we have such a different mindset. We see ourselves as empowering media brands and users; content recommendation is the result.
We want to empower discovery and help brands build relationships with their users. We came into this market 7 years too late, with $0 in funding, and have grown quickly. We saw a behemoth of a company come in and create this giant shift where media was becoming controlled. That's why we started - we see content recommendation as the first step to levelling the playing field for publishers. When we came into the market, we felt like we had to because there was no innovation, no focus on user experience.
People are consuming all their news from social media and the concept of the news feed. The more powerful and consolidated that gets, the scarier. If one company can power all the ideas, we destroy the ability to have open ideas and an open platform. If you look at the past 20 years of the explosion of culture, ideas, change, and innovation, it's all at risk in a closed platform.
Our vision is not one of content recommendation but one of open ideas and empowerment. The more we can power the openness of ideas with an open platform that anyone can access and compete with, that's what's exciting. Right now, it's not a level playing field with social media.
Our newest partnerships include The Atlantic, Fast Company, Inc.com, AskMen, and more. It seems there are some brilliant and innovative media executives that were willing to take chances on us over the last couple of years, and I don't believe it's an accident that they are from some of the most well-respected and fastest growing properties out there.
4.) What do you envision the future holds for Revcontent?
In the immediate future, we are going to see change and lots of it. Native advertising as we know it will be completely redefined. We are taking the first steps to empowering a future open and more personal web, a web where the user has the power to build the web they truly want, a web driven by and for them, a web that will change as they traverse it. This personalized web will once again empower media companies on an equal playing field - giving them the power to connect with people directly and not just within the walled garden of a rather large social network, which ultimately has supreme control over whether their ideas are to be seen or not.
This will create the power once again where any web page can become a destination to consume ideas and media, and where the open web and the freedom of ideas and expression it promises can always be protected.
Eventually these types of content will be all around us, and the Internet will not be contained to a web. I see a world where the web and the real world become one world driven by intelligence. The AI we are building right now for recommendations is the first step to leading to a more intelligent world around us, a world where this intelligence can lead to a future and deeper intelligence in robotics, a deeper intelligence in all systems and to make those systems open, so no one can slow down the power of the people and the ability for the future of media to build relationships with people wherever they are. It's our choice - an open world where media, innovation, and freedom flourish or a world defined and controlled by one single company.
5.) Revcontent has blown the competition out of the water and done it fast. What are some of your secrets to success?
When we were founded, we knew it was key for us to create values and make every decision by those values. The first thing we did to stop this downward cultural spiral was to ask the executives and the team what our values were, what made us different as a company, and what was the mission as they understood it. Then, we actually wrote down our mission and our values and used those to litmus test our future decisions.
For us, one of the biggest strategic decisions was to focus on people - whether it's our media partners, consumers or our employees. For consumers, we learn from them and connect with them to build a relationship. Our focus will always be on people in every area of our organization and I can confidently say that is our biggest differentiation and the sole reason for our growth.
Many people will tell you success is 'the opposite of' failure; that's a lie - 'it's the result of' failure.
So really, the answer is simple - We are growing because our publishers are growing and our publishers are growing because the performance and control is so far beyond our competition. It's completely disrupting the industry, and the CEO of Newsweek recently quoted, "We are tripling our competitors RPMs." We just hit 250 Billion content recommendations and with our current growth rate, in the next 12 months, we will be the largest content recommendation network in the world.
Related
Popular in the Community