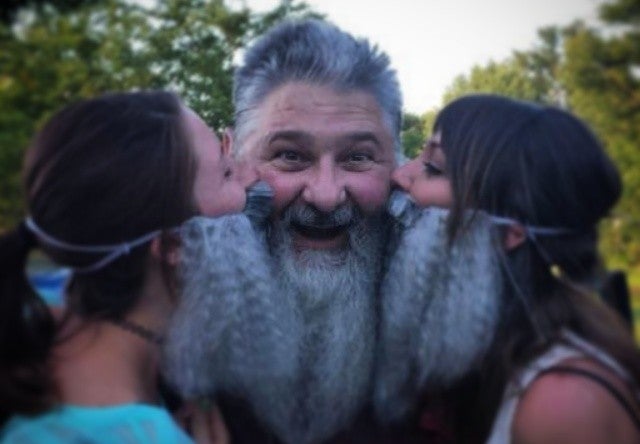 Kathy Manochi's smile always makes me smile. Not just responsively, but in my heart first.
No matter my mood. No matter the weather.
Kathy always has a smile filled with genuine love and kindness.
Kathy drives my first-grader's school bus; she has since my daughter's first big step up onto one as a 4-year-old preschooler.
Kathy has been there through our transition to full-day school; through a move to a new house; through a new, "not really OK" baby sister growing into a "she's my best friend" little sister; and through my first baby turning into a big-girl first grader. Kathy has been a consistent source of support for both my daughter and for me.
Every single parent I've ever talked to about Kathy feels this same way. She's somehow a family member in every child's family she's ever worked with, but we're not completely sure if she knows it.
Our family took a blow recently. Our entire community—all of these parents and school staff and neighbors who know Kathy's honest smile, dedication and generosity—have been shaken by the sudden death of her husband David. And while our "family" is taking this hard, Kathy and her three children with Dave were hit with a crisis.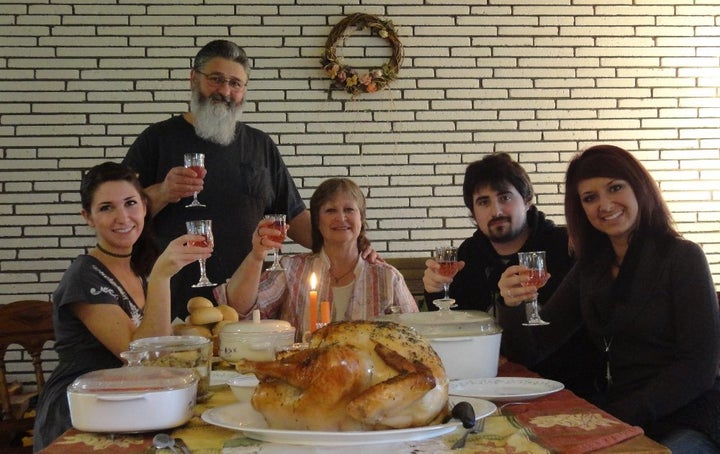 Crushing shock, overwhelming grief, and the devastating loss of her "soulmate" were weighted further by financial disaster. Mere days after Thanksgiving and their father's death, Kathy and Dave's kids started a Go Fund Me campaign to share what Kathy now faces. And to ask for help.
On the morning of November 30th, 2017, just days after our holiday family get together, we unexpectedly lost our father, David Manochi, to a sudden and tragic heart attack at the age of 60. He had many health struggles in his life, including multiple back surgeries and knee replacements, but his doctors always said he had a strong heart. We're all still in shock and disbelief that he is gone.
We affectionately called him Papa Bear, and we were his bear cubs. He was truly a family man, and all he wanted was to provide the best possible life and opportunities for his wife and children. He loved us all unconditionally and would go to any length to help us accomplish our goals. We will forever miss his laugh, the faces he made, the sparkle in his eyes, his epic beard, his confidence to fix anything, and his hugs, the best hugs in the world.
This has been beyond difficult for all of us, but its been especially crushing for our mother, Kathy Manochi. They knew they were soulmates from the very beginning, and they were each other's world. Through thick and thin, sickness and health, they never lost that feeling for each other. They were so proud of what they had, and accepting assistance from others has always been difficult for them. Unfortunately, due in part to medical bills for his back and knee surgeries over the years, they have been unable to afford life insurance for quite some time. Our mother could use as much financial support as possible to assist with the expenses of his passing and with the repairs of their home in preparation of now having to sell. If you'd like to donate, any amount you can give would be greatly appreciated.
Angie, Nichole, Ryan, and Kathy.
Ryan, Nichole and Angie are doing everything they can to help earn enough money to help their mother financially survive this, let alone begin to process the survival of a broken heart, while going through their own trauma.
Nichole says she didn't want her mom's story to end this way.
"This is all just still overwhelming as a family and individually," Nichole shared. "It hardly feels real still, in so many ways. It's hard to accept what our mom has to deal with financially, while feeling completely lost and scared of the world without her soulmate. It's also hard to accept that he won't be at any more birthdays, holidays, or just here to chat with or ask advice. He never got to walk his daughters down the aisle or be a grandpa...Our mom has always worked so hard, with multiple jobs to keep up with all the bills, including medical bills for all the surgeries and recovering our dad had to go through. She took care of him, did anything she could to make him happy or more comfortable. Our mom always put others first. Always offered a helping hand. Always showed love, not hate. She deserved to grow old with our dad and live out their dreams." She adds, "I'd do anything to have him back."
Ryan told about the help his dad had been to him in the month before his death.
"He'd been helping me fix up my house for the last month in preparation for me selling it and traveling the world. I've always been too consumed with my job as a restaurant manager, and I was finally breaking free from that. This last month was the most time I've gotten to spend with my dad in quite some time, and he was so happy to help and spend time with me. Once we finished with my house and got it sold, I was going to help him with their house and continue spending time with my parents, catching up for all the lost time after a decade of being a workaholic, which I may or may not have gotten from them. It's not ideal that an event like this is what really brings a family back together after all the cubs have gone forth into the world, but we're all incredibly lucky to have each other in our lives, and we're doing what we can to help each other and especially our mother get through this. She's experienced an outpouring of love and support from family, friends, coworkers and the community at large. She's so overwhelmed by that generosity and selflessness, and it's giving her back the strength that she's always generously and selflessly given to others."
Angie encapsulated this closely knit family's collective shock and devastation, as well as the lightness and ease their parents taught them to find during life's darkest moments.
"They were each other's world from the I dos. Not every moment was shiny, but they stuck through the hardships and found the light in life still by being together. They would both still have a sparkle in their eye for each other. Our parents have always been hard-workers and family and love focused since our brother was born, and our daddy declared our childhood the best time of his life. They both worked so hard to fill the home with love and magic and memories even while working crazy shifts and multiple jobs. After Dad's first back injury in his 30s, it became decades of recovery, surgery, recovery, surgery and on and on—it took a heavy toll. They still made taking care of each other and us kids priority. He eventually had to stop his two jobs [this loss causing the heavy financial strain—and the loss of life insurance], but he still kept on strong during and after best he could to help us and Mom. His fused lumbar and back pain and knees replacement complications and nerve damage was a constant struggle, and through it all our mom worked up to 60 or 70 hours a week 7 days a week with split shifts to still take care of and show love to our daddy during each recovery period...Dad didn't like not working or being useful though, so despite it all, he did housework, he repaired and fixed, he cooked, he'd make sure mom never had to scrape ice off the car. The work life and finances were a huge strain on them. Dad wanted mom to be able to stay home and it hurt him a lot, her constant struggle to make ends meet and keep each other happy. She was always ready to give if help was needed even though she was tired or in a pinch, too. Mom always kept a shiny smile and love and help for her students and work life. Dad was finally feeling more mobile—no more knee pain, just back. He was working on the house more and loved being able to do some yard stuff, even though he'd often over do because he wanted it done right—he always tried to not let his pain and struggle get in the way for as long as he could stand it. He was always a genuine teddy bear. He'd feel lonely while we were at work but whenever one of his kids would come his day was made. Our parents decided on everything together, they had dreams to retire and travel together; they made it so close. We feel our dad in everything because he's always a strong, loving, comforting energy. He'd cover the home in Christmas lights or hide hundreds of Easter eggs or turn the dining room into balloon gumdrop land every birthday. He'd read with scary voices and make us jump and giggle with the great sleeping bear or carpet sharks, he'd tear up during the best guitar solos, he loved space and stars, and This Old House and had read possibly a million books or more in his life. They loved seeing us at our baseball games or dance shows. Dad loved building the best Boy Scout derby cars with Ryan. His hope [he lived for] was to be there for his family: to see us married, have kids and to give to them, and grow old with his wife. Like Nichole said it still seems unreal. He has been to the hospital so many times, but every time he has come home—it still feels like he is home, we just can't get to him, just feel him and miss him and talk to him. We have so much love for our mom and dad, so many memories We always wished that we could have and can do more for them and give them rest and a break and happiness. Now we wish that for our mom."
As I take in these memories and descriptions of people who love one another more than anything else in the world, I feel their brightness—this inherited optimism and dedication—grow and build.
I have a child who loves school and looks forward to each morning when she gets to walk up the stairs on the bus, thanks to Kathy. Every single parent I've spoken to has experienced this same osmosis of her motivation, deep joy and fulfillment, and, when truly needed—like a gift—perseverance.
My daughter misses Kathy on the bus, in these absent days following such a tragic pause. She wants to have her back, and to have life continue as before.
How do you explain to a child how deeply life will never be the same?
How do you articulate to a child someone we love isn't OK in their heart, when even we adults can't process it?
One day, she asked exactly what we, our community, have been doing for Miss Kathy. I told her simply, "We're trying to change the end of her story."
This new ending is surreal, unwanted, and unplanned. But what if we can help her with this new start?
Giving back to this shining example of whom many of us try to be—hardworking, gracious, sincere—doesn't feel selfless. It feels necessary.
"Going through this has also helped open my eyes to things I need to work on, like not procrastinating, and finishing things I start, and living life to the fullest," Ryan said, "because there's no guarantee of tomorrow."