PARIS -- Parisian street artist Fred Le Chevalier didn't waste any time delivering a message of healing after terrorist attacks struck the French capital in November, one just steps from his home. 
He was out of town at the time and returned the next morning to find "broken glass and bullet casings everywhere" on his street near the Carillon bar, where gunmen fired on people sitting outdoors. He immediately began putting up his drawings. 
"I went to paste because people needed to heal, I couldn't stay shut in at home," Le Chevalier said. "I only pasted messages of love. I said to myself this is now part of our daily lives, we can't hide for 20 years. Otherwise, we're left with nothing." 
Dozens of artists posted widely shared images of solidarity and peace on social media after the attacks. Arguably one of the most powerful messages came from Le Chevalier, who took his trademark style of black-and-white figurines to walls and buildings near the attack sites. 
His drawings, which he describes on his website as Parisian "icons of Neo Street Art," were thrust into the spotlight after the attacks. His large-headed figurines with gentle eyes are usually depicted in various acts of love or happiness -- clutching a candle, playing music, drinking wine, running, laughing, holding hands with another figurine. Sometimes, he gives characters angel wings.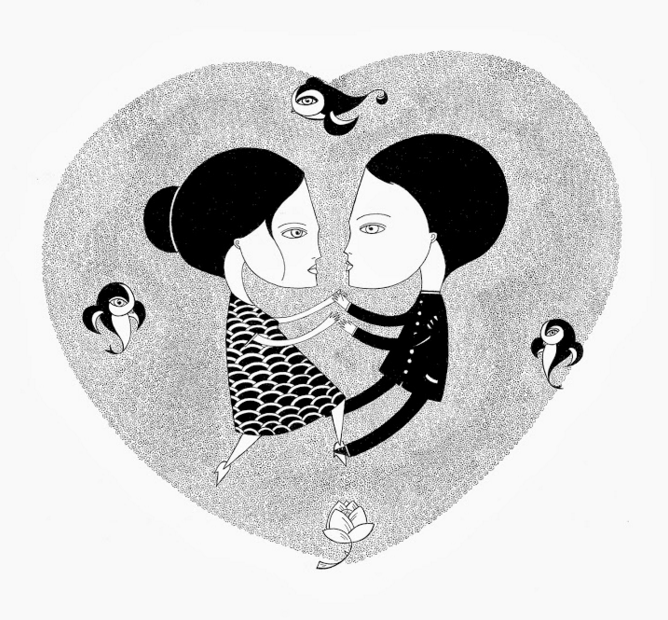 The 42-year-old rarely went to the Carillon bar, 130 feet from his home, but regularly frequented the pizzeria across the street. "I've gone back [to the pizzeria], but it was still kind of complicated to go in the weeks after the attack," he said. "During at least three weeks the flower memorials and people outside blocked the entrance."
Le Chevalier said his neighborhood was unrecognizable when he returned home on Saturday, Nov. 14. The streets were deserted. But "lots of people were in the streets by Sunday. I think they needed to see what happened and not be alone," he said.
He felt the same way after the Charlie Hebdo massacre last January. "I went to the Place de la République [the site where thousands gathered after the attacks] because I needed to not be alone," Le Chevalier said of the site that became a memorial to the victims. "But in November I didn't need to go anywhere. During the first two weeks, there was a constant TV presence; journalists, people all the time. It was stressful."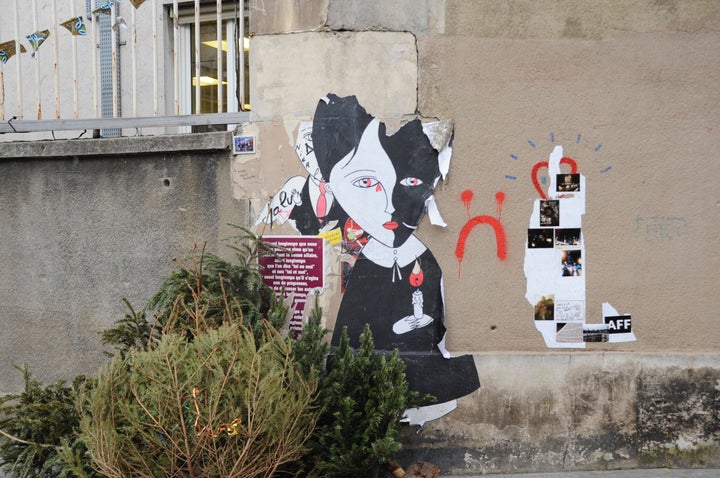 News reporters bombarded Le Chevalier in the days following the attacks, but he said he didn't feel ready to speak to anyone. 
Then he got a call from the sister of someone who had been killed in the attacks. She asked him to make a drawing for the coffin. "I couldn't say no," he said. "It was a rather beautiful moment."
Although concentrated across Paris, Le Chevalier's drawings can also be spotted in other cities across France, as well as in parts of Italy, the U.K., Belgium and Greece. He also conducts art workshops for young children at French public schools.
He has never received any formal artistic training, but decided to leave his job in education to pursue art several years ago, after receiving positive feedback to his drawings from people online. 
Le Chevalier appreciates street art because "you don't know whether it will be there for five minutes, or one year," he said on his website. "It's part of the game to know that they might disappear, and it's part of the beauty to know that they will disappear," he said. "It is a paradox."
I said to myself, 'This is now part of our daily lives, we can't hide for 20 years. Otherwise, we're left with nothing.'
He's reached a sort of harmony with police in Paris, who scold him for pasting onto buildings but ultimately let him do his work because the materials he uses are not permanent and cause no damage.
Unlike graffiti artists who often wait until nighttime to spray onto buildings, Le Chevalier works during the daytime.
He said he's proud that his work has become "a way of representing life and communicating with others" in solidarity.
Le Chevalier said he always pastes his work close to where he is, and many of his drawings fan the walls of buildings across the 10th arrondissement, or district, of Paris.
"These are my streets," he said. "I'm no longer just living in a world with myself, my work gives me the sense that I'm starting a dialogue with others." 
PHOTO GALLERY
Inspiring Reactions To Paris Attacks
Calling all HuffPost superfans!
Sign up for membership to become a founding member and help shape HuffPost's next chapter