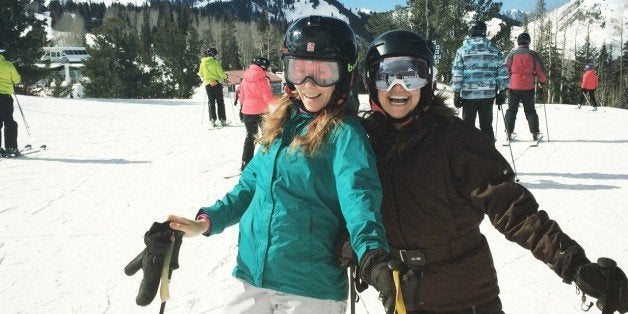 A ski trip had never given me the come hither. Aside from being remarkably uncoordinated and plagued by back problems, I reside in the bone chilling tundra of Chicago. Trekking to snow felt idiotic when I could revel in sub-zero temps at home. Friends raved about skiing as the ultimate family getaway. But, I always took the balmy route and booked beach vacations for my brood.
Then, an invitation arrived for a long weekend in Park City. I was tempted. Spring skiing in Utah, I was informed, is pleasant. The sun is shining and temps hover in the mid 40s. My husband whooped with laughter when I told him of the proposed trip out West. In between guffaws, he sputtered, "You haven't been on skis in 17 years!" His prediction: I would spend the morning in the spa and then indulge in the apres ski activities, Sans the ski element. His goading tipped the scales. Tickets were booked. Ski apparel was borrowed. Ibuprofen and many, many Thermacare back pain patches were tucked into my luggage.
The Canyons, Utah's massive 4000 acre ski and snowboard resort, was an easy 35 minute drive from Salt Lake City airport. The lure of this resort are the four ski in/ski out hotels at the mountain base. Factoring in the ability to exit the hotel (I was at the Grand Summit) and board a ski lift within five minutes is a huge bonus for neophytes like moi. Let's be honest. Layering up for this sport is hard enough. Not having to schlep the skis, boots and poles long distance is a game changer. I started on the bunny trail, tenuously maneuvering wide turns with fearless five year olds. Then, after the first run, my body remembered how to ski. Hip action! Forward thrust! Don't sit back! Flashbacks of forgotten high school ski trips came flooding back along with a mountain air inspired can-do confidence.
I whizzed past the pint sized and headed higher up the mountain. Snowy shock and middle aged awe: I was skiing! Without crippling back pain. On my fourth run down the mountain, I had an epiphany. Skiing was like Xanax. It forced the annoying twitter feed in my brain into mute so I could focus on the matter at hand: not falling on my ass. As much as I adore lazing poolside in a sultry destination, a tropical getaway cannot offer the peacefulness of a powdery ski run. And, just like that, I was sold. Feeling fit and totally chilled out was a state of mind I have been seeking (usually vis a vis yoga apps) for years. To learn how readily accessible it could be was thrilling.
I wasn't sure what to expect from a Salt Lake City adjacent town. In contrast to the turbo charged glamour of Aspen or Vail, I imagined a sweet mountain village populated with jolly Book of Mormon type characters. While this notion proved partially true, Park City's Main Street turned out to be vibrant with a snow- dusted edge of its own. The shopping was impressive, At Farasha, I found a brilliant leather cuff and deconstructed, plaid grandpa sweater both by young designers being nurtured by the shop owner Vanessa di Palma Wright. Carefully curated tabletop, art and home goods beckoned from Root'd. Cake felt like a slice of the West Village in Utah, a trendy boutique stocked with cozy knits, tees and denim for Park City's fashion flock. But, the happy surprise of this trip was the inspired local food scene. I was enamored with Silver, a bi-level restaurant whose progressive cuisine was mirrored by its laid back, luxe David Rockwell designed interior. Hearty dishes- risotto with speck, leeks and pea shoots, cobia and yam hash, baby octopus grilled with pimento spices- were washed down with crisp tequila cocktails that tasted of fresh mountain herbs.
I had never deemed brussel sprouts a standout menu item. That is, until I ate them at The Farm, The Canyons homey farm-to-table fine dining restaurant. Served with roasted butternut squash, toasted pumpkin seeds, dried cranberries, crisped-to-perfection bacon, grilled chicories and Slide Ridge honey vinaigrette, this textured dish was emblematic of Chef Steven Musolf's commitment to creating highly nuanced flavors with ingredients sourced from local (most within 200 miles of Park City) and regional farms. Entrees -the crispy vegetable marrow and maple glazed pork belly with sweet potato spoon bread and port soaked cranberries-were equally delightful.
I am not giving up the beach, but, I am definitely planning a yearly pilgrimage to Utah.