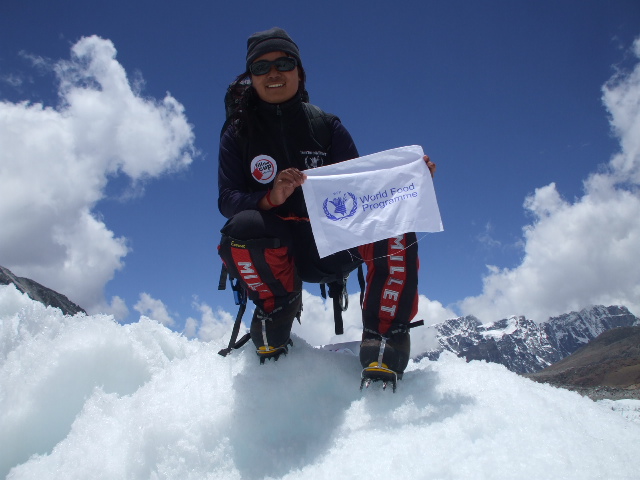 For an educated girl, the sky is truly the limit. For Nimdoma Sherpa, the chance to go to school fed her dreams from a young age and has since taken her to the top of the world -- quite literally. At just 17 years of age, the young Nepali climber became the first United Nations World Food Programme (WFP) school meals recipient to reach the summit of the highest peak on Earth: Mount Everest in Nepal's soaring Himalayas.
Born to a poor farming family in a remote village of Nepal, Nimdoma came from a community where resources were stretched, food was scarce and few children had the opportunity to attend school.
Her inspirational life journey began when a WFP school meals program gave Nimdoma, then just five years old, the chance to go to school. At first, Nimdoma's parents sent her to school so she would have a nutritious meal each day. But sitting in the classroom, the young girl's dreams for herself quickly grew.
As Nimdoma excelled in school, her parents made the decision to send her to live with her older brother in Kathmandu, the capitol of Nepal, so that she could attend a city school where she would have even greater opportunities. Soon, Nimdoma became the first in her family to graduate from high school. She also developed an adventurous spirit, accompanying her brother, a trekking guide, into the mountains.
By the time she graduated from school, Nimdoma had become the youngest member of the First Inclusive Women's Sagarmatha Expedition, a trailblazing team of Nepali women climbers. In 2008, the women made history by reaching the summit of Mount Everest. In this photo, Nimdoma unfurls a WFP banner at the Everest base camp to pay tribute to the school meals that made her life dreams possible.
Today, Nimdoma is helping lead the first all-female mountaineer team, whose mission is to scale the highest summit on each of the seven continents. Aptly named the Seven Summits Women, she and her teammates are scaling new heights into the clouds and breaking glass ceilings at the top of the world and beyond. So far, they have climbed Mt. Kosciuszko in Australia, Mt. Elbrus in Europe and Mt. Kilimanjaro in Africa. Up next, they plan to climb the highest peaks in South America, North America and Antarctica by 2015. They have also visited hundreds of school to inspire students to chase their dreams.
Wherever she goes, Nimdoma spreads the message of the life-changing power of girls' education.
For families like her own, parents all too often have to choose between sending their children to school or to work, so that they can make enough to feed their family. Girls in particular are often kept home to help with housework or take care of family members. School meals can be life-changing by providing a powerful incentive for families to send children -- especially girls -- to school. Once in the classroom, a nutritious daily meal helps a child to focus on schoolwork, grow up healthy and reach her full potential.
Education is the key that unlocks an infinite number of doors. It is the uplifting force that empowers us to set our sights higher, to scale the tallest mountains. For Nimdoma, it is the birds' eye view from the roof of the world that lets her see beyond known horizons to a wide open land of limitless possibilities.
Photo credit: WFP/Pemba Sherpa
Calling all HuffPost superfans!
Sign up for membership to become a founding member and help shape HuffPost's next chapter