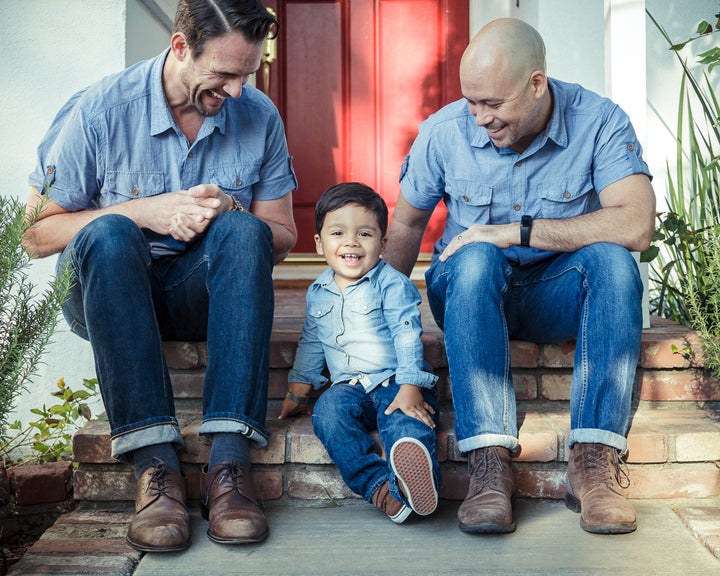 To mark National Adoption Month, five RaiseAChild families are celebrated in the weekly "Let Love Define Family®" series for Huffington Post Queer Voices. RaiseAChild contributing writer Eric Criswell shares one family's story in this first of five special series installments.
A family can have its start just about anywhere, for Kama Kaina and Mat Rivera it was the New Orleans airport. Both were there on vacation and Mat was returning to San Diego, while Kama, who was originally from Hawaii and was going to his home in Los Angeles. The terminal was packed and Mat offered Kama his seat. The two struck up a conversation and Kama tore his ticket in half to get Mat's phone number. They texted each other on the flights home and have been together ever since.
Just like their chance meeting, building a family has its surprises as well. Before it happens, you never know exactly how it will happen or the impact it will have on your life. Kama and Mat Kaina-Rivera had their initial home evaluation through the foster family agency, Penny Lane Centers, and were granted their foster care license on November 4th, 2014. They were prepared to wait for a call about available siblings that needed a home. So they were shocked when the social worker called just one month later with the prospect of a boy named Jeremy that was a ward of the state and looking for placement. Ironically, Jeremy had been born on the same day they got their license, November 4th.
According to Kama, "We talked about it for three seconds, and both agreed instantly to say, 'yes'!" Even though they had envisioned having siblings in their home, something just felt right about Jeremy, so they notified the social worker. She told them it could be up to three months before they were able to place Jeremy, which gave the couple time to prepare. To their surprise the phone rang again, and they were told that Jeremy would be at their home by 5 PM that day!
"It was like the Amazing Race", explains Mat. "We had nothing and had to make a mad dash to the stores to get diapers and everything else you need for an infant."
Jeremy arrived that evening and as soon as the social worker left, the two new dads looked at each other and asked, "Now what?!"
Their fears were quickly relieved as they adjusted to having an infant in the house. Jeremy proved to be a gift in so many ways, and the most remarkable thing was that he was a great child from the beginning. Kama, who is a line producer and accustomed to having a regimen was astonished and grateful that Jeremy was a good sleeper and ate like clockwork every four hours.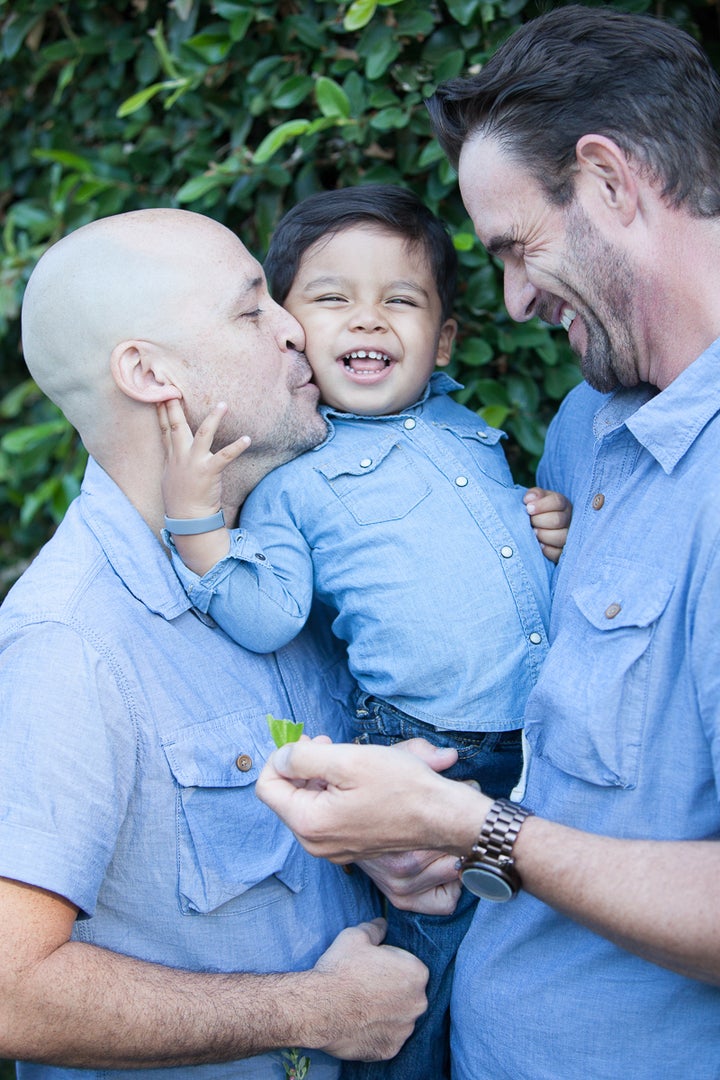 Although everything was running smoothly at home, the road to adoption was bumpy. Mat and Kama did everything they needed to do, and did it accurately to present to the court. Unfortunately, the court system moved slower than anticipated due to multiple clerical errors that caused months of continuances and delays. Each time this happened, it increased their anxiety that something could go wrong and Jeremy could be taken away from them.
The frustrations grew, even to the point where Kama decided they couldn't go through this again. Finally, a year and a half after Jeremy first arrived, the adoption was complete and the Kaina-Rivera's were officially a family, and Kama realized that his aggravation with the court system should not be a reason why they didn't give another child a home and Jeremy a sibling.
The two dads admit that their lives have become non-eventful as they settle into the routine of having a child. Everything they do centers around Jeremy and that is just fine with both of them. Gone are the days of weekends at the bar and summer pool parties. Now it is a homemade dinner every night prepared by Kama and evenings of watching cartoons and putting Jeremy to bed by 8 PM. Mat points out, "our weekends are in the backyard with Jeremy in the kiddie pool and the occasional margarita."
Jeremy continues to be an exceptional child, at twenty-one months he can feed the dogs with no help, from getting the container, scooping it in their bowls, cleaning up the pieces that spill over, and placing the bowls in the right place. Now at two years old he continues to learn and grow as his daycare teachers are amazed that you only have to show him something once and he has learned it.
The entire experience has been a joy for both Kama and Mat, who are hoping to be placed with another child in the next few months. "This is something we believe in, and something we really want to do," explains Kama. "We know this is our life's purpose, and we are already planning that when Jeremy is older and leaves the house, that we will open our home to older kids in foster care."
They both agree that they want to help the kids that are in the system, in Los Angeles county alone there are over 20,000 children in need of good foster and adoptive homes. There are over 100,000 children across the U.S. waiting for adoptive homes. "We never even looked at private infant or international adoption. We couldn't ignore those children who live so close and needed us."
Even though the process can be aggravating, they acknowledge the help and support that they received from Penny Lane Centers and RaiseAChild. "Having these two organizations have been such a help. Building a family is a big job, and having the help and support has made all the difference for us," Kama said.
Having children for anyone is a big adjustment and a definite change in lifestyle. With a laugh, they both agree that they have gained a few pounds now that their gym time is much more limited as fathers. "If you find someone that you love, and you both want children, don't wait!" Kama advises. "So many of our friends say they want to do this-or-that before starting a family, but we know that it is more fun to accomplish most of that stuff with your kids."
Have you thought about building a family through fostering or adoption? RaiseAChild is the nationwide leader in the recruitment and support of LGBT and all prospective parents interested in building families through fostering and adoption to meet the needs of the 415,000 children in the foster care system of the United States. RaiseAChild recruits, educates and nurtures supportive relationships equally with all prospective foster and adoptive parents while partnering with agencies to improve the process of advancing foster children to safe, loving and permanent homes. Take the Next Step to Parenthood at www.RaiseAChild.org or call us at (323) 417-1440.
If you live in Southern California, RSVP now to attend free 2016 RaiseAChild Parenting Info Sessions:
• Wednesday, Nov. 16th at 6:30 p.m. The Prado in San Diego
• Tuesday, Nov. 29th at 6:30 p.m. The Montalban Theatre in Hollywood
• Wednesday, Nov. 30th at 6:30 p.m. Museum of Latin American Art in Long Beach
• Thursday, Dec. 1st at 6:30 p.m. TAG Gallery, Bergamot Station in Santa Monica
• Saturday, Dec 3rd at 11:00 a.m. Pitzer College in Claremont
• Monday, Dec 5th at 6:30 p.m. All Saints Church in Pasadena
• Tuesday, Dec 6th at 6:30 p.m. University of Redlands in Redlands
REAL LIFE. REAL NEWS. REAL VOICES.
Help us tell more of the stories that matter from voices that too often remain unheard.