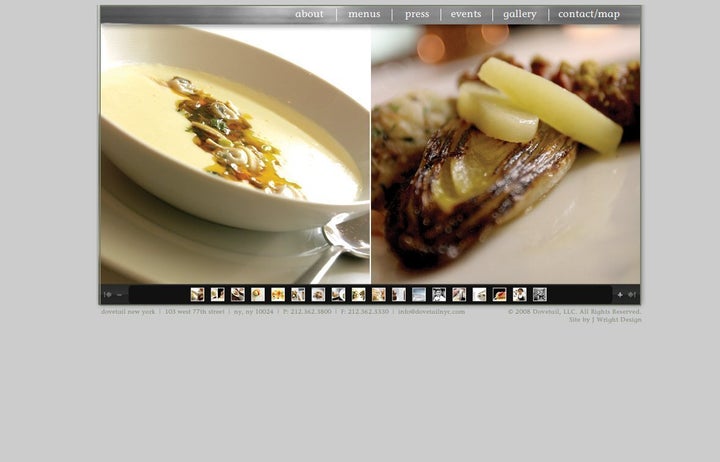 If you eyed Esquire a few years ago, you'd know he was chosen as one of only four young chefs to watch. If you've followed Iron Chef America this season, you've seen him dismiss his sous-chef and work his magic solo. And if you're lucky enough to live in or visit New York City, you might know first-hand what all the fuss is about.
Chef John Fraser is the owner and executive chef of critically acclaimed Dovetail, awarded 3-stars by The New York Times. With an early career cooking in some of the world's top kitchens, his bio is impressive. But what really separates Fraser, for me, beyond his estimable work rate and his perfectionist's zeal, is his desire to encourage his diners to really think about what they're eating, what they're putting in their bodies. In my quest to speak with experts on food issues, Fraser seemed like the perfect chef to talk about vegetables, about the role chefs can play in encouraging the public to explore other options, and about his renowned weekly meatless tasting menu.
Chris Elam: Well known, respected chefs such as Jose Andres and yourself are talking more and more about the primacy of vegetables on the plate. Do you have a beef with beef, or are there, well, other issues at steak (sorry, no more)?
John Fraser: I think the more that people like Jose Andres or Mario Batali talk about the need to be more mindful of what we eat, the better. Not to change peoples' minds, necessarily, but to offer a counter-argument to the way we grew up eating.
But no, I don't have a problem with steak at all, or any meat for that matter. In fact I love steak. I'm just not eating it right now. That's not to say it won't change in the future. I can tell you that the next piece of beef I eat, I'll know where it comes from, and how it was raised.
Personally, I want to explore new ways to eat, and try and encourage other people to do the same. To remind people that it doesn't have to be steak all the time. That the feeling you get from monitoring what goes in your mouth can in fact be life-changing.
CE: Did you grow up in a household where vegetables were loved?
JF: Yes, we grew vegetables in our backyard (in Northern California) spanning two seasons a year. Things like avocados, lemons, apricots and jalapenos peppers. So I always had an idea where our food comes from -- which I think is so important, both for someone in my position, but really for everyone. It's the first step to our improving the food system.
At the time, it seemed that's what all people did. But looking back, it was huge for me to be able to pick things early, eat them early...or let them stay on the vine, pick them late, and learn how different they tasted as a result.
CE: As you've moved through various esteemed kitchens in your career, has your opinion of vegetables changed or evolved?
JF: Looking back, what I find interesting is that working at the French Laundry with Thomas Keller in Napa Valley, there was no separation between vegetables and protein, you did both.
Yet when I went to France, I worked often as the entremetier, which is essentially the vegetable cook supporting the protein cook. There's so much to do with vegetables...all the detail and precise movements and receiving. Whereas the protein cook manages the protein, the weight and quality. It's the same during service, where he might put meat in a pan, baste it and pass it up. While the vegetable cook is furiously trying to get the starch or grain and vegetable together on the plate. He's by far the busiest of the two, which is funny because that's the entry level cook in most French-style kitchens.
Now at Dovetail, I have two protein and two vegetable cooks -- but on Mondays they all become vegetable cooks. It's interesting to watch these protein cooks have to transfer their energy and know-how back down to vegetables. All to say, it's ironic because in my opinion it's much harder to get vegetables right than fish or meat.
I think I really started to understand vegetables when working at the French Laundry. How there needs to be the same attention paid to everything on the plate -- everything is of importance. The old hierarchies are outdated.
There was a farm just down the street, Jacobson Farm, and many mornings I'd go and pick the peaches that I'd serve that night, with the foie gras for instance. You really start to take more care with food when you have to get up early, go down to the farm, pick the vegetable, treat it and put in on the plate that evening. Realizing it once was alive, you find yourself not wanting to waste anything, wanting to use every part because so much work went into it.
CE: Dovetail serves a meat-free tasting menu every Monday. Why did you introduce this, and what has the response been?
JF: Most restaurants see the vegetarian entree as the Achilles Heel. "Oh @#$%, we have to come up with something for the vegetarians." But we celebrate it. We get juiced about trying to come up with something that'll make people say, "WOW, we really need to come back for this guy's vegetarian meal."
Also we're reaching a completely different demographic on Monday, which is exciting for me. I get to feed people who wouldn't normally eat at Dovetail. When I talk to vegetarians or vegans in the dining room, they're just happy to have a choice. Usually when they dine out they have one option -- that's it. They love being able to choose something they're intrigued by, or what's in season.
Sales are great. We're basically booked most Mondays. Another thing that's cool: some people come to Dovetail on Monday expecting the regular fare, and though we offer a small portion of that menu, they often choose the vegetarian menu and end up being impressed and delighted. I'm not saying we're converting people, but it's great to offer an experience they might not normally have. I think that's a role that chefs can -- and should -- fulfill.
CE: Your vegetarian entrees are artful, yet they appear effortless. How do you create your recipes? Where do you start and when do you know when to stop?
JF: Everything starts at the farmers market. What's being grown locally, and what's in season -- that's number one. We originally planned this menu for summertime, but people are so excited about it, I don't think there's any way we can stop. In wintertime we're going to be challenged. We'll have potatoes, onions and squash. I still think we can do it though.
Our process here is very collaborative. Going from initial idea to plate, it passes through the minds and hands of a lot of people. I'll start talking about the next week's vegetarian menu on Tuesday...and we'll look at some of our recent dishes, what's worked, what needs refining, and debate new ones to add.
Our cooks go to the farmers market in the morning and find, say, fennel stem. Back in the restaurant, we discuss what can we do with them, and start talking about a marmalade, which then turns into a pectin-based syrup. When you have a group of people who are highly educated culinarily, they embrace a challenge. As a cook, when you have the chance to get one of your dishes on the menu, that's what it's all about, taking ownership of it.
Ultimately, what we're trying to do at Dovetail on Mondays is create something that a person who eats protein will be satisfied with. But it's not just switching from a trout on a plate to a carrot on a plate. There needs to be a supporting cast -- whether sweet, salty, sour, spicy -- so that your mouth is excited by what it's encountering. So much so that you feel like you're having a dish with protein. The goal is to resemble the eating experience of a protein-rich meal while still being vegetarian.
CE: What are the most daunting, interesting, surprising challenges in preparing vegetarian dishes?
JF: The hardest thing for me has been trying to construct a cohesive message. Because the reason we're doing this is not to save animals, or to protect the environment. It's about good, healthy food. How there's a better way to treat yourself. That the middle way in terms of animal protein consumption can be just as fulfilling, without the side effects (which come with standard factory farm raised meat). The challenge though is to come up with a message that makes sense to people, that makes them want to come and eat.
As for the vegetables, it's so thrilling right now at the farmers market that any chef worth his salt can make vegetarian meals. There's so much there, and the farmers are bringing so many different parts. The other day we got these massive dill shoots with flowers on top. I asked the farmer why she brought them, and she said she simply thought we might like to use them. The farmers are creating the palette that we're painting from.
CE: And finally, is America ready for fine vegetarian dining?

JF: On our tasting menu, the dishes that I most like are the ones with a minimal amount of protein in support of the vegetable -- where the vegetable is really the star. I get charged by that because it's the way I think people should eat, not just the way I eat.
I would love to open an upper-echelon vegetarian or vegetable-focused restaurant -- basically what we offer on Monday as a stand-alone restaurant. I think it would be very successful in New York City. But location and size are the x-factor. I'm just not sure where to put it, and who to target to make it viable.
Before we launched the meatless menu, we were cooking to our audience. People ordered the dish for the protein -- for the steak or the trout or the halibut. But now we've created something that's a lot more balanced. I'm really proud of what we're doing. And proud of our chefs. We've all been invigorated -- and hopefully the diners as well -- by this creative challenge to place more attention on what is usually just a supporting cast member.
Popular in the Community