When Shekira Farrell's son with autism became restless while visiting a beauty supply store with her, the mom expected an employee to stare or possibly be rude. What happened instead surprised her.
Farrell took her son, 6-year-old Jaiden Farrell-Harris, to a beauty supply store in Neptune, New Jersey, on April 23. She told HuffPost that Jaiden was diagnosed with autism spectrum disorder a few months after his second birthday. When they arrived at the store, Farrell knew her son was restless and hungry and remained patient with him as he touched things in the store and ran through the aisles.
"He couldn't really help it and wasn't trying to cause trouble, and I knew that, so I was going after him and trying to calm him down and put the items back in their right place," she said.
Farrell expected an employee from the store to stare or say something once they saw what Jaiden was doing since she has experienced similar reactions in the past. Instead, a woman at the store kindly interacted with the 6-year-old.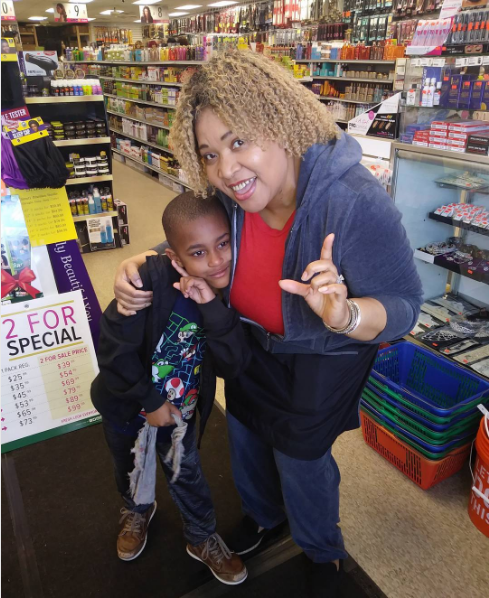 "She was so kind and it caught me off guard," Farrell said. "When Jaiden went to the sunglasses and kept touching them, she approached him calmly, and asked him to put them on so she could see how cool he looked. He got so happy and quickly put them on."
Farrell told HuffPost the woman then held a mini "fashion show" for Jaiden, letting him pose as she snapped photos and complimented him and his sunglasses.
"It was beautiful to witness," she said.
Farrell decided to post about her son's encounter with the woman on Instagram, writing, "I just wanted to share this story because I always read other stories from parents of a worker or a stranger going above and beyond for their autistic/special needs child and they always make me so happy."
She said Jaiden cried when he had to leave his "new friend." The next Sunday, though, he got to see her again because he and his mom visited and brought her chocolate ice cream. Jaiden had remembered that it was her favorite flavor.
Farrell, who said she and Jaiden plan to continue visiting his friend, told HuffPost that in the past she has been judged and that people have been rude to her about her son.
"People on the outside looking in tend to be so quick to judge and stare, even get upset and rude," she said. "One person even called my son 'bad' during one of his meltdowns, and the lack of understanding is so unfortunate, because in those moments, an autistic child is not bad, they are suffering."
This woman, though, reassured her that many people still value the importance of kindness.
"As an autism parent, moments like that in public are both exhausting and nerve-racking, but she made it special."