Ryan McCarty was a pastor when TCC CEO Scott Moorehead tapped him to lead the nation's largest Verizon Premium Wireless Retailer in a corporate social responsibility (CSR) initiative. At the time, McCarty didn't know about CSR. His message to equalize your whys to your whats inspired Moorehead to do the same with his successful family business. Moorehead asked McCarty the single question that created a for-profit path in McCarty's nonprofit career -- Can you lead the company in doing greater good for the world?
With a yes in hand, a new plan was formed -- the Culture of Good. The Culture of Good is a grass-roots initiative to help local communities in TCC store locations. Started initially by one man in one role, today the Culture of Good has come to fruition with the support and empowerment of each employee.
Now, TCC retention and engagement has increased. TCC turnover is 45 percent, compared to the rest of the retail industry, which averages 66 percent for part-time employees. Millennials -- those between age 18 and 30 -- make up 85 percent of TCC's workforce and 90 percent of those between age 25 and 35 attribute the Culture of Good for their work fulfillment. It's only about 10 percent lower for the 35 to 45 age bracket.
How did one man, with no staff, create such an impactful movement with 1,600 employees?
The program was not designed to engage employees, but because it was the right thing to do. At the stage of success TCC had reached, Moorehead knew it was time to give back in a new way. Moorehead's parents always gave back to the communities where they did business, but it was time for each employee to participate in that good. McCarty credits authenticity as one of the primary reasons the program works so well.
"Authenticity shines with our employees -- the idea of just doing good to do good," said McCarty, TCC Director of Community and Employee Engagement. "We always go back to the fundamental question -- 'do we care?'. When we make a decision, from executive-level down to the customer service rep, we ask 'how is it bettering the community?'."
Employees can tell when organizations create CRS initiatives to engage employees, instead of it doing for good. It looks like donating money, instead of time. It looks like not encouraging, rewarding, or allowing employees to take time from their work to give back. It looks like a stroke of a pen, instead of doing good as "our way of life," as McCarty describes it at TCC.
ELEMENT 2: MOMENTS TO MOVEMENT
When designed by one man, with no staff, the initiative had to be simple and easily scalable. McCarty's nonprofit experience taught him to start small, scale big, and create a cadence of moments to build a movement.
He started with backpacks. When the program launched in 2013, McCarty filled 60,000 backpacks with school supplies, distributed them to 1,600 employees in 28 states and launched localized parties to distribute them to needy kids. Having one event was a moment.
To build a movement, McCarty went on to build a cadence of moments. Today, every quarter, TCC holds an event, in which 91 percent of stores participate. Themes include Teachers Rock Supply Giveaway, Heal the World, Stop Hunger, and the original Backpack Giveaway. This year, TCC donated 135,000 backpacks and another company -- inspired by TCC's work -- contributed an additional 100,000.
Another key element to TCC's Culture of Good is each store location's autonomy. To maintain company consistency, McCarty supplies donated products and schedules event dates, but leaves the event planning and local charity selections to stores. Some stores create successful block parties with DJs and events to involve the whole community.
"Running this by myself has taught me that I can't run this," said McCarty. "The employees run this and own it. We have to trust our employees to do good themselves."
Each year, employees receive 16 hours of paid time off to volunteer -- even if outside work hours. Employees are also free to contribute ideas. When new hires asked about recycling, McCarty sent recycling bins to each store.
If he could change one aspect of the CRS initiative, McCarty says he would have started the ambassador program earlier. Today, there are 85 ambassadors from each major territory to lead Culture of Good events and coordination, as well as identify new ideas. An Ambassador is an elite position, which is defined by a strong performer, with a passion for growing the Culture of Good. Ambassador candidates are interviewed for the position and agree to annual trainings and three-to-five hours of Culture of Good activities, weekly. The work also grows their internal network, gives them greater career visibility, and enables them to learn valuable transferable skills.
Employees don't buy into a movement, until the executive team does. Without leadership support and active participation, CRS initiatives don't succeed. For McCarty, it was also important that doing good wasn't tied to sales gimmicks -- like coupons inside their backpack giveaways. Although hard to directly measure the benefit, 68 percent of TCC employees find their store has gained new customers because of the Culture of Good. TCC is now the largest Verizon Premium Wireless Retailer in the U.S., operating more than 800 locations in 40 states with more than 3,000 employees. The executive team is right there, volunteering with the employees, with no more questions about whether it's worth it.
AN INSPIRATIONAL EXAMPLE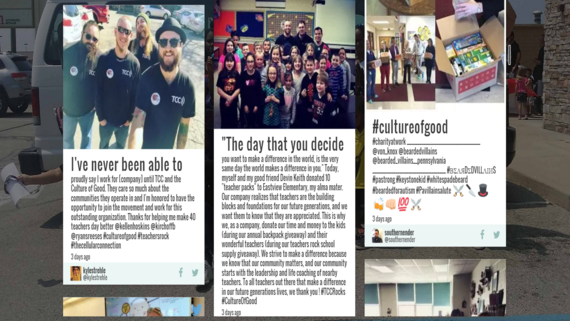 Recruiting strategies for TCC have evolved to include the Culture of Good as a value. If candidates aren't ready to do good as a part of their work, TCC is not considered a good fit. By doing so, TCC attracts talent that mirrors their culture and is more likely to stay longer.
McCarty hopes to inspire more companies to do good, even with limited resources. He was one man, in one role, supported by one CEO. The next generation of employees expects companies to care -- especially once the company makes a profit. TCC is a great example of how to modernize today's workplace.
Crystal Kadakia is a lauded speaker, author, thought leader, and consultant for Millennials, Multi-Generational Workplace, and Modernizing the Workplace. She is considered a unique resource for executives and organizations applying future workplace insights in today's world.
Popular in the Community