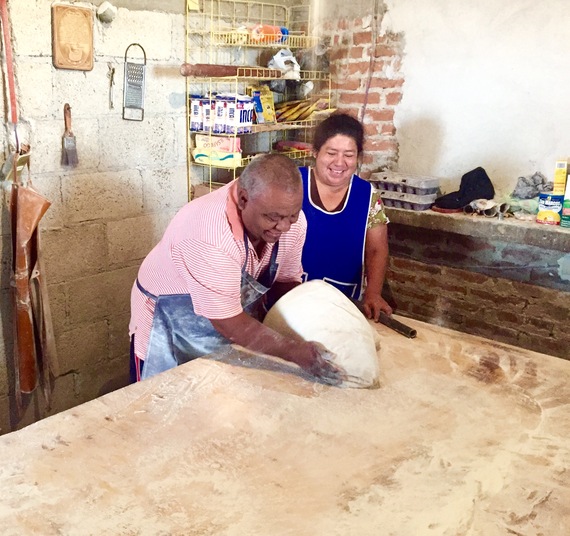 The smell of melting butter and baking dough wafts through the town of Tetela, a small community nestled among the sugarcane fields in Oaxaca, Mexico. Two neighborhood boys, one clutching a basketball and one walking a rusty bicycle, amble up to Miguel and Irma's front gate, pressing their noses in the spaces between the metal.
"Ya tienen pasteles?" one of them shouts excitedly. Are your pastries ready?
Irma emerges from the kitchen covered in flour. She claps her hands against her apron, sending a cloud of white particles flying. "In about a half hour," she tells the boys, who nod and scurry away. She turns and winks at me. "When they smell the baking, they know it's time to come over."
I'm perched on a stool beside the gate, licking homemade mango flavored ice on a stick, the melty parts dribbling into a plastic cup. When Irma offered it to me a few moments before, she proudly mentioned that her secret flavored ice recipe only calls for three ingredients: fruit, sugar and water. It's a delicious relief from the midday heat -- I may as well be eating a frozen version of the ripest mango in Mexico.
As I try not to drip sugary mango juice onto their cement floor, I survey their makeshift courtyard: a few mismatched plastic chairs, a giant folding table, a stack of tarnished cookie sheets, a hulking industrial-grade oven. Miguel, Irma's husband, hunches over the table, meticulously sifting confectioner sugar on top of a tray of bolobanes, crusty ovals filled with peach preserves. Irma's back in the kitchen, rolling a mound of dough into what will eventually form a pizza crust.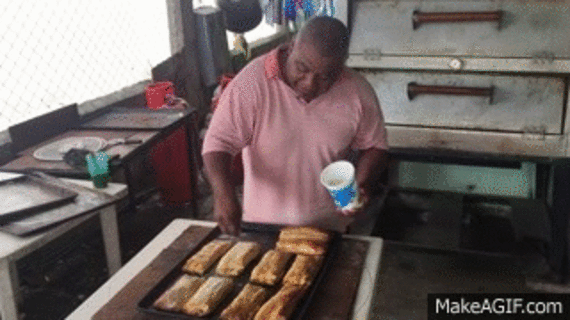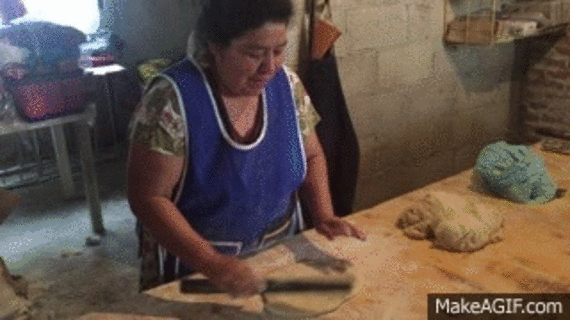 This afternoon, they'll load up their truck and make the hourlong drive to Tierra Blanca, Veracruz, the nearest city, where they will sell their freshly-baked treats for 10 pesos a pop. By now, their croissants and bolobanes and pizza slices are so popular that they have a regular set of customers who will swarm the modest booth they set up on a streetcorner. ¨Office workers, doctors... our regulars know where to find us in Tierra Blanca,¨ Miguel says.
The duo will run out of supplies before sunset and return home. When they're back, Irma will work on her embroidery, which she also sells in Tierra Blanca, and Miguel will prepare the next batch of ingredients for the morning. The next day, they'll wake up together at 5 a.m. to begin baking.
"We can't afford employees right now, so we do everything ourselves," Irma explains. "Eventually, we hope to grow our business and hire people to help."
Though they're originally both from the Tetela area, Miguel and Irma met in Tijuana more than three decades ago. It was there they worked in the kitchen at various restaurants, perfecting their baking craft with the help of family members.
For the past couple years, they've helped fund their baking operation with small loans from VisionFund México, a microfinance institution partially supported by Kiva, a San Francisco-based crowdfunding platform that helps provide new opportunities for the world's neediest populations. I'm serving as a Kiva fellow in Mexico this summer, and part of my duties are to meet with borrowers all over the country, like Miguel and Irma, to see their businesses firsthand.
Based on the couple's sunny disposition, their wide smiles and joking asides, it's difficult to imagine that just a few years ago, they suffered the kind of tragedy no parent should ever experience. Their youngest son, Freddie, a teenager at the time, was diagnosed with kidney failure. They began shuttling him back and forth to the hospital in Tierra Blanca on a regular basis for dialysis and other expensive medical treatments.
By then, Irma and Miguel had already begun investing in their baking business. So each time they made the trip to the hospital, they made sure to pack plenty of pastries, which they sold to the staff. Freddie passed away two years ago, when he was 17 years old. But Irma and Miguel still make daily trips to the hospital, where they sell their goods to the same doctors and nurses who cared for their son.
I finish my flavored ice just as the timer dings. Miguel pulls a steaming tray out of the oven. It's stacked with dedos (literal translation: fingers), one of their specialities: long columns of dough stuffed to the brim with ham, sausage, cheese and pineapple. He places one on a plate for me as his son, José Miguel, squeezes homemade hot sauce into a plastic baggie. I take a bite, and it's delicious; the perfect combination of warm, salty and sweet.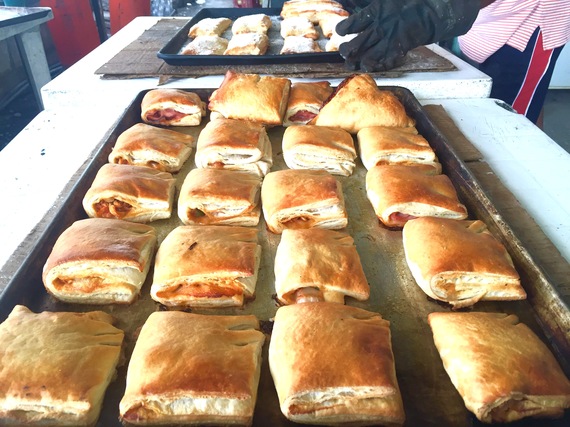 I hand him 10 pesos and Miguel shoos me away. "Your money is no good here," he says with a chuckle. When I insist, he shakes his head, so I hide the coin on the corner of the table for them to find later.
José Miguel, who's 32 years old, works full-time at a car repair shop around the corner, but he hopes to go into business with his parents one day and plans to inherit their bakery once they're too old to run it. In the mean time, Miguel and Irma breathlessly share their plans for the future, which they hope to make possible with more loans from VisionFund. Next they'll invest in a larger oven and a new stove. A higher-quality fridge for keeping their ingredients cool. Better insulation for their windows.
Their 7-year-old granddaughter skips into the courtyard just as the two neighborhood boys return. Miguel hands them two dedos, which they devour, as Irma scoops up the little girl for a kiss on her grandma's cheek.
"She's already learning how to bake," Irma says. "She wants to be just like her grandparents when she grows up."
Above the stove, Freddie's smiling portrait watches over them.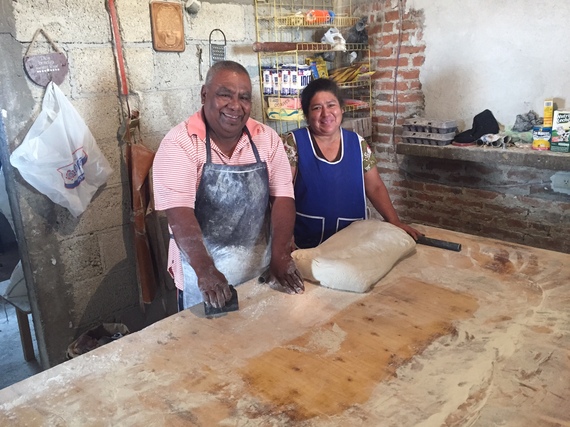 Calling all HuffPost superfans!
Sign up for membership to become a founding member and help shape HuffPost's next chapter