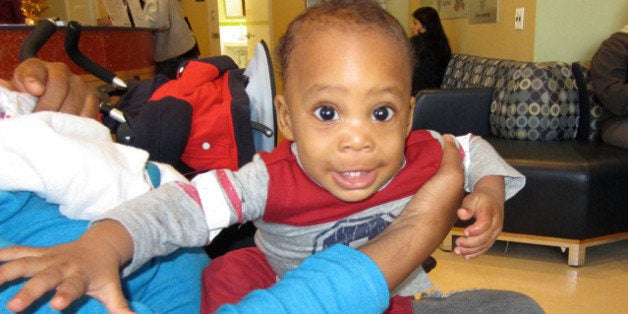 Lynda and her sister Jennifer Lopez are co-chairs of the Global Moms Relay. Together they co-founded the Lopez Family Foundation and are passionate about helping women and children around the world.
This post is part of the Global Moms Relay. Every time you share this post, Johnson & Johnson will donate $1 (per action) to help improve the health and well-being of moms and kids worldwide through MAMA, Shot@Life, and Girl Up. Scroll to the bottom to find out more.
There is a routine in my house. Every morning before the clock strikes 7am, there is a face perilously close to mine. My young daughter is searching desperately for any sign of movement. When I open my eyes, her face breaks out into a huge smile. Even though I am tired and want to roll over and have a few more minutes of sleep, I have a similar thought each day -- that despite the long days, the rushed mornings and complete lack of sleep that comes with having a five-year-old, waking up to her face makes me the luckiest person in the world.

I've been a single mother 4 out of the 5 years of my little girl's life. While being a mom is the ultimate gift, raising a child on your own is not easy. It can be a hard road. It means being lonely sometimes. It means taking all the shifts. There is no turning over in the middle of the night and saying, "Honey, it's your turn." All the turns are your turn. So when the Global Moms Relay asked me the question, how has a mother inspired me and changed my world ... I thought about it for a while. I've been blessed to know a lot of amazing women in my life, but the single mothers, such as ones I've met through my work as a journalist and our Lopez Family Foundation, are the ones who have changed my world. They've inspired me and their stories have stayed with me.
One of the first women I think of is CJ's mom. I met her at the Center for Child Health and Resiliency at the Children's Hospital at Montefiore in the Bronx while I was there with the Lopez Family Foundation. CJ was just under a year, born prematurely, and his young mom was at the Center learning about the special care her son would need and how best to handle his development. I met her on my first visit, and as we talked she opened up about her life. She admitted that she had briefly been in a shelter and that without the Center, she might not have learned about the special attention her son needs. She is now in an apartment, working and going to school part-time. She talked about the near impossibility of studying or even writing an email while the baby is awake. She told me that her one big wish was to have a DVD player, so she could borrow Baby Einstein DVDs and keep her son occupied while she worked.
While she sat next to me talking, I knew her story would stay with me. Hearing her struggle and her resilience to keep pushing to create a better life for herself and her son was inspiring. Hearing how little things we take for granted, like a DVD player, can change a person's life, moved me. She reminded me that I can do more.
There is a huge political debate going on in our country about how much should be done for those who need. Part of the narrative suggests there is a segment of the population who are "takers." No matter where your beliefs fall on that spectrum, it's hard not to have one realization: Our mothers need our support. Some of us are lucky and have great support in our lives, but a lot of us do not. In 2008, the year my little one was born, 40 percent of babies born in the U.S. were born to unmarried mothers. In 40 percent of households in 2013 (according to Pew Research) the woman was the sole or primary source of income for the family. There is a need, in record high numbers, to supply our mothers with the support they need.

There are also moms like Kirsten Gagnaire (of whom we're in awe), who aren't willing to wait for policy to catch up. She leads the Mobile Alliance for Maternal Action (MAMA), which provides expecting and new mothers in developing countries with support and health information through their mobile phones, via text messages. MAMA is one of the initiatives that will benefit from the Global Moms Relay this year.
The more you share our posts, the more we can take steps towards making a difference for women, like CJ's mom and the MAMA expectant mothers. We can come together to raise awareness and explain how crucial it is to support the health and well-being of mothers and kids. That's one of the goals of the Lopez Family Foundation, and of the Global Moms Relay, and one of the reasons Jennifer and I are honored to be co-chairs again this year. We hope you'll join us and support the Relay.
Motherhood is hard. It's even harder without support. With your help, we can make it just a little easier.
You share, they give: each time you 'like' or share this post via the social media icons on this post or comment below, Johnson & Johnson will donate $1 (per action) to help improve the health and well-being of moms and kids worldwide through MAMA. The Mobile Alliance for Maternal Action (MAMA) empowers new and expectant mothers living in poverty with life-saving health information via mobile phones. Every $1 provides a women in Bangladesh a month of mobile messages to support her through pregnancy. You can also Donate A Photo* and Johnson & Johnson will donate $1 when you upload a photo for Girl Up or Shot@Life -- you can help raise up to $250,000 in seconds with the click of your mouse or snap of your smart phone. Share this post with the hashtag #GlobalMoms, and visit GlobalMomsRelay.org to learn more.
The United Nations Foundation, Johnson & Johnson, BabyCenter and The Huffington Post created the Global Moms Relay with a goal of improving the lives of women and children around the globe.
* via the Donate A Photo app for iOS and Android. Johnson & Johnson has curated a list of trusted causes, and you can donate a photo to one cause, once a day. Each cause will appear in the app until it reaches its goal, or the donation period ends. If the goal isn't reached, the cause will still get a minimum donation.
Related