Mary Clare and I were college sweethearts. We fell madly in love freshman year and still feel the same way today. Who would have thought that one night of fun, innocent skinny dipping during college would change our lives forever?
Well it did! After that night, we were hooked for life and have enjoyed nude recreation ever since. And I bet, once you try it, you'll love it too.
My name is Tom Mulhall, my wife, Mary Clare Mulhall and I have owned the popular Terra Cotta Inn Clothing Optional Resort and Spa located in sunny Palm Springs, California for over 17 years. We've always known that millions of people would love to try topless or nude sunbathing, but are very nervous and don't know who to trust for reliable information. Our resort has always catered to first-time topless and nude sunbathers. And that's why my posts here on Huffington Post will cater to you, the first timer that wants to learn more about the fun world of nude recreation. Of course I'll also be posting useful information for experienced nudists and naturists too.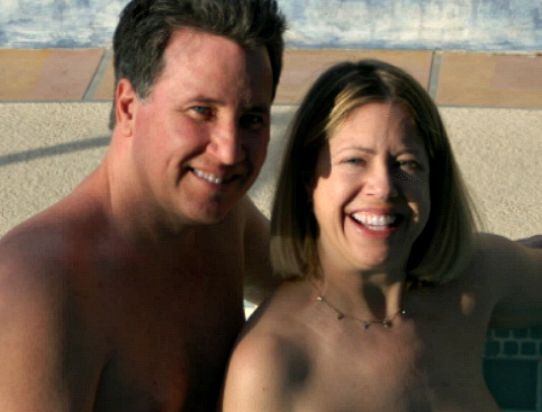 Mary Clare and I are from Chicago. In the summer between our junior and senior year of college, Mary Clare and I decided to stay and work in Champaign, Illinois where our school, The University of Illinois is located.
Summers there can be brutal. Very hot and humid. On one particular night, cooling off with a few beers chatting with another couple that were friends, the guy said "you'll never believe what I heard. There's a lake nearby where students go skinny dipping when it gets dark."
Naturally, there was good-natured ribbing and teasing of him and how he learned of this lake. But, after fortifying ourselves with a few more beers, being the brave, adventurous, college students that we were, we all agreed, "Let's go skinny dipping tomorrow night!"
Well, the next morning, as our coffee-infused brain cells slowly won the battle with our braver beer-infused cells, Mary Clare and I said to each other, "What the hell did we agree to?" We hoped the bravado of the previous night was just that, meaningless beer talk and our friends would forget all about our pledge to go skinny dipping.
No such luck. They called and drove over at dusk. So off we went to the lake and our new life experience.
The "lake," which really was probably some farmers pond wasn't that far out of town. We quickly got there and parked off some rural road. Surprisingly, there were many parked cars. The moon was fairly bright, so we easily saw a well worn path through a corn field. Again, more teasing and dares. After an agonizing minute or so, one of us said "let's go," and like lemmings, we all followed the leader.
I'm sure our hearts were beating and thumping like crazy. Ready to pop out of our clothed chests. But, after just a couple of minutes, we could hear lots of laughter and talking. We popped out into a small clearing and there was the lake in all its shimmering glory. Students were splashing and laughing, swimming and talking. They all looked like they were having the time of their lives. Looking down at the grassy beach, there were piles of clothes everywhere. Sure enough: Those students were skinny dipping, and we wanted to join in the fun too.
Off came our clothes and we ran into the refreshing water. It was one of the most fun evenings of our life. We met some of the friendliest students. At the end of the evening, we agreed to go again. However, not owning a car in college, our schedules never matched up with our friends. We never got another chance to go skinny dipping in Champaign again. But, we knew it wouldn't be our last skinny dipping adventure.
Sometimes when we tell people we own a nude sunbathing resort and spa, we get a knowing wink or nod or a nervous giggle. Some people still have the wrong impression that skinny dippers are swingers. Not true at all. We quickly straighten them out. Vacationing at a nude sunbathing resort is just a wonderful way to enjoy a nice sunny day or moonlit night. You're getting back to enjoying mother nature the way you were born, in your birthday suit. Skinny dipping is such a wonderful experience, one that everyone should try.
Skinny dippers are all ages. They come in all shapes and sizes, heights and widths. They are from all professions. Since this is an election year, you'll learn skinny dippers are of all political persuasions. They're Democrats, Republicans, Independents and non voters. Skinny dippers come from all religious backgrounds or no religious background.
As you see, anyone can be a skinny dipper. There are over 260 nudist clubs, parks and resorts located all over the US and Canada, plus many legal and long-time-used unofficial nude beaches.
Skinny dippers are the nicest people you will ever meet. Once your clothes come off, all the stresses and strains of the work a day world rapidly melt away, leaving you in a relaxed, easy going frame of mind. Once you've tried skinny dipping, you'll want to say goodbye to your funny tan lines forever.