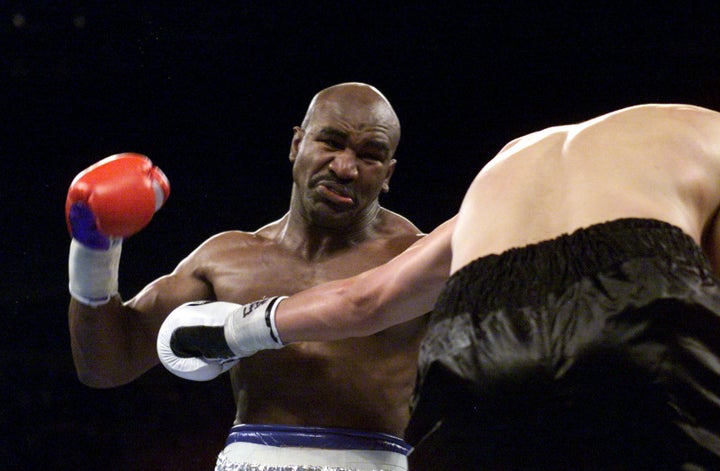 Evander Holyfield's has plenty of shiny valuables in his life. He has Olympic medals, and he has boxing titles. He has wedding rings, and he has his own "The Real Deal Grill" cooking appliance.
But it's a less valuable object -- a single quarter -- that he has especially fond memories of. Without it, he might not have been able to make an Atlanta Boys & Girls Club his unlikely childhood boxing mecca and boxing his career.
In a conversation with The Huffington Post over the phone on Wednesday, the now-retired boxer told the story of a Boys & Girls Clubs of America employee who gave an 8-year-old Holyfield the quarter that changed his life.
Holyfield, now 52, also spoke with HuffPost about the impact the Atlanta club had on his childhood, his son Elijah's football career and how Andre Berto can beat Floyd Mayweather this Saturday.
You've become more and more involved with charities as the years have gone by. I saw your work with the Prostate Cancer Foundation and now this latest effort with the Boys & Girls Clubs of America. What was it like spending a lot of time there as a kid?
It was great. The Boys Club pretty much changed my whole life. I'm the youngest of nine in my family. As the youngest, you don't get treated that well, because you mess up everything. Going to Boys Club was a home away from home.
I wouldn't be the person who I am today [without the Boys Club]. When I travel around the world, people know who I am, and it's because of the Boys Club. I always tell people who sponsor the club, you're doing a great job, because you never know whose life you're going to change. It just took one quarter to change my life and put me in a position for a coach to tell me that I can be like Muhammad Ali.
What do you mean by "it just took one quarter"?
I didn't have the money [to be a member]. If I would've went home, I wouldn't have gone back to the Boys Club. It gave me the opportunity and something my mother couldn't give me. If my mother had money, she would've sent me there with money, but didn't have any money. If it wasn't for that quarter that Ms. Hawkins gave me, I would've gone home by myself and not wanted to go back anymore. It gave me an opportunity to see that life could be different than the community I lived in.
So without the 25 cents this woman named Ms. Hawkins gave to you, you wouldn't have had the money to go back?
It was a quarter for one whole year [of membership]. I was 8 years old at the time and Ms. Hawkins had to be in her 50s. She did a great thing. She worked the front desk at the club. Her husband Jimbo worked at the Boys Club too. He was a good athlete and coached everything. It just shows you that you have people at the Boys Club who care about kids. I was a kid that needed care at the time and I was able to receive it.
Did you first learn to box at the Boys Club?
I learned how to box [there and in a gym], but I also got an opportunity to understand that age does make a big difference. If you have a 6-year-old [training and boxing] with someone who's 12 years old, and he's saying, "Oh you ain't fast enough, you can't do this, you're a crybaby." The Boys Club wiped away all of those things, put kids in the age where they should be, and allow you to do some things and allow you to get confidence in things that you did well and things you didn't do well. It changed my whole life.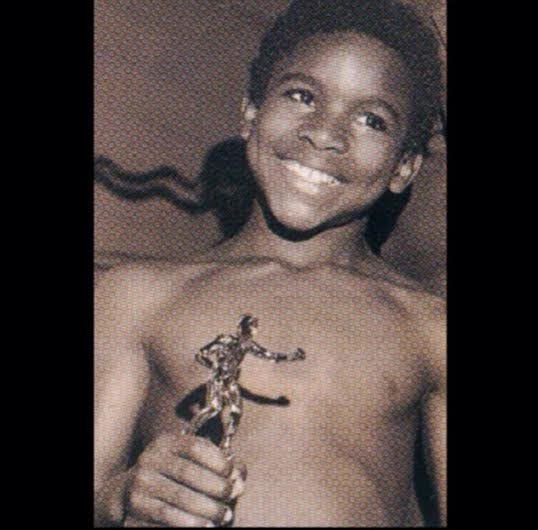 Evander Holyfield after winning his first boxing match at the Boys & Girls Club in Atlanta.
What other sports did you play growing up?
I played football and everything I was good at I was able to do at the Boys Club. And it was always something different and always a challenge -- to be on the swim team, be on the baseball team -- we played every sport. It wasn't just one sport. It makes you well-rounded. I loved football more, but boxing was the thing I did better.
Your son just committed to Georgia to play football. How'd he get involved with football over boxing?
Elijah is a good boxer as well, but he chose football. But when it came down to it, me being a father, there were a lot of things I went through and learned. I lived a life for myself and I worked hard to get my kids to find what will make them successful. Everybody has to love themselves for whatever they do, because you're going to spend 30 years or 40 years in it, so you don't want to go for anything. If you don't love it, you're not going to stick to it.
You watched Shannon Briggs knock out Mike Marrone on Saturday night while sitting ringside. What'd you think of Briggs' performance?
It was alright. It's kind of strange to see Shannon Briggs fight, because he's a man who has asthma. He's fighting and he has asthma! I fought and didn't have that -- your breathing gets tight when you're fighting. He's something! Here's a guy who continues to stay on that battlefield, and he won another shot. I think he talked himself into another shot. If Klitschko gets past his next fight, he says he'll give [Briggs] a shot [at the World Heavyweight Championship].
Do you think Briggs should fight Klitschko next? I saw you break up their little argument in the gym the other week.
The thing is, does Klitschko want to give him an opportunity? It'd be great. Klitschko is a nice guy, but I don't know how many champions would put up with all that [trash talk from Briggs]. I don't know I could have a guy following me everywhere. Klitschko keeps proving to me he's a class act. One point of time in his career, everything was going down for him because he got knocked out by Lamon Brewster, but now he's held [the World Heavyweight Championship] for 11 years. 11 years! It shows you how people overcome things.
I want to ask you about the Floyd Mayweather fight, but this part of it first: What do you think of Jen Welter, the NFL's first female coach, accepting Floyd's invitation to sit ringside at the fight?
What would be wrong with accepting an invitation? There's a lot of things that Floyd does that's alright. Sometimes you step off course sometimes. You have people who agitate you and they're looking for some reason to get you mad. Floyd has done a lot of things right, or he wouldn't be where he's at. He's branded himself and done a lot of great things.
In the ring, Floyd has done great things for sure. But I think the criticism of Welter is that, as the first female NFL coach, she represents something special to a lot of women. Accepting an invitation from Floyd, who has had domestic abuse issues against women in the past, looks problematic to some people.
Who hasn't done something wrong? They're only saying this because he makes a lot of money. Who hasn't had some kind of issues somewhere in their life with something? I think that's what makes people see, this is to let you know, "If someone can overcome this, you can too." We have issues in life, and if we didn't have issues in life, we wouldn't need Jesus.
Onto the fight itself. It's Andre Berto vs. Floyd. Who ya got?
I don't like to give my opinion on what's going to happen, because both fighters are supposed to go out there and do their very best. The only way you become champion is by beating the champion. The only chance you can take is go out there and beat the champion. The champion's job is to say, "Not this time."
How many times is Floyd going to fight? How many opportunities is he going to give somebody? Because he will get beat. If it's the right time, he won't get beat. He says this is his last time, so Berto gets an opportunity and has to make the fight the best for himself. It's not going to be easy. He's got to make some time of adjustment, get some courage, and do something that he doesn't normally do. You have to take it from the champ!
Does Floyd actually retire after this one? Or does he go for Mayweather-Pacquiao II in 2016 as his 50th and final fight? I feel like Floyd wants a nice fat zero, a nice round number in his undefeated winning record. 49-0 looks weird to me, I don't know. I think Floyd would want 50-0.
Nobody knows but him. He's going to do what he's going to do anyway. If he doesn't need any money, why would he fight again? When you fight to win, you do the things that are necessary to win, as Floyd has shown. I would fight a fight that's a smart fight that would benefit me to win it. He's going to fight the way that it takes to for him to win.
Then how does one beat Floyd Mayweather?
Pressure. You got to put a lot of pressure on him, because that's what it takes. You have to fight like a young person. You have to fight reckless, because that's one thing he may not understand. He understands when you respect him, because then he can hit you with things. As a challenger, you have to want to win so bad that you're willing to take risks even if you could get knocked out trying to hit him.
This interview has been edited and condensed for clarity.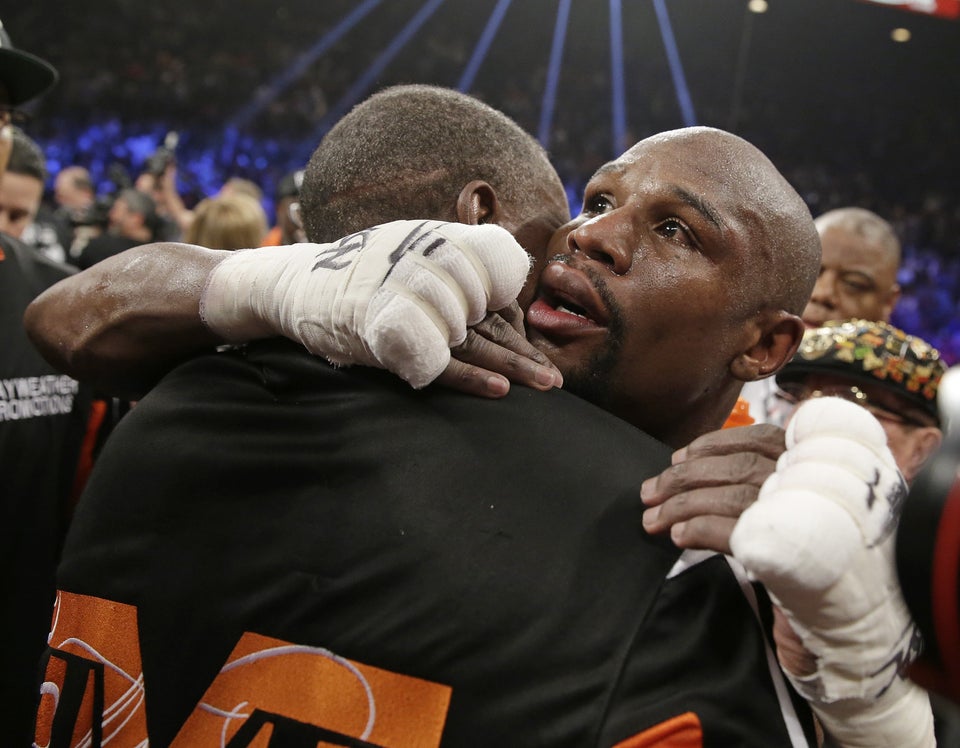 Floyd Mayweather Jr. vs. Manny Pacquiao
Related
Popular in the Community