A North Carolina Pizzeria is making it clear that all customers are welcome.
Juli Metcalf Ghazi, the owner of Pure Pizza in the Plaza Midwood neighborhood of Charlotte, N.C., wants all of her customers to feel accepted. So she designated a gender-neutral bathroom in her restaurant that makes life easier for everyone, including the LGBTQ community, single dads with daughters, single moms with sons, parents with disabled children and adults aiding their elderly parents.
"I started looking around and with our own team of people that we employ," Ghazi told The Huffington Post. "We have single dads, single moms ... we have employees in the LGBTQ community. Within our own little team we have our own needs for why we need a gender-neutral bathroom."
Her sign, which is placed above the sink in the bathroom (in place of a mirror), reads: "We have a UniSex bathroom because sometimes gender specific toilets put others into uncomfortable situations."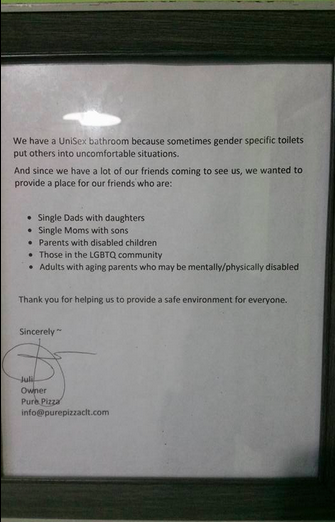 Ghazi was inspired to have a gender-neutral bathroom in her pizzeria after attending a public Charlotte City Council forum on a city non-discrimination ordinance that added protections for the LGBT community. The LGBT-friendly ordinance did not pass.
"The public forum turned into a sad display that was diluted by 'who's in the bathroom next to me,'" Ghazi said.
She told HuffPost that the sign in her pizzeria bathroom has drawn positive reactions from customers who find it to be a "breath of fresh air," she says. Particularly for dads of daughters who often face a dilemma when having to take their daughters to the restroom.
Pure Pizza at Midwood opened this past summer as the restaurant's second location. It currently has two restrooms: one gender-neutral and a women's bathroom, but Ghazi has plans to designate the women's bathroom to another gender-neutral bathroom.
Ghazi told HuffPost that she has decided to speak about the positive outcomes of having a gender-neutral bathroom at her pizzeria at the next public City Council forum on LGBT non-discrimination ordinances in February.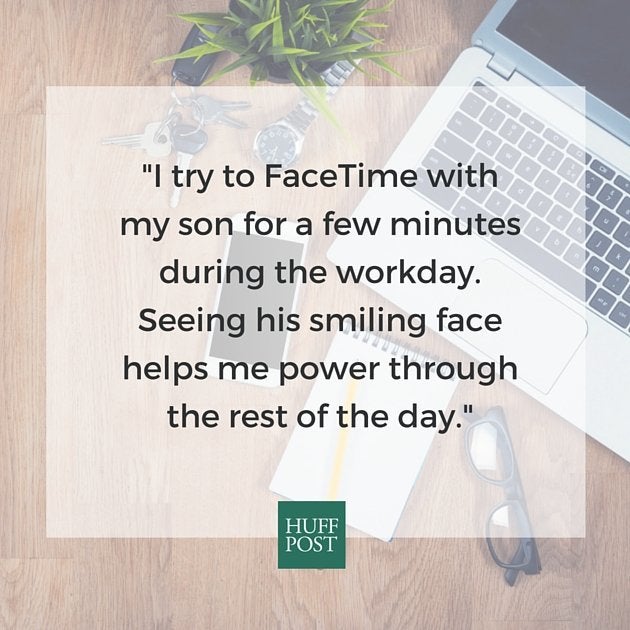 Wellness At Work For Parents