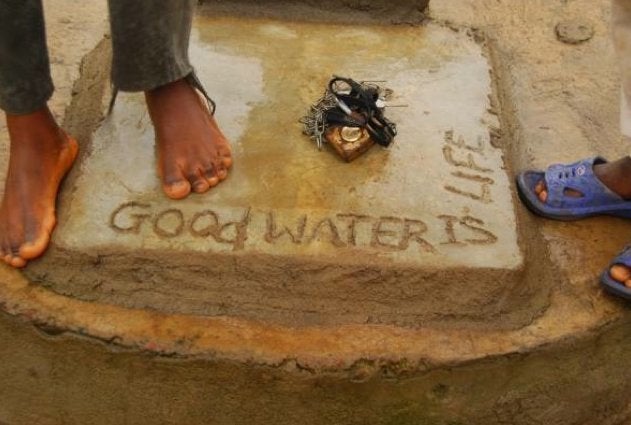 What do a nightclub promoter, a set of adopted twins, and 30 spray-painted driveways have in common? They're all part of one Midwest community's mission to bring clean water to Africans, Quad-City Times reported last week.
The story goes something like this: Scott Harrison, a NYC nightclub and fashion event promoter, left the Big Apple for Liberia in search of some spiritual fulfillment. There, he realized the country's huge need for fresh water wells and came back to the U.S. to form charity: water, with the goal of building wells for communities in developing countries around the world.
Meanwhile, halfway across the U.S., Muscatine, Iowa residents Jody and Andy Landers decided to expand their family by adopting twins from Sierra Leone. When they traveled to Africa to pick up their children, they too saw the difficulties caused by water shortages. They decided to do something about it by getting their entire community involved.
Last Fall, the Landers started Water For Christmas, a campaign to encourage Quad-City region residents to donate to charity: water instead of buying gifts for family and friends:
Their efforts worked. Thanks to Quad-City region support, and a growing online presence via various blogs and Facebook, the campaign was able to raise $59,000 in about two months. That money was enough to build 12 new wells in Africa. Harrison's organization says the average well costs about $5,000, depending upon how far underground the water is.
Last year's project was so successful that the Landers are expanding their efforts for this holiday season. They've worked especially hard to raise awareness-- For 2008, they got community members and school kids in the region to Dance For Water and this year, they kicked off the new season of giving with a four-mile run/walk.
For the duration of the holiday season, Tom Randleman, a local math teacher and Christmas For Water volunteer, is painting the H20 Africa logo on people's driveways for $20 donations. Each donation is enough to provide 20 years of clean water to one African, and more than 30 Muscatine residents have had their driveways painted so far.
You don't have to be a resident of the Quad-Cities to do it to spread the goodwill that Muscatine residents have fostered. Charity: water makes it easy to provide fresh water to communities in developing countries in four ways:
Become a student leader: According to charity: water, 50 percent of schools around the world don't have clean water. Water For Schools, the group's student-run awareness initiative, will help you champion the clean water initiative at your school.
Fundraise for a well: Through mycharity: water, you can create fundraising campaigns and collect donations. The best part? Every dollar raised is tracked to a water project, and in 12-18 months you can see results of your donations using GPS and photos.
Spread the Word: Muscatine's online awareness campaign was a big success, and you can add to it by setting your twitterbackground or blog banner or to one of several cool-looking charity: water images.
At Impact, we love seeing a community get so wholeheartedly behind one cause, and this story made us wonder, how have other communities come together to make a difference? We'd love to hear your stories about how the people in your community has effected change locally or around the world.
Calling all HuffPost superfans!
Sign up for membership to become a founding member and help shape HuffPost's next chapter