Thibault Duchemin and his team applied for our Lean LaunchPad class at UC Berkeley in 2014. We accepted them because it was clear Thibault was driven to solve a very personal problem -- he grew up in a deaf family, the only one who could hear. His team project was to provide automated aids for the hearing impaired.
Here's his story.
-----
Lean LaunchPad: A Year After
A month ago, Jason, one of my founder friends, shut down his startup. It failed because he forgot the No. 1 rule every founder hears over and over: Nobody wants your product until you prove it. How come so many founders still wake up to this horrible truth, after months or years of hard work?
Listening to Jason's story made me realize how critical our experience with the Lean LaunchPad has been in our entrepreneurial journey at Transcense. And why now, despite the time and effort involved, we do not hesitate getting out of our office to meet users.
Pre-Lean LaunchPad - Giving a Voice to the Deaf
Everything started when I applied to the Lean LaunchPad class pitching a big, crazy idea to solve a personal problem of mine. I grew up the only hearing person in a Deaf family. My sister's dream has always been to become a lawyer, but closing statements and client meetings are impossible situations for her without the help of unaffordable interpreters.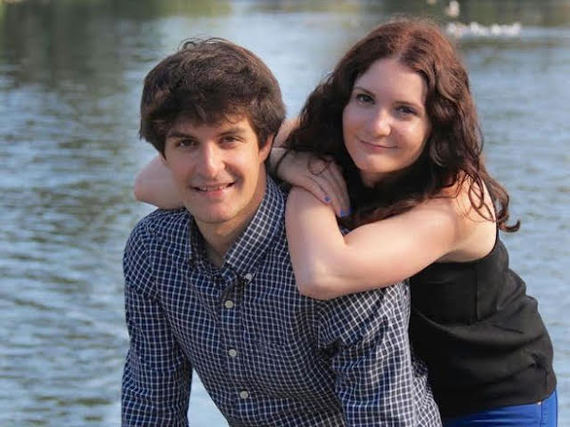 At Berkeley I decided to build smart gloves to translate sign language. With my co-founder Pieter, I built a first basic prototype, which got us a prize and got the team started. It looked like one of the geeky science projects you find in Berkeley halls. Glove nerds we became.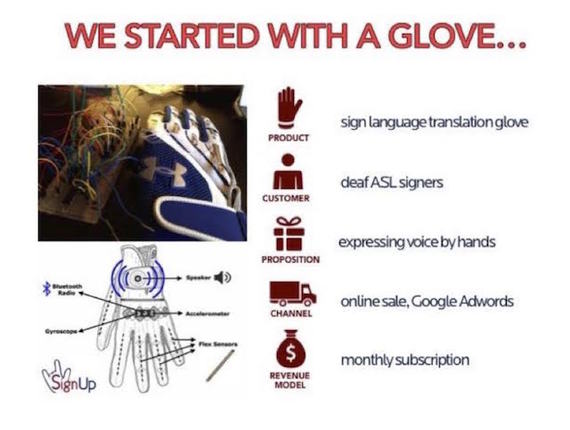 That's also when we met Steve Blank.
More than the signing glove, he was interested by our passion for the problem.
Steve knew that first ideas rarely hit home for users, so to enter the Lean LaunchPad, we had to give in. "We're not married to the glove," we said, allowing us to accept the possibility of a pivot. There was no going back.
Lean LaunchPad -- Stumbling Upon an Immense Need
Customer Development for us meant a lot of hard-won learnings. Our entire team took a fast-paced American Sign Language course to be able to really connect with our potential users. We spent six weekly hours in complete silence, discovering the subtleties of gestures and expressions. Since I'm French, I spoke for a while a bizarre Franglish in signs. It turned out to be out an excellent icebreaker in our interviews.
After 61 in-person discussions, and hundreds of bike rides across the Bay Area to meet and talk/sign/write for hours with our potential users, we were sure that the community of Deaf people cheered for our signing glove idea and prototype.
But we detected a common frustration when discussing their existing relationships with their hearing coworkers or friends, where the glove couldn't help at all. This one thing kept coming back across all our interviews, over and over. A frustration so obvious, yet so deeply unresolved that when it became really apparent the day we met Alma, it blew our minds away and made us pivot.
Alma didn't speak sign language, and relied on her residual hearing, being able to read lips very well in face-to-face situations. But in her own family, at the dinner table, she would read a book while everybody else was conversing.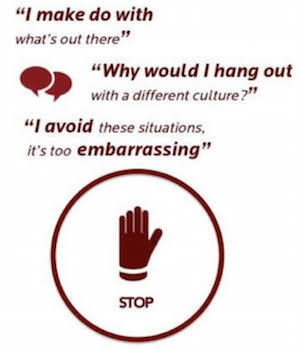 Because following the conversation when multiple people were talking around her was impossible. She avoided the problem the best way she could, by doing something else, or being somewhere else.
We learned that existing solutions are not affordable enough to access in easy, informal social and professional conversational situations. For 400M people in the world with disabling hearing loss, this is an ongoing frustration, encountered every day. This was a big opportunity.
Halfway through the Lean LaunchPad, it was time for a major pivot. We dropped the signing glove.
And pivoted to a mobile application that transcribes group conversations using speech-recognition technologies. The app quickly connects all the smartphones in a group, enabling the app to translate and display who said what around the user (while uniquely identifying each speaker) in less than a second. With 24/7 autonomy, it allowed our deaf/hard-of-hearing user to understand and participate in any group situation, effortlessly.
The rest of the 123 total interviews helped us figure out a working business model. By the time we graduated from the Lean LaunchPad class, we had found the root cause of the initial problem we had set out to tackle, and even better, a potential solution for it.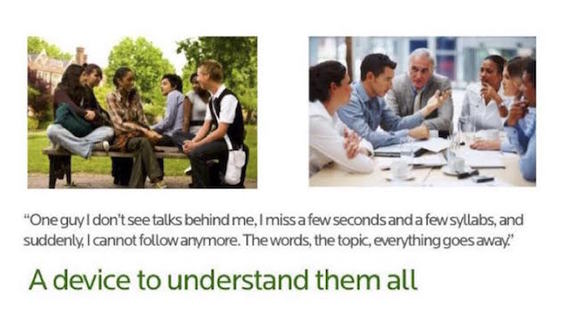 Post-Lean LaunchPad - Making Something People Need
Now it was time to build the company. Our team spent our whole summer in Berkeley iterating, testing and running experiments to validate and refine our concept before spending any of our precious resources. For example, we built a "mock-up meeting", where 5 friends in the meeting called 5 more friends of ours who each transcribed the call to be interfaced to a Deaf tester in the room. Despite the low fidelity of this minimal viable product, some of our testers thought it was a real technology.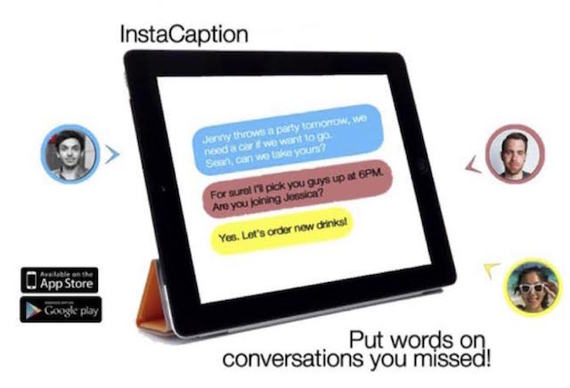 Next, we joined the Boost.vc startup accelerator, where we spent 16 hours a day in a basement to finish the first working version of our app. By now we believed we had tested our hypotheses and wanted to validate whether there was a market. So we launched a crowdfunding campaign on Indiegogo. We raised $30,000 in less than 6 days, almost doubling our goal. The endless emails we received describing the exact need we had uncovered were the powerful validation of the customer development approach.
Now - Bridging the Communication Barrier
Skinner, our third cofounder, joined because of our persistence in talking to our users. The captioner (live-transcriber) we used in demoing to potential deaf customers was so excited about our product that she introduced us to Skinner, a brilliant mobile developer, who is profoundly deaf.
In the early days of Transcense, when we took Skinner to an event, he would grab a drink and go to an isolated space to check his phone. Today, in small groups, he can use the app to communicate with others. At lunch, during our internal meetings, we pull out our phones and stay connected, transcending the silence barrier. What was just my personal story now became a team story while we slowly dissolved the communication barriers within the team.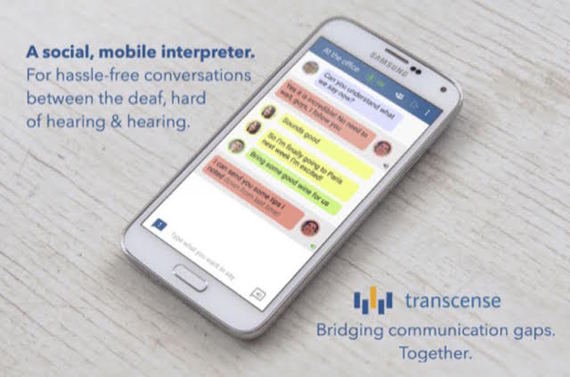 Every day, these simple moments justify our long hours of work.
But what's ahead of us is even more exciting.
After a 3-months of beta testing with our community, we've seen the same pattern with our early users - we've changed their lives, enabling opportunities that had been closed to them so far. Incredibly high usage and impressive retention prove that we are on the right track.
In a relentless build-measure-learn cycle, we're staying focused on the next steps.
We are bridging the deaf/hearing communication gap, an immense mission that will take everyone's participation to make it happen.
Dig deep into your customer psychology and test lo-fidelity minimum viable products, before trying to build anything
Track the need rather than the desire: solving somebody's needs will help you much more
Eat your own dog food
This page contains materials from The Huffington Post and/or other third party writers. PricewaterhouseCoopers LLP ("PwC") has not selected or reviewed such third party content and it does not necessarily reflect the views of PwC. PwC does not endorse and is not affiliated with any such third party. The materials are provided for general information purposes only, should not be used as a substitute for consultation with professional advisors, and PwC shall have no liability or responsibility in connection therewith.
Related