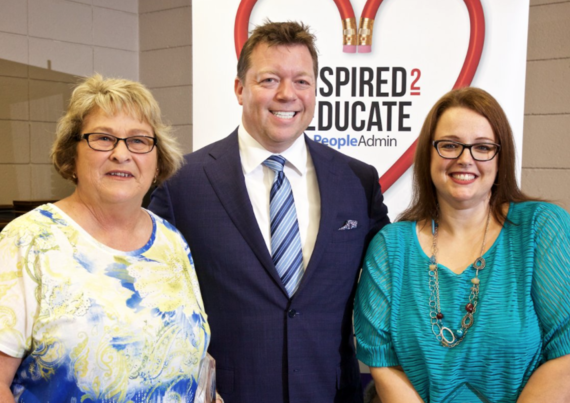 "I was one of those children. The student that the teachers would whisper about."
This month in our Inspired2Educate program, a story came across my desk that stopped me in my tracks. It was about a young student who suffered severe neglect and emotional abuse by her family. Stephanie Anderson went to school each day with a growling stomach and dirty clothes, and sat in the back of the classroom so as not to draw attention. "I rarely made eye contact with anyone. I had no friends. I just wanted to be invisible," she said.
Try as she might, Ms. Anderson could not remain invisible to her fourth-grade teacher, Mrs. Horton. The educator immediately recognized a child in need of not just clean clothes and a warm meal, but a guiding hand in the difficult process of growing into adulthood.
"I would go straight into Mrs. Horton's classroom after I got off the bus. She would pull my hair back into a ponytail, tell me to go wash my face, and remind me to wear clean clothes," she said. "After weeks of my not turning in homework, Mrs. Horton had finally had enough. She pulled me into the hallway and gave me the 'you have to be responsible for yourself' lecture. Mrs. Horton informed me that she would no longer wash my face, or brush my hair, or feed me before school, it was now MY responsibility."
Mrs. Horton was an educator through and through, who knew that teaching often extends beyond the classroom and into other aspects of a child's life. Those early lessons from Mrs. Horton allowed Ms. Anderson to hold her head a bit higher in the hallways, and eventually gave her to confidence and discipline to participate in class, turn in homework, and build friendships. When Ms. Anderson joined a little league team, she walked to and from practice each day and attended games despite her parents' absence. More often than not, she would look into the stands after a play and see her teacher, Mrs. Horton, motivating and encouraging her from the sidelines.
By the time senior year arrived, Ms. Anderson gave birth to a daughter and had to stay home to care for her new baby. The school district assigned her a homebound teacher to help her stay on track with her studies. "I reluctantly opened the door, and Mrs. Horton was standing on my mom's porch with assignments in hand," she said. Over the course of the next few weeks, Mrs. Horton not only instructed her former student in the classwork she needed to graduate, but also taught the new mother the skills she needed to care for her infant child. "I learned how to hold a bottle correctly, how to cradle a baby while doing an assignment, and probably one of the best lessons in life: if I wanted to give my baby a good life, I HAD to get an education," she said.
Not only did Ms. Anderson graduate on time, but she did so with honors. And now, she works as a fourth-grade teacher in not only the same school, but also in the very same classroom as Mrs. Horton did all those years ago.
"Stephanie is the victor, not I. We teach, it's what we do," said Mrs. Horton. "Teachers care, it comes from the heart. I had a job to do - to get them prepared for fifth grade - and I took that very seriously. They had choices and usually, I would bring them around to the choice to be the best that they can be."
Ms. Anderson said, "I owe so much to so many teachers. And the only way that I can even think to repay even just a portion of what they've given me would be to teach and to pass it on. I enter the classroom every day trying to spot the invisible students. And I've had many come through my classroom - and let me tell you, those kids are survivors. After all they had been through abuse and hunger and neglect, they were still able to get up and go to school and pretend that they had a somewhat normal life."
When asked what her advice would be to someone interested in going into education, Ms. Anderson said, "There is no other profession in the world that will give you job satisfaction the way teaching does. And, whether you're an invisible child or not, an education is the one thing that nobody can take away from you."
So many teachers go above and beyond what's expected in the classroom to teach, encourage, and inspire the lives of their students. I am honored to share Ms. Anderson's story through our Inspired2Educate program, and look forward to reading more like it in the months ahead.
Kermit S. Randa is chief executive officer of PeopleAdmin, the leader in cloud-based talent management solutions for education and government. He has twenty years of executive experience leading firms in the software industry.
REAL LIFE. REAL NEWS. REAL VOICES.
Help us tell more of the stories that matter from voices that too often remain unheard.