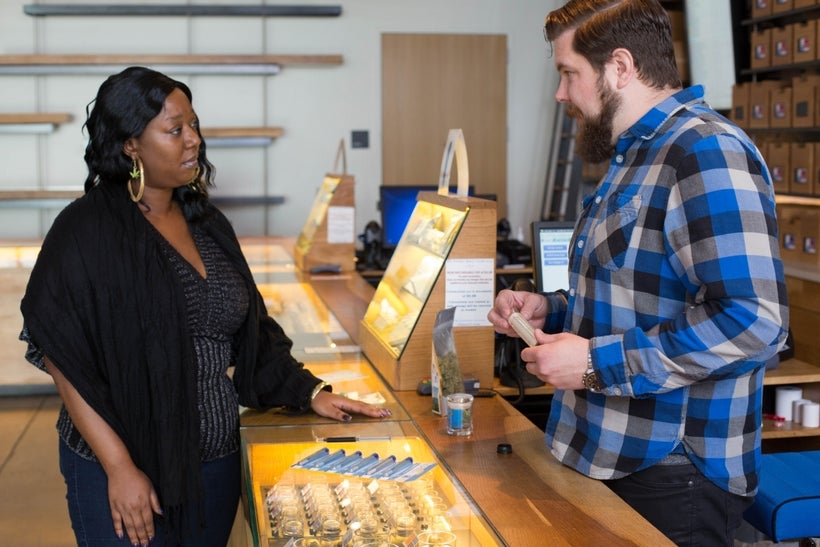 Massachusetts voters should take Wanda James's story to heart.
She didn't choose to become interested in marijuana policy; it happened by necessity when her brother was sentenced to ten years in prison for marijuana possession at the age of 17. When she decided to advocate publicly for legalization in Colorado, she spoke out about her experiences as a black woman who uses cannabis. Today, as a co-owner of a legal dispensary there, she helps her employees get the chances in life that her brother didn't.
Here in Massachusetts, we can choose to stop sending people to prison over marijuana. If we pass Question 4, we will pass the nation's first marijuana legalization law to require regulations focused on opening the new cannabis industry to the very communities that have been targeted by the drug war. Those policies could include job placement programs, skills-based training programs, or assistance for new minority-owned businesses. We have a rare opportunity to build a new industry from the ground up with a focus on accessibility and equality.
Data from Colorado can help us estimate the number of jobs we will create by bringing the marijuana industry above ground. ArcView Market Research, a cannabis data and investment firm, estimates the legal Massachusetts industry could be a billion-dollar market by 2020. As of September 2015, more than 25,000 Coloradans were licensed to work directly in marijuana businesses. With a population of over a million people more than in Colorado, our state can expect an even larger number of jobs available in marijuana facilities.
That doesn't include the thousands of new ancillary jobs in areas like construction and software. Electricians, HVAC experts, and agricultural experts in subjects like irrigation engineering and plant genetics will all be needed. And with the strict safety regulations the law requires, we will see opportunities to create new high-tech packaging and security businesses. Testing laboratories which measure the potency and safety of cannabinoid products will require experts in analysis and biotechnology. Given its reputation as a center for science and innovation, Massachusetts has much to contribute to the rapidly growing market for tools to make the use of marijuana safer.
After Colorado legalized marijuana, its unemployment rate fell steadily, reaching a nine-year low of 3.5% last year, one of the lowest in the country. Jack Strauss, the University of Denver College of Business Miller Chair of Applied Economics, studied the economic impact of two Denver-based individual marijuana businesses in 2014 and found that they each generated a contribution of "seven times more jobs and output than the average retail store and restaurant."
When we talk about marijuana policy, we often rightly focus on the devastation that has taken place in the criminal justice system. But people of color are more than just arrest statistics. When I drafted sections of Question 4, I thought about economic justice, not just criminal justice. Stopping arrests for marijuana in a community is a good thing. Helping that community become economically empowered is better.
For Massachusetts, Question 4 could lead to $100 million in new state revenue, on top of the money we'll save when we stop throwing people like Wanda's brother in jail. The billionaire-funded opposition to Question 4 will try to convince you prohibition is working. But we all know that's not true; a marijuana market already exists in Massachusetts, but it operates in the shadows. Let's regulate it and give the people who run it a chance at a better life. Question 4 will create thousands of new jobs and harness the talents, creativity and innovation potential of the people of Massachusetts.
Calling all HuffPost superfans!
Sign up for membership to become a founding member and help shape HuffPost's next chapter
This post was published on the now-closed HuffPost Contributor platform. Contributors control their own work and posted freely to our site. If you need to flag this entry as abusive,
send us an email
.