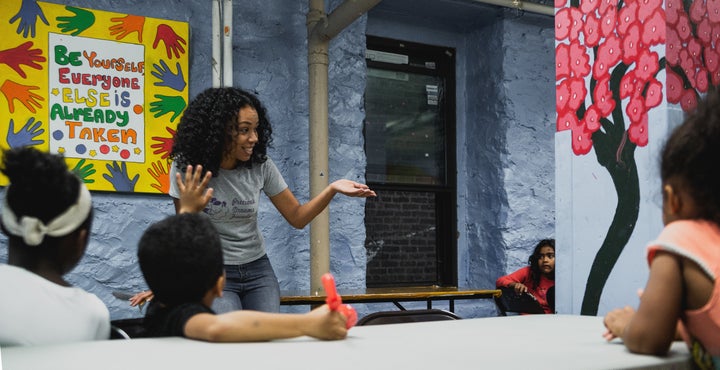 Nicole Russell hastily finds parking at a Target on the way to her Comfort Drop at a Bronx family shelter, hoping to pick up enough pillowcases for the more than 20 young participants who await her arrival. Tonight, she will lead the children in creating designs on their new pillowcases to inspire their last thoughts of the day to be ones of comfort.
Russell runs an organization called Precious Dreams Foundation, which she co-founded with her mother in New York in 2012. Knowing that the only time children or teens in transitional housing are left alone with their thoughts is when they go to sleep, Russell created the organization to emphasize the necessity of comfort items in kids' lives. She developed what she calls Comfort Drops to serve children and teens in homeless shelters and the foster care system so they might sleep better while living in transitional housing.
On behalf of her work with Precious Dreams Foundation, Russell is one of the 100 people being honored as part of the TIAA Difference Maker 100 program. We have partnered with TIAA to share her inspiring story.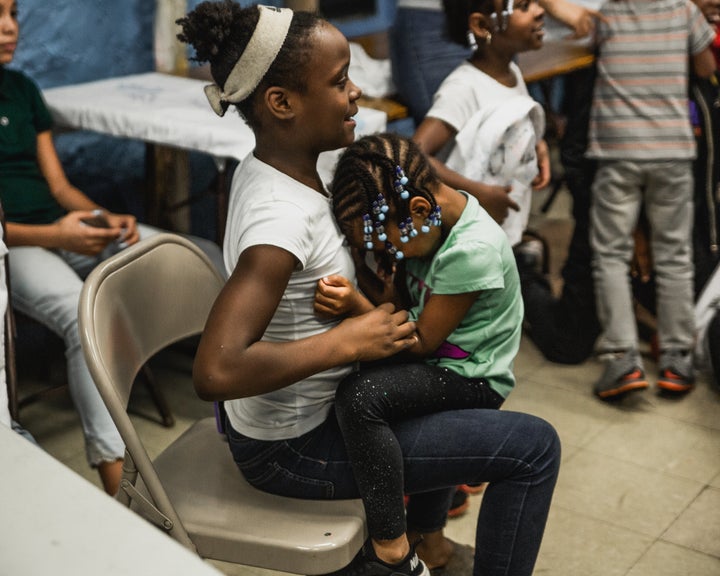 "Guys! They're here! She came!" one young boy calls out as he hops off the top step of the Bronx family shelter's entrance, and quickly gathers a group of his peers.
They all fall in line behind Russell, brand-new pillowcases in tow, and jostle into the brightly decorated classroom to find their seats. Four Precious Dreams volunteers set out the comfort bags at the back of the room as Russell dives into leading the decorating activity. The children are excited and engaged. Several hands shoot up to answer Russell's question: "Who can name three things that make them happy?"
"My teddy bear, my blanket, my bed."
"YouTube, games and trucks!"
"My girl best friend, my boy best friend and my mom."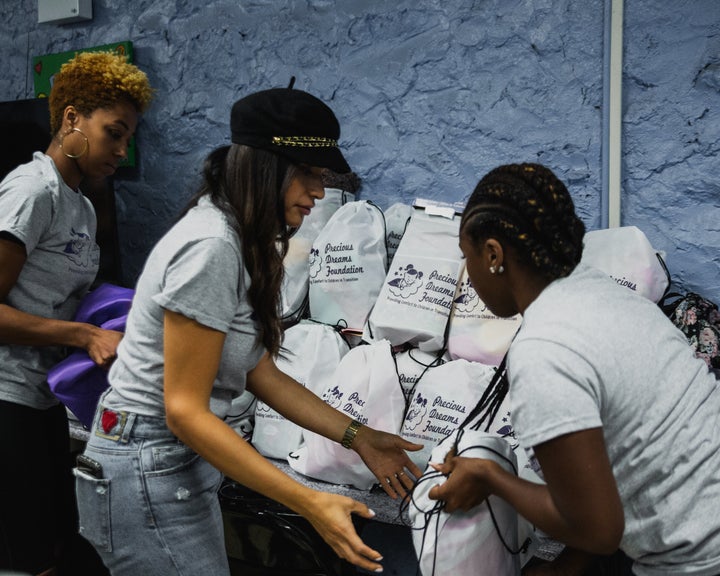 Russell knows the importance of happiness and comfort items before bedtime because of the trauma her foster sister, Miracle, faced before coming to live with Russell and her mother in 2009. At age 4, Miracle suffered from recurring night terrors. Russell watched her mother calm Miracle with items such as blankets, bedtime stories and pajamas, all of which brought Miracle comfort and rest. The experience made Russell wonder how other foster children slept if they did not have these items.
"I thought of all the children in similar situations that move from home to home and may suffer from nightmares and don't have a parent down the hall or someone they can talk to when they wake up from a night terror. It just broke my heart, thinking about children that lack comfort items. I think [comfort items] are basic necessities that all babies and children should have."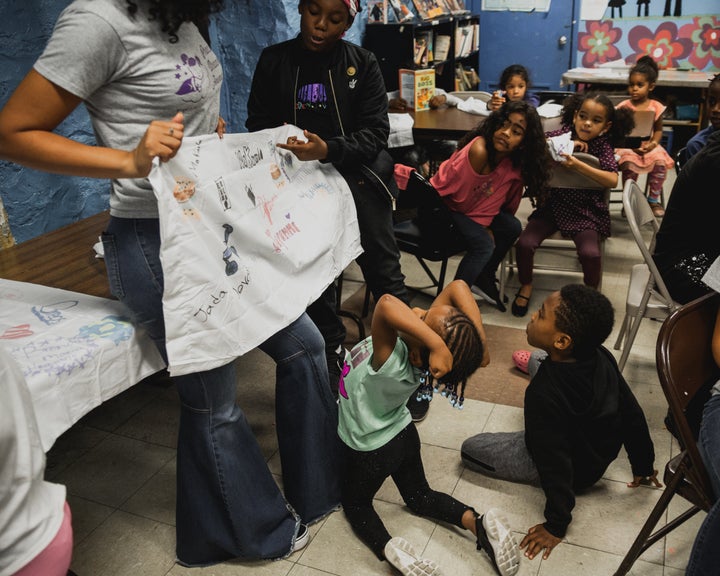 To create each Comfort Drop, Russell completes activities and brainstorms with the children about what brings them comfort. Younger kids decorate pillowcases with positive, comforting images so they are reminded of something soothing just before they go to sleep. For older kids and teens, Russell introduces therapeutic writing and yoga exercises to help them find a way to process their experiences. No matter the age group, each event concludes with volunteers from Precious Dreams Foundation distributing comfort bags full of items chosen especially for the children.
With nearly half a million children in the U.S. foster care system, Russell hopes to eventually reach all children in transition. To do so, she established chapters in Los Angeles in 2016, Baltimore in 2017 and Fort Lauderdale in 2018. Chapter leaders in these other locations organize and make drops every quarter for the nonprofit. In New York, Russell is able to organize about one Comfort Drop per week.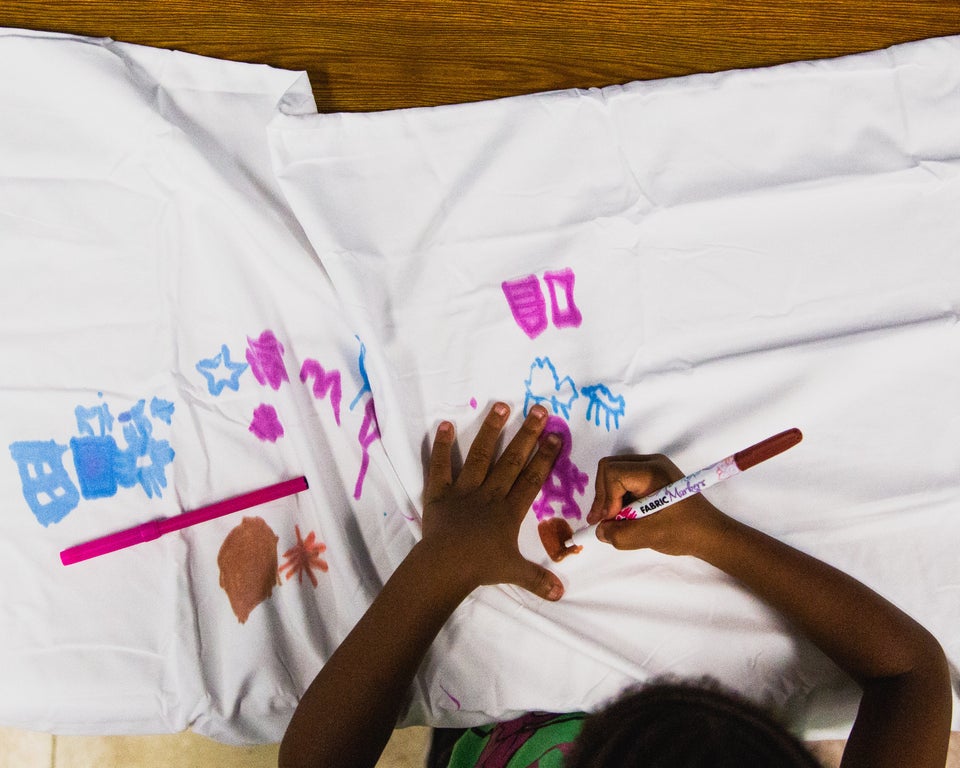 Pillowcase Decorating with Precious Dreams Foundation
As the only full-time employee in New York, Russell does just about everything herself, from packaging the comfort bags to securing funding to buying items for the bags and personally delivering them to the children. It is important to her, however, to emphasize the contributions of others that make Precious Dreams Foundation possible. This includes volunteers and chapter leaders who work without pay and a board of directors who cover administrative costs so that all of the money raised goes directly back to the children. In fact, Russell thinks one of the things that makes Precious Dreams stand out from other organizations is the people involved.
"Many of our volunteers or guest speakers can relate to these children because they grew up in similar situations. If they're not associated with someone that's in foster care or grew up in the homeless shelter system, then they once experienced it themselves." Russell added, "So, I think that when we walk into the room, there's an instant connection because they feel like we can relate. We see them as people that are just like us, and we're all equal, and I think we do a really good job at making them feel that."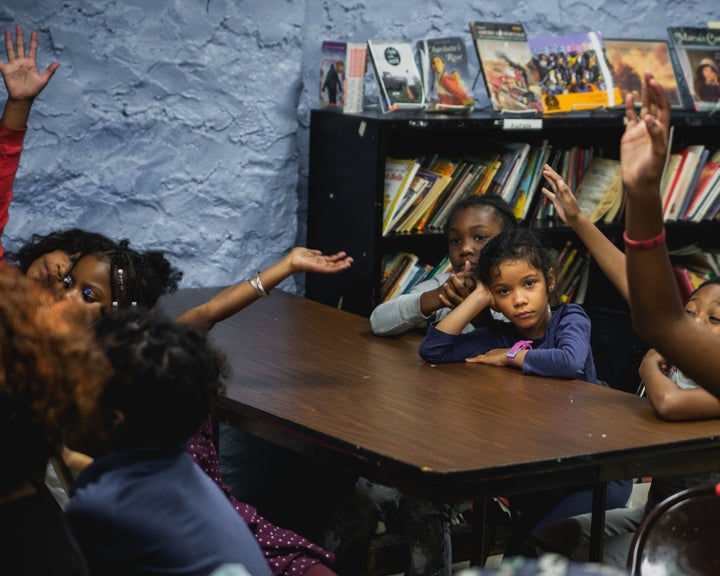 Precious Dreams Foundation partners with the Department of Homeless Services and Emergency Children's Services, so Russell and her team have access to serve all the foster care and homeless youth in various transitional settings throughout New York's five boroughs. After Russell's first event with DHS, the staff there called and said they wanted to partner with her immediately because they had never seen the kids they work with engage with volunteers the way they did with Precious Dreams.
"I meet so many people who see terrible social problems and don't know what to do about them," said Antonio Rodriguez, director of special events for DHS. "But Nicole came up with an innovative and unique approach to the specific issue of children adjusting to the difficulties of living in transition. Nicole has impacted the population of kids and teens that I serve by dealing with a common experience that is often not acknowledged: how tough it is to make the emotional and psychological adjustments to new and difficult circumstances, especially in bed at night."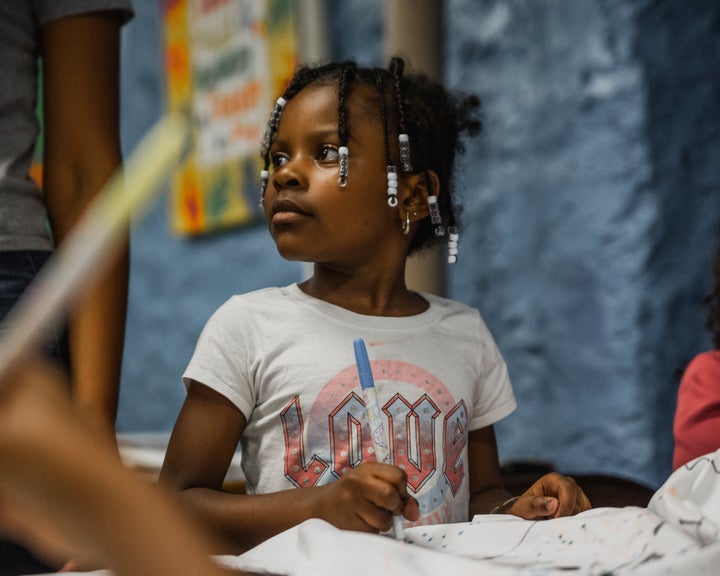 Russell states that Comfort Drops have a 100 percent participation rate. Even if a child or teen is resistant in the first few minutes, they see how much fun others are having, and eventually join in. She proves her point the moment she enters the family shelter in the Bronx. As volunteers move about the room assisting children with their drawings, Russell invites the participants to remember the items they draw tonight and the things that make them happy the next time they have a nightmare. She asks the children to promise that they will remember.
"Everybody say, 'I promise.'"
Russell is met with a resounding choral response: "I promise!"
Before the comfort bags are distributed, Russell leaves time for show-and-tell. The children display and discuss their finished pillowcases in front of the class.
"Mine has flying cookies and a lettuce sandwich," one boy says.
"I have a house, a party, my school, a bus," another girl adds.
"There's a dinosaur, another dinosaur, a heart and a sun."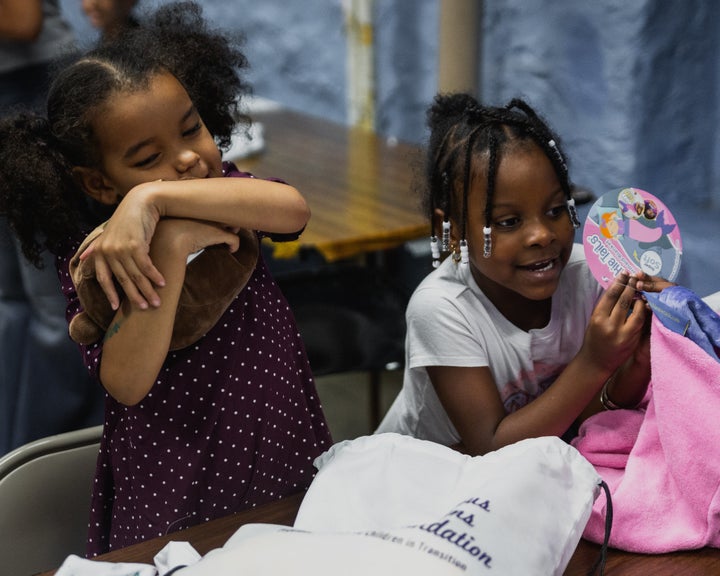 One young man proudly displays his pillowcase, while one of the shelter workers looks on. "I drew the Earth, and I drew Miss Charlene a flower and a heart. I made all this for Miss Charlene."
"Because Miss Charlene brings you comfort?" asks Russell.
The young man nods, and Miss Charlene, the shelter worker who oversees the children's events, has to step away to dry her eyes.
At the end of the Comfort Drop, volunteers distribute the bags, each of which has the child's name written on the inside. Russell always makes sure she has a list of the names and ages of each participant prior to a Comfort Drop so that she can tailor the bags to the children — the younger kids get things like teddy bears and superhero socks, and the older kids get journals, pajamas and more.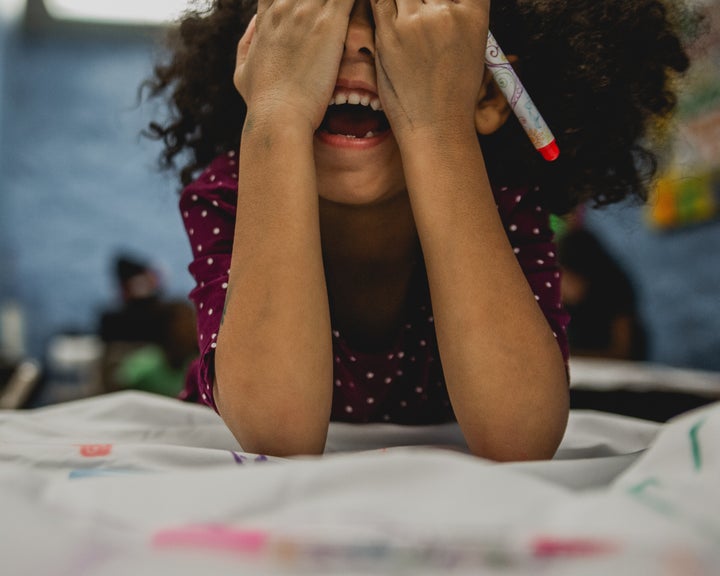 The reason for writing the children's names inside, Russell says, is that she's giving them something that's uniquely theirs, and it may be the only thing they own. While she is careful to keep costs down, Russell is adamant that she not sacrifice on quality. "I don't want to give the kids something that's going to disappoint them in a year," she said. "I want them to have items that will last."
Kenneth Brighton, director of community relations for ChildNet in Broward County, which is one of Precious Dreams Foundation's partners in Florida, calls Russell a "force of nature." ChildNet's central focus is the removal of children from abusive homes and then finding them temporary housing. Precious Dreams Foundation provides comfort bags for all of the children that come to ChildNet on their first night of transition.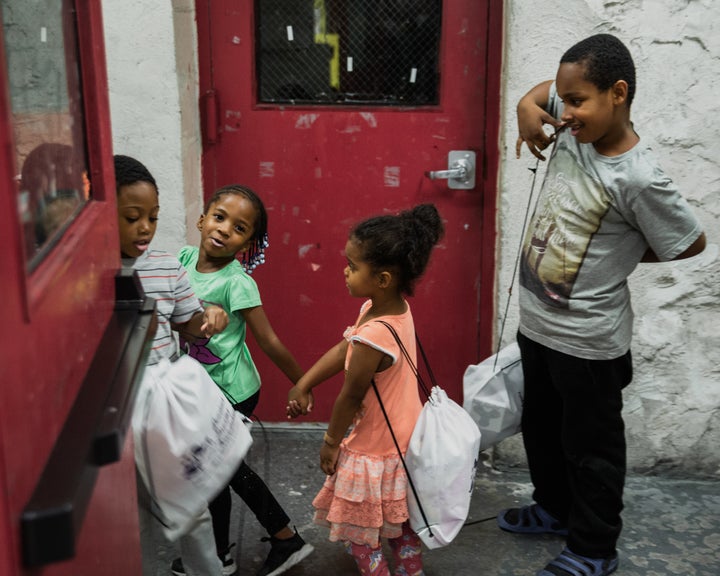 "I interact with many nonprofit founders, and few are as dynamic and fully committed as Nicole," said Brighton. "In terms of the community we support — abused, abandoned and neglected children — her impact, and that of her foundation, has been extraordinary. The bags not only provide comfort and a welcomed distraction for children who are dealing with trauma, but they help calm children down, allowing our team to more accurately assess their needs and to provide the necessary services as quickly as possible."
Hoping to further spread her lessons of comfort, Russell also just released a book titled, "Everything a Band-Aid Can't Fix: A Teen's Guide to Healing and Dealing with Life," which she hopes will help serve even more children and teens in transition. Inspired by the Precious Dreams guest speaker events, Russell began gathering the advice speakers shared on living in transitional housing and finding ways to self-soothe. She created a book designed to help teens by giving them something to read, but also something to hold, as well. "The book is a comfort item," she said. "The Band-Aid on the book is embossed. So, if you're feeling bad or having a bad day, you can just rub the book, and it will make you feel better."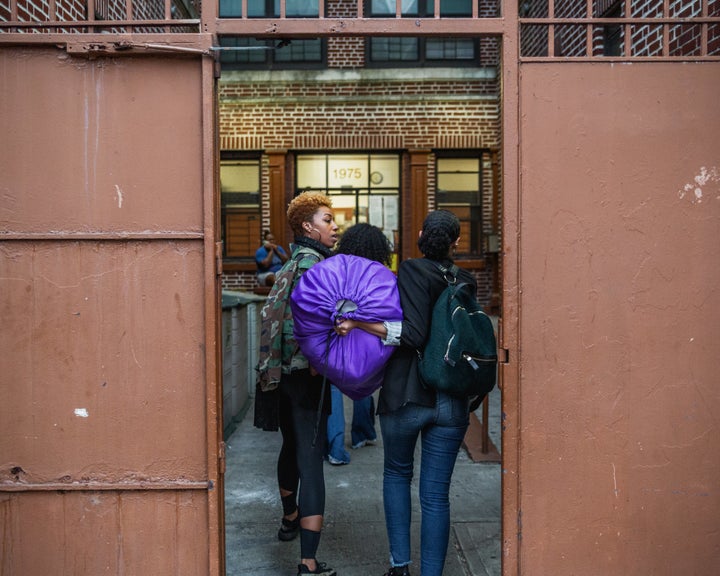 "[Nicole] has impacted thousands of teens and children," said Rodriguez. "The core of her success has been that she sees these children as individuals and always makes sure that every kid comes away feeling special and important."
If there's one thing Russell wants people to remember about Precious Dreams Foundation, it's the importance of the Comfort Drops and lessons of self-comfort. "It's one thing to provide a good time, a distraction or professional help," said Russell, "but it's another to give someone tools that they could use for a lifetime."
To celebrate its centennial, TIAA is honoring 100 people working to make positive and lasting change in the lives of others with awards of $10,000 each. Nicole Russell is one of those being honored. The money she and Precious Dreams Foundation are being awarded will benefit over 400 children. We have partnered with TIAA to put the spotlight on Russell's story, and on other stories like hers. To learn more about the program, and the amazing work the rest of the honorees are doing, visit: www.TIAAdifferencemaker100.org.
Words by Samantha Thomson LoCoco; Photos by Sam Dahman
Related