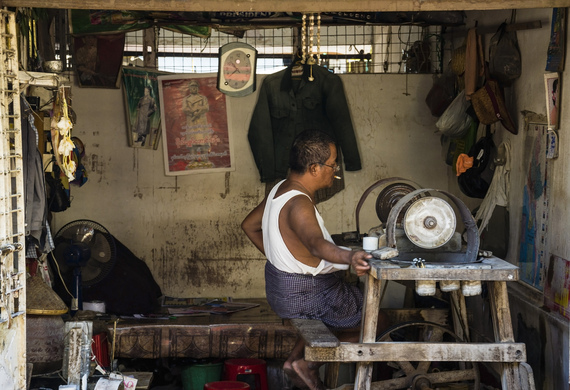 A worker polishes jade in his workshop. Taken by Guillén Pérez, Flickr (CC BY-ND 2.0)

There is a growing consensus amongst politicians and transparency enthusiasts that open data is essential in fighting corruption. While requiring government to openly publish budgets and MP's salaries has been considered essential, governments are still lagging behind in implementing open company data. What companies are operating in a country? Who are the directors? Who are the shareholders? Does the company have subsidiaries? How are they controlled? These are some of the key datasets that must be publicly available, for free and searchable for markets to operate in optimal conditions and to establish an audit trail.
Global Witness, one of the world's leading anti-corruption NGOs, released a startling report shedding light on how a powerful elite is benefiting from Myanmar's $31 billion dollar jade industry. This eye-opening investigation is an important case study on how open company data and identifiers are critical tools to uncover corruption and the links between companies and the real people benefitting from it. Global Witness estimates that Myanmar's jade industry is worth as much as US$31 billion -- that's nearly 50% of Myanmar's GDP and up to 46 times the government's expenditure on health. Kachin State, the region where jade is mined, has suffered environmental and economic destruction as well as displacement of indigenous people. Global Witness used the information OpenCorporates had scraped and turned into open data from Myanmar's official company register to connect powerful elite to the jade trade.
According to The World Bank, 70% of grand corruption cases used corporate structures to launder money. According to World Economic Forum, corruption adds up to 10% to the total cost of doing business globally, and up to 25% to the cost of procurement contracts in developing countries. So, having access to open company data is essential to enable armchair auditors, businesses and NGOs investigating corruption.
Myanmar had been publishing online accessible company register which includes incorporation data, addresses, types of business and information on company directors and shareholders since the end of 2014. While it was not available as open data this already puts it leagues ahead of other jurisdictions such as Spain, Brazil, and most states in US such as Delaware. In fact Myanmar scores a 30 out of a 100 in the Open Company Data Index.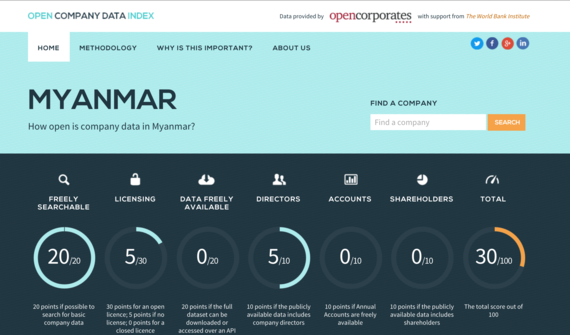 During the investigation, key information on directors and shareholders, especially director identifiers was taken down by Myanmar without any visible explanation. After this was raised as an issue, the information on directors has resurfaced in 2015, but shareholder details remain absent.
The data was checked against the information provided by interviewees to find links between particular jade companies and powerful individuals against director and shareholder data for the companies concerned. Having this information as open data through OpenCorporates as opposed to a web page or PDF meant Global Witness could run an algorithm to search, mine and match the data.
Accessing and validating official record through open company data enabled Global Witness to provide the audit trail to make those connections. Though just one part of Global Witness's extensive and long-running investigation, it was clear that open company data was critically important.
Despite the value of open data for investigations, open company data for crucial jurisdictions remains closed. Running the names of countries on their second Open Government Partnership action plan stage through the Open Company Data Index shows that countries that collect rich data from companies such as Italy and Panama, are still not making the information freely available as open data.
It's important that for these countries who can easily make their closed datasets open to do so as it involves little to no cost and offers a treasure trove of benefits to the local and international communities, especially to tackle corruption.
Open data may not demolish the incentive of corruption but it can go a long way in raising the cost of doing so.
You can find download the white paper here.
Popular in the Community