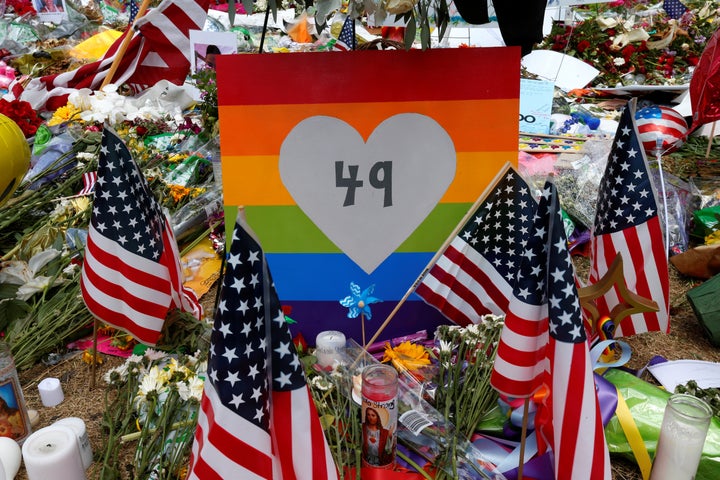 Yes, there's been an enormous outpouring from many Americans who raised millions for local LGBT groups, victims' families and survivors of the Orlando massacre. Politicians have spoken out in powerful ways, supporting LGBT rights, with at least one even apologizing for past actions. And many prominent public figures and performers have rallied, like those big names in the Broadway community that came together for a fundraiser to record, "What the World Needs Now," a vital show of support.
This is light years from what might have happened – what did happen -- in the past when the LGBT community was hit with tragedy. But there's another reality that has come into focus as well: The backlash to equality is very real, the hate against LGBT people is alive and well and the indifference and fear by even those we'd expect to support us is ever present. Here are just a few examples:
Within in days of the Orlando massacre, at least a half-dozen evangelical pastors around the country --

Christian extremists

, from New York to California

-- praised the shooter for killing gays, hoped more had died or called it "God's wrath" against homosexuality, sending their chilling message to dozens of congregants and followers who themselves are further armed with virulent hate.

A federal judge in Mississippi, a week after the attack, refused to block that state's draconian "religious liberty" law while a lawsuit against it proceeds, allowing rampant discrimination in public accommodations – including regulating what rest room transgender people use – against LGBT people.
GOP House Speaker Paul Ryan refused to even allow a vote by Democrats, days after Orlando, to protect President Obama's executive order banning discrimination against LGBT people among federal contractors after Republicans voted to rescind it in April.
And a GOP congressman who supported rescinding those protections said last week that he had no regrets about having read a Bible passage aloud that suggested gays are "worthy of death."
The media coverage of Orlando -- from major news organizations and television networks we'd thought had an understanding of LGBT rights -- was hellbent on proving what seemed like a pre-determined narrative about international terrorism and ISIS, even as any direct connection was later completely dispelled. In the first hours after the attack many news organizations, like CNN and The New York Times, still hadn't reported that Pulse is an LGBT nightclub, and it took almost another day for many outlets to report that most of the victims were LGBT Latinx there on Latin night. Even now, homophobia and the LGBT community are compartmentalized in much of the media's reporting, often not presented as the core of this story.
Many celebrities, particularly among the Hollywood community and among pop stars, have been criticized for not responding to Orlando in quite the way they responded to other mass shootings, such as the Sandy Hook Elementary School in Newtown, with many speaking out only after fans and bloggers shamed them online and on social media. Somehow this seemed too political for many to get involved in.

Donald Trump this week met with hundreds of anti-LGBT activists and vowed to lift the ban on politicking by churches and other tax-exempt groups -- which would include trying to get anti-LGBT laws passed -- and called "religious liberty," the code phrase for anti-LGBT sentiment, a top priority.
All of this and more shows that, no matter what the motives of Omar Mateen, whatever combustible mix of influences – and new details are emerging every day – LGBT people are still very much under attack in this country and can't often count on media and allies to present our story properly or come to our defense. And anti-LGBT politicians carry on with their agenda against us. North Carolina's GOP governor, Pat McCrory, continued this week to pummel transgender people, defending HB2, while, in state legislatures across the country, anti-LGBT politicians are back to business as usual, trying to pass the over 100 bills that will stop LGBT rights from advancing.
While it's important to talk about the outpouring of support, we can't let it seduce us into believing the hate isn't still a very real and dangerous threat. That hate empowered the mass shooter to go into the Pulse nightclub. And that act is now empowering more haters to spread their hate. Now is the time to take our grief and sorrow, turn it into anger, and direct that anger into action against the preachers and politicians in Congress and across the country who are exploiting fear and hate, and keeping us from achieving full equality.
Popular in the Community