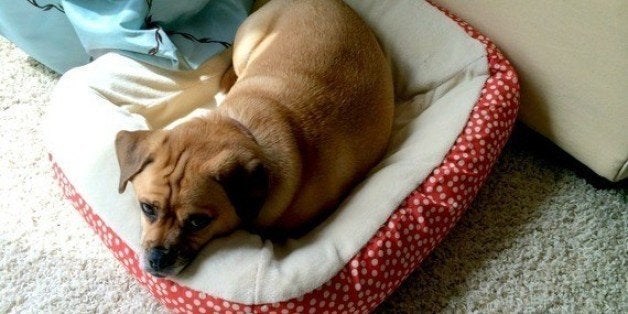 Our dog Louie ran away from home last weekend. He's safe and sound and sleeping at my feet right now, so this is the happy story of how he went from lost to found in less than three hours by the power of social media and sheer human kindness.
On Saturday at 1:30 p.m., my husband Jason, and our three kids were finishing up yard work and heading inside. I'm guessing Louie was doing something like this at the time: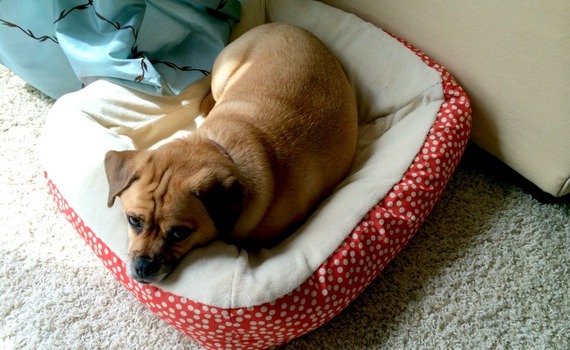 In the excitement brewed by equal parts exhaustion and chaos of a beautiful day and hard work done and a little hosing down, someone left the back sliding glass door open. Louie jumped on that opportunity in the same way he does when a spot opens up on the couch or someone drops their food.
He ran to the front yard where everyone had already gone inside, so he thought, What the heck, I'll go see what Henry and Tallulah are doing. These two sweeties are our neighbors and Louie's best friends. They weren't home, so he kept going, and this is where Louie's Big Adventure really began. Our new neighbors, who we've met exactly three times, saw him heading from Henry and Tallulah's house to the corner of our cul-de-sac as they were driving home just after 1:30 p.m..
I got home just before 2:00. With my work done for the day, the jungle of weeds pulled by my sweet family, two hungry kids in front of me, one kid upstairs getting ready and a husband in the shower, I was thinking that life was pretty good. But at 2:00, Jason came downstairs and asked, "Has anyone seen the dog?" And that's when all of our hearts stopped, because, of course, we hadn't.
By 1:40 p.m., an amazing local woman found Louie less than a mile away from our house stopped on the corner of a really busy intersection; and she picked him up. He was friendly and willing, and she was -- obviously -- a gem. She posted this picture to a Facebook page, that will now always and forever be in my heart, called Lost Dogs MN.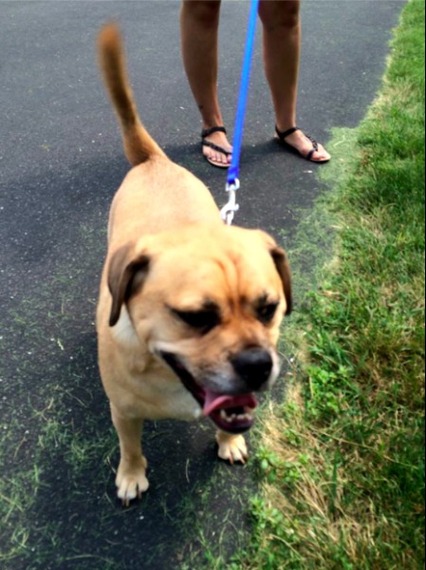 Jason, the kids and I were panicking at this time and we split up to go looking for Louie. It was hot, slow, and sad work. We went to all of the routes we usually walk him on -- to the local school and park we play at, our walking path, and in the direction of that busy road.
We asked every single person we passed if they'd seen him. They hadn't, but, my goodness, each and every one of them stopped and listened and paid attention to the nitty-gritty details of what he looked like and they all -- yes, all -- promised to look for him. There's nothing sadder than walking with an empty leash next to your daughter as she calls for your missing dog. But there's also nothing that shows the sheer amount of goodness and empathy people have than situations like this.
By 3:00, Jason stayed out looking for Louie with one of our girls and I was home with our other two who were standing at the windows -- one in the front and one in the back -- looking for any sign of Louie coming home. Again, nothing sadder. I decided to take to social media and I posted this to Instagram, Twitter and Facebook: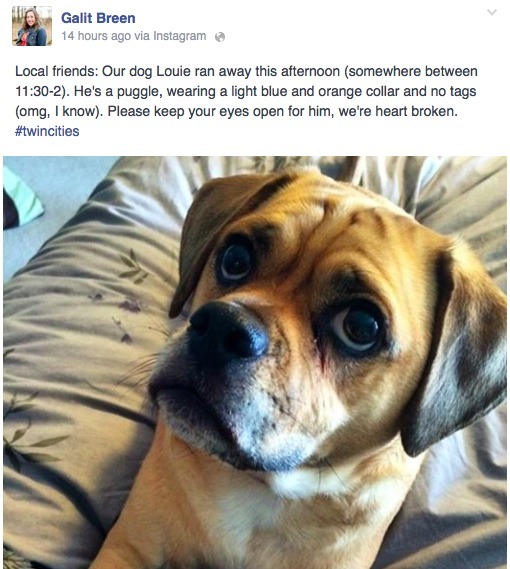 Within just a few minutes, the texts, comments and retweets started coming in. The ninth comment on this Facebook status -- written less than five minutes after I posted it -- was only nine words long, but changed this story line from drama to feel-good.

I went to their page, I filled out their form, and with not a whole lot more than fingers crossed, I started calling the local shelters -- who were almost all closed.
By 3:15, I had an email confirmation from Lost Dogs MN that they had gotten my form. Their note was complete with a Lost Dogs Action Plan. A slew of tips of what to do in cases like these -- where to post, who to call, and what to leave where in case your pet starts making his or her way home. Everything from the importance of fliers to the genius of posting to Craig's List was there (You can find the Lost Dog Action Plan on Lost Dogs MN's Facebook Page.)
One of the suggestions was to leave food and water by the door, which the kids immediately started doing. In the two minutes I helped them get things set up, I missed a phone call from Kelly, a Lost Dogs MN volunteer, who was pretty sure she had a match for Louie.
Kelly posted my report to the Lost Dogs MN Facebook page even though the match looked clear to her. "I mean, that's your dog," is what she said; I couldn't imagine sweeter words to hear. The report looked like the picture below. In it, you can see what I filled out on the Lost Dogs Form followed by what Louie's gem of a finder filled out on the Found Dog's Form. Uncanny, yes?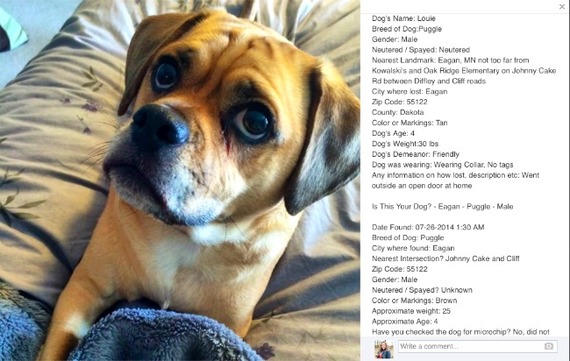 Kelly gave me the finder-gem's (*You might be wondering why I'm not calling her by name -- I can't find it anywhere! But once I do, I will shout it from the rooftops. Or, more likely, I'll edit this.) phone number who, at 3:30 p.m., I called, gushing, "I think you have my dog!" She had, indeed, picked Louie up but (understandably) couldn't keep him. So a police officer came to get Louie from her and took him to a local shelter; the same one I had called and had left a message with because it was closed for the day.
Kayli, Brody, and I called Jason and Chloe home with the good news -- Louie was safe. Our finder-gem told me that Louie was either taken to the police station or the shelter, so after calling both and leaving (two more) messages, we decided to show up at the police station in our quest to bring Louie home.
Jason went to the door and explained our story and was told that Louie was, indeed, at the shelter, which was, indeed, closed. This story could end here, with our family waiting two full days to bring Louie home. But it doesn't. Two -- very kind, helpful, and generous -- police officers, the same ones who picked Louie up from our finder gem, drove over to the shelter to give us access to it, and to Louie.
Jason went into the shelter with them and saw Louie in a kennel looking sad and scared and lonely. He was all by himself in there, and probably quite tired from his Big Adventure. Even across the closed kennel doors, his little tail started wagging when he saw the three guys looking at him.
And by 4:30 p.m., thanks to the power of social media and to how ridiculously kind people were to us, I was able to post this: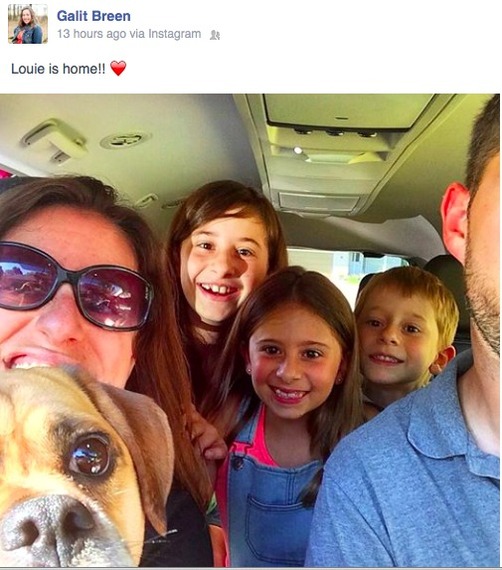 Days like this one -- as heartbreaking and stressful as it was -- are the reason why I will always tell my kids that this world is kinder than it is harsh, that most people are good, to jump at the chance to be the helper, to notice those around you and what they might need to make their day smoother and sweeter -- and to do it. They're why I will say over and over again to always (always) choose kindness.
Because if everyone treated others like we were treated last weekend -- by the tweeters and texters and commenters and strangers and neighbors -- then I truly believe that everything -- yes, everything -- in this world would be better.
Related