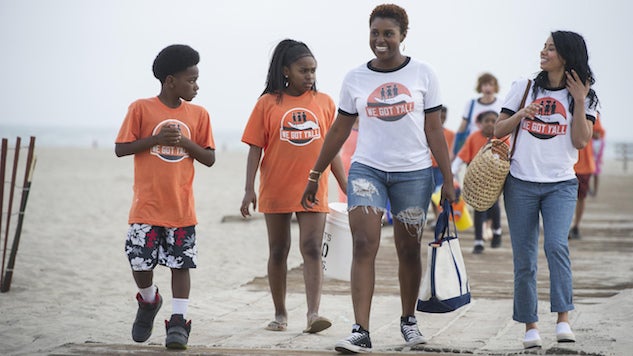 A recent report from the U.S. Equal Employment Opportunity Commission, revealed only 93 black female executives are in advertising, PR and related agencies with more than 100 people, out of 8,734 total executives. This is just one of the many industries which lack black women's presence in top positions. The lack of black women's presence in top position in Corporate America can be a reflection of some companies' culture and the elements black women face in the workplace. Earlier this month an unfortunate series of events had black women sharing what it's like to be them at work. However, Twitter isn't the only place that is displaying some of the truths behind what it's like to be a black woman in Corporate America. Some of our favorite TV shows this season have explored the good, the bad and the ugly of the black woman's experience.
From "Being Mary Jane" to "Insecure", these shows are not only showing how Black women are balancing their love lives and career journey, but they are giving you a glimpse of the things Black women deal with while climbing the career ladder.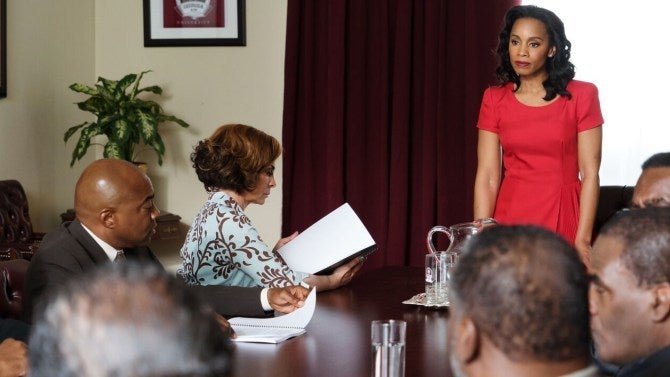 Black Women Don't Belong at the Top Position
On BET's "The Quad", you see a black woman become the first president of a university who faces major resistance from the adage patriarchal systems of educational institutions. Immediately, upon arrival to the fictional historically black university, Georgia A&M, Dr. Eva Fletcher (Anika Noni Rose), was met with some hostility among the board of trustees. Although the university wanted to have the first woman president, they weren't so ready for the changes that Dr. Fletcher had in store. What the trustees really wanted was a mascot of change and progress. Many of the men on the trustee's board and faculty have a problem with taking orders from a woman and having their roles at the university questioned by a woman and so far this season we see them go through lengths to ruin her reputation and make her job almost impossible to endure. Many industries including Silicon Valley's tech industry has this perception that women can't lead and are inferior to the complexities and challenges that come with their role. Add a person's blackness to that equation, and it makes it even more difficult for black women to hold these positions. That's why the presence of Stacy Brown-Philpot as CEO of Task Rabbit and other black women in leadership positions is important.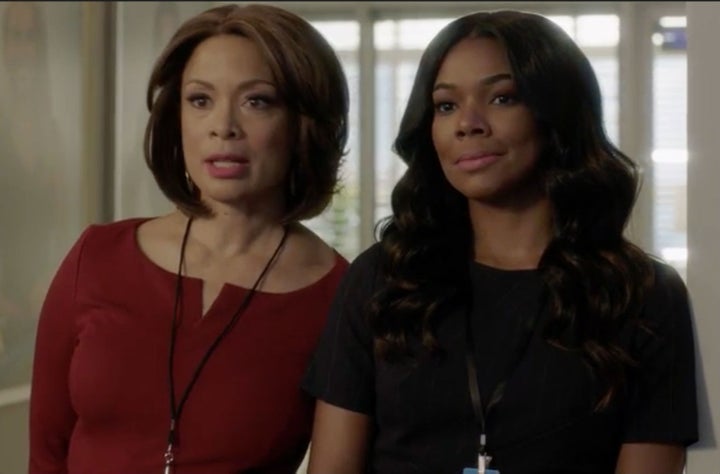 There's Only Room for One of Us
At some companies you don't see many black women and for some reason this leads to a competition of who is the better black employee. Whether your white counterparts pit you against one another or the "OG" black woman of the office now feels threaten by your young vibrant presence, it's just another battle that we face in the workplace. "Being Mary Jane", took an interesting twist this season as they explored, Mary Jane Paul's (Gabrielle Union) work life during her move to New York City as a correspondent for a popular morning news show, Great Day USA. Mary Jane started her new role excited to work at the same network as her idol Ronda Sales (Valarie Pettiford), but she soon realized their relationship would go from admiration to a nasty competition. Sometimes the work place will make black women feel like there can only be one. Ronda played Mary Jane from the very beginning to protect her seat in the anchor chair. The show's producers and executives also got in on the rivalry by leaking fake news to bloggers about behind the scenes drama for a boost in ratings. I know many of us can relate to searching for an in-office mentor who looked like us, but was quickly rejected because of office politics and the job insecurity.
They say it's a part of life to code switch as a black person in Corporate America. Some people discover the ways to navigate the world through trial and error while others were groomed at a young age to know what was appropriate to say and do around folks that didn't look like you. HBO's "Insecure" exposed what it looks like to put on the mask and when you don't. For Molly (Yvonne Orji), her skills with work decorum has allowed her to maneuver through the ranks at her law firm. In comes a new summer associate named Rasheeda aka DaDa, who shakes up the firm's culture by being her authentic self. Molly was tasked to show Rasheeda how to fit into the law firm's culture and tone down her mannerisms. Rasheeda was not receptive to Molly's advice to tone it down or play the game which unfortunately lead to her termination. Whether you agree that Rasheeda should have been able to be herself or agree that there's a time a place for everything, the question of putting on a mask is something that black women face daily. Can I be myself today or do I have to tone down my identity?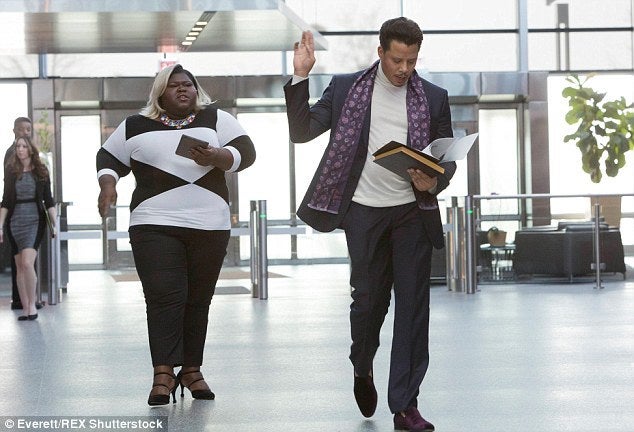 You Have to Look the Part to Get the Promotion
Becky Williams (Gabourey Sidibe) has proven time and time again that she's so much more than an assistant for Lucious Lyons. Becky from "Empire" is not the Becky with the good hair. She's a woman with rich chocolate skin and loads of curves. Her desire is to be Head of A&R for Empire Records, but everytime she makes a great move towards getting the job she wants, another person is rewarded the title. In the mid-season premiere of Season 3, Becky got her hands dirty and found a way to oust her competitor for the position. Little did she know Lucious already offered the job to Anika Calhoun (Grace Gealey). The lighter skin, modelesque seductress is announced as the new Head of A&R, and not only was Becky trembling in anger but so was Cookie. For many Black women our work is overlooked and overshadowed my the other women who look the part. Word on the street is the less black you look the better. If your look is easy on the eyes or doesn't come off as threatening then you tend to move along the ranks a little easier than your counterparts.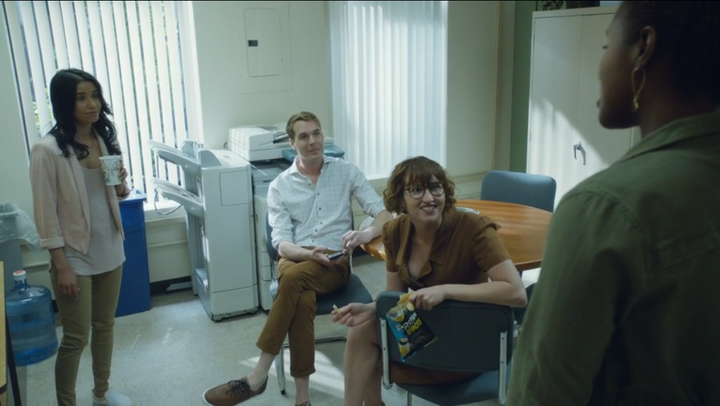 Finding Your Voice in Spaces Where You Don't Feel Like You Fit
I've had many roles that I was extremely passionate about, but once I started working at those companies my excitement dwindled because I wasn't a cultural fit for that place of employment. I completely related to Issa Dee's (Issa Rae) struggles at work in Insecure. There were times where Issa just wanted to be seen and heard, but nothing she did seemed to be noticed. She was the only black woman working for a non-profit whose work directly impacted black kids. Furthermore, her coworkers used her as the dictionary for all things black. She hated going to work, she disliked her colleagues and her day to day was not meaningful. She gained the attitude that she would do just enough to collect her check and go home to her man. She was complacent. There's two things you can do when you start feeling complacent: 1) find a new job or 2) find a way to add spark to your role by being open to something new. Issa did just that by speaking up a little more, opening up to her colleagues and taking the lead. She found new purpose in her job and her career began to take off.
As the conversation around #BlackWomenAtWork continues to happen, I hope the media continues to expose and explore the many feats black woman undergo just to get through their 9 to 5s each and every day.
Calling all HuffPost superfans!
Sign up for membership to become a founding member and help shape HuffPost's next chapter