Papa John's is out, and Pizza Hut is in, as the "official pizza" of the National Football League, the NFL announced on Wednesday. Pizza Hut is reportedly paying more per year for the sponsorship than Papa John's did, and its deal lasts through 2021.
Papa John's announced the news during its fourth-quarter earnings call, on which it also reported a 3.9 percent drop in US same-store sales and missed expectations on earnings per share, sending the stock down 7 percent initially.
In a joint statement on Monday night, the NFL and Papa John's called it a "mutual decision" to end the deal, which still had three years left.
But make no mistake: It is an ignominious moment for Papa John's, which has had a very bad four months after the face of the company, "Papa" John Schnatter himself, made political comments that damaged the brand.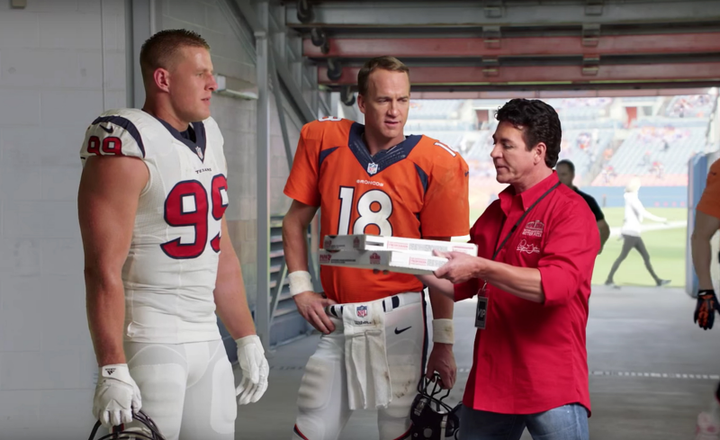 Timeline of the Papa John's-NFL breakup
It all started on Nov. 1, on Papa John's Q3 2017 earnings call. Papa John's reported disappointing same-store sales results of 1 percent growth. Schnatter blamed the flat sales on the NFL.
"The NFL has hurt us by not resolving the current debacle to the players' and owners' satisfaction," Schnatter said. "Leadership starts at the top, and this is an example of poor leadership. NFL leadership has hurt Papa John's shareholders."
But the comments were still seen as disingenuous — a desperate effort to find someone else to blame — and sparked a backlash. And Schnatter took things beyond business when he said the player protests, "should have been nipped in the bud" by the NFL last season, when Colin Kaepernick first started kneeling.
That comment led many consumers to say they were done with Papa John's. The web site The Daily Stormer called Papa John's "the official pizza of the alt-right" and used a photo of a Papa John's pizza with a swastika made of pepperoni.
The backlash also gave competitors a chance to take advantage—and they took it. DiGiorno took to Twitter to mock Papa John's motto:
And Greg Creed, CEO of Yum Brands, which owns Pizza Hut, Taco Bell, and KFC, was (inevitably) asked on Yum's earnings call the very next day to comment on Schnatter's claim. He replied, "We're not seeing any impact from any of that."
Exactly two weeks after the earnings call, Papa John's apologized for its CEO's comments and walked them back, tweeting that, "The statements made on our earnings call were describing the factors that impact our business and we sincerely apologize to anyone that thought they were divisive. That definitely was not our intention… We believe in the right to protest inequality and support the players' movement to create a new platform for change. We also believe together, as Americans, we should honor our anthem. There is a way to do both."
By saying that it supports the right to protest and that Americans should honor the anthem, the company was attempting to play to both groups: those offended by the player protests, and those offended by Schnatter's comments about the protests. But it didn't really fly.
That became clear by late December, when Schnatter, the founder and CEO of Papa John's and the public face of the company, resigned as CEO. (He remains its chairman.) The company did not give a specific reason for the resignation, but it's clear that the dustup involving the NFL played at least some role. In addition, Papa John's CFO is leaving for Jack in the Box.
And now Papa John's is out as the "official pizza" of pro football. Papa's loss could be Pizza Hut's gain — or Papa John's could prove smart if its sales go up in the next year, rather than down. (Curiously, Papa John's stock is up 3 percent in afternoon trading on Wednesday.)
League sponsorship vs 22 team sponsorships
Despite no longer wearing the "official pizza" crown, Papa John's says it still has 22 partnerships with individual NFL teams and will continue its "presence in broadcast and digital media, and key personalities in the sport."
That means you can likely still expect to see advertisements, in local markets, featuring JJ Watt, Peyton Manning, and other NFL players who rep Papa John's.
But you won't see its ads running during national primetime games; that's Pizza Hut territory now. New Papa John's CEO Steve Ritchie said on the company's earnings call, "While the NFL remains an important channel for us, we have determined that there are better ways to reach and activate this audience."
Pizza Hut, meanwhile, is set to activate its official sponsorship in a number of ways. Its CMO Zipporah Allen tells ESPN that the new deal will mean "new products and packaging" and "a continued push into beer delivery."
Commissioner Goodell, in the league's announcement of the deal, highlighted the watching-at-home aspect: "With a focus on family, friends and fun, Pizza Hut has the creativity we are looking for in a partner and we look forward to working together with them to make the at-home NFL experience more exciting than ever for our fans."
Because Papa John's still has its 22 team deals, it won't exactly go away completely in the minds of NFL fans. Might working with individual teams prove smarter, in the long run, than paying to be the league sponsor? It's possible. Many might even argue that divorcing the NFL is the right step after a season of political protests and falling ratings.
But it's hard to argue that Schnatter throwing fuel on the fire of the NFL political controversy was a good thing. He lost control of the narrative, and his brand. Papa John and the NFL had been together since 2010; now it ends in an ugly breakup.
Daniel Roberts is a writer at Yahoo Finance, covering media, sports and tech. Follow him on Twitter at @readDanwrite.