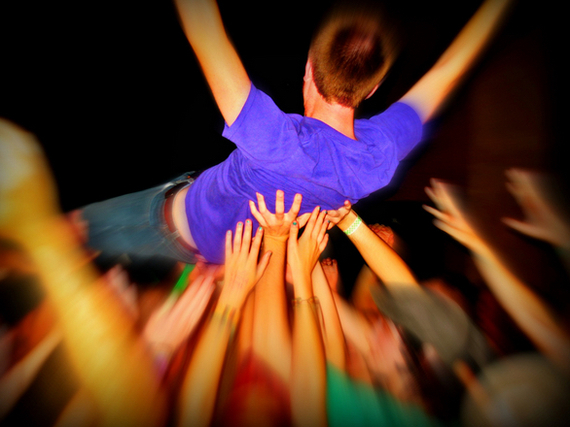 Right now we have a generation of kids who are going into high school, college and even the workforce who have never really experienced failure before.This is a generation of kids who have been bubble-wrapped since birth. The first generation of kids who weren't really allowed to play outside. The first generation where every drawer and cabinet was safety locked. The first generation to not only wear safety belts, but to also ride in a car seat until kindergarten. This is the first generation to wear helmets when riding their bikes. Mom and dad have stepped in to stop ANYTHING that could possibly hurt their kids. Unfortunately, in mom and dad's protectiveness, they have also protected their kids from some very important life lessons...like failure.
This generation of kids that are arriving into adulthood or who will be quickly in its ranks have never been allowed to fail at anything in life. Even the little things like little league (where trophies are passed out with juice boxes) have been sanitized to make sure that everyone's feelings are safe from harm. Now these kids are becoming adults with unrealistic expectations for what is going to happen in the future...on what reality is like...and generally, what life is like.
I am not saying that the parents are bad people. Or that they were protecting their children with some malicious intent. In fact, I know the exact opposite is true. These parents were doing everything within their power to protect the things that are most precious to them...their children. The parents only wanted to keep their children safe and happy. The layer of bubble wrap protection was done from a place of love and care. But what started out as loving protection has put these kids into an unexpected predicament. Because mom and dad were so quick to protect their child from anything negative (physical, mental and emotional), these kids never developed the ability to handle life's little messes. And we all know that life likes to dole out messes.
So, what can we do to help these young adults (and soon-to-be adults)? And more importantly, what can we do to not let this happen again with future generations? I'm not suggesting that we get rid of seat belt laws or that there weren't very good reasons for not giving kids free reign of their neighborhoods like we once had. I get those reasons. I am a parent. I watch the news. The world can be a scary place.
Starting now...we need to learn to stand back. We need to learn to stay on the sidelines when our kids are facing something difficult. Or when they have already messed up. We need to stand back and give them the space to clean up their own mess. They will never learn to do it, if we rush in like an assaulting army taking out everything in its path. Yes, your kids won't like it that you are not running to their defense. There may be tears. There may even be some accusations that you are ruining their life. But guess what? You aren't. You are actually doing them a huge favor...they just may not realize it yet.
You see, as strong and able as you are today, you are not always going to be around. And what happens then when your kid is facing a huge screw up or failure? Who is going to fix it for them then? If you do not allow your kid the space to learn to deal with failures starting with the smallest of failures they will never develop the tools necessary to deal with those moments in life.
So, when they are facing a big ole screw up that has the potential of changing the trajectory of their life and you aren't around to fix it, what do you think they will do? Run and hide? Maybe. Deal with it? Probably not. They will more than likely allow that one (albeit huge) screw up to define the rest of their life. And I know that as a parent who has spent the better part of your own adult life protecting this child of yours that you would never want that for your kid. So, take a step back. Take a deep breath. They can do this. (And so can you.) Believe in them. Be their biggest cheerleader, but please, for your child's sake, don't step in and be the quarterback of their life. Allow your kid to have that win.