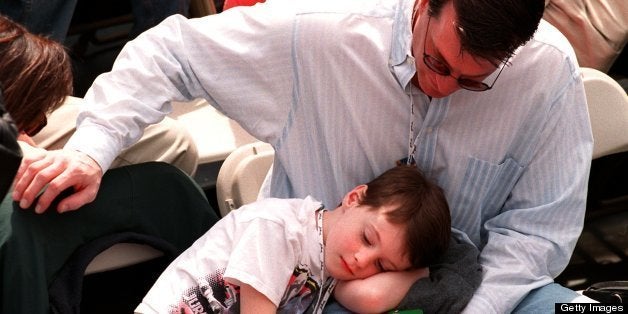 Carole Tedesco, an attorney from Winchester, Mass., was sitting in the Prudential Skywalk watching the Boston Marathon with her children when she heard the blasts, just seconds apart.
Her kids, Luca, 9, and Isabella, 8, thought it was thunder. Carole knew it wasn't. She thought the building might have been hit.
The building's loudspeaker announced that there would be a "shelter in place" due to "criminal activity in the neighborhood." The term "shelter in place," a common school drill refrain, triggered Luca's fear. "What's going on?" Luca asked, frantically. He started crying. An off-duty cop speculated that they were going to be stuck in the building all day, which only elevated Luca's worries.
"I'm afraid they're going to come in with guns and shoot us," Luca said.
Carole reassured him that it wasn't that type of attack. But as she recalled the next day, Luca's mind kept returning to Newtown. When the family finally left the building, Luca kept thinking he was walking into an unsafe situation. Carole promised him that he was going be home that night to sleep in his bed with Flora, his favorite stuffed animal -- but in the back of her mind, as she heard the sirens blaring, she wasn't sure if she could deliver.
By the time they finally got home, Carole and her husband had instituted a media ban. "They don't need to see any more dead kids after Newtown," she said. "When we talked to them, we tried to put it in the context of bad things happen but not that often. But it's very hard to sell that. It seems like we were just telling them that in December."
In the aftermath of the Boston Marathon bombings, parents in Boston and across the country are struggling to explain the senselessness of the attack to their children. Around Boston in particular, parents are put in a unique situation, since there is a school break this week. During school-day crises, teachers can be first responders, and they are often taught how to break potentially traumatizing news to children.
And to parents outside Boston, while the pain might not feel as close to home, determining age-appropriate vocabulary for tragedy less than six months after the Newtown massacre is particularly troubling. This time, parents themselves know even less about what caused the incident.
Though schools are not in session, Carol Johnson, the superintendent of Boston Public Schools, sent a memo to parents advising them to limit their children's news consumption, to let children ask questions and express their feelings, and to answer their questions with facts in "age-appropriate" language. "Our city is full of heroes and we are thankful for every one -- and we are thankful for you, too," she wrote. "We look forward to seeing you back at school next week."
Letting children verbalize their concerns can help blunt the impact of their feelings, said Anthony Mancini, a Pace University psychology professor who focuses on grief and trauma. "Children do have the capacity to bounce back, and experiencing something horrific like the Boston Marathon … is not a sentence of trauma by any stretch at all," he said. "Most children will do fine in the way that most adults would do fine." While children who witnessed the explosion first-hand could face some degree of post-traumatic stress disorder, Mancini said, children are often resilient and bounce back.
Joy Budewig Harms, a Boston speech pathologist, hopes that's the case. Though some psychologists recommend sheltering kids from media exposure during tragic events, Harms had no choice. Her four-year-old daughter, Clara, kept asking questions, eventually getting her hands on a copy of the Wall Street Journal, Harms said. While Harms had explained to Clara that something bad happened at the marathon, people were hurt, and the good guys were trying to make sure it never happened again, Clara focused in on the WSJ photo she saw. "Are those people hurt? What happened?" she asked.
"It's hard keeping it from her. I wish her view were true -- that it's good guys versus bad guys -- but it's not that simple," Harms said. "This week, violence is in Boston, but it's always happening in Pakistan, Syria, all over the world. We would like to keep our children from that experience, but we have to start shepherding them through this concept early in their lives," she said, as she started to cry.
That simplistic children's view also affected Cheryl Stober, an investment firm product analyst in Newton, Mass. "If I told my son there were bad guys in the city, he's going to want to run out the door and karate-chop them," she said. "It's easier for him not to hear." Stober's 9-year-old daughter, though, was aware of the event: She was with her father in his office when Stober called. Stober's husband shared with their daughter that there was a bomb at the marathon, but that mom was safe. The family learned soon afterwards that the 9-year-old's teacher, who was running the marathon, was safe as well. Stober's daughter will spend time later this week at a local daycare center, Bright Horizons.
Ilene Serpa, vice president of communications at Bright Horizons, said her employees were careful to not expose kids to the news of the day. "We want to make sure we're providing supports for our employees, letting them take time off if they need," she said. Bright Horizons has 12 centers in Boston, and many of them were open late on Monday since parents weren't able to get to their kids. "Teachers are doing what's best for kids at a young age: protecting them from the news," Serpa said.
Anne Zeiser, a media professional in Lynnefield, Mass., a Boston suburb, tried to do the same. "I turned off the television," she said. "Watching tragic events can have a cumulative effect." After she explained to her 8-year-old what had happened, she took him out for a bike ride, she said. On Tuesday, she sent him to her town's recreational program. "I want to help him process it over the week. I want to tell him there are heroes, and we love each other."