Executives and leaders across industries aim to foster a culture of innovation in their companies to spark creativity and advance their goals. Often operating with lean staffs and small budgets, nonprofit organizations must innovate both effectively and efficiently to ensure they can sustain impact in the communities they serve. To create powerful solutions to tough problems, nonprofits mine the latest academic research, leverage partnerships with the medical community, and rely on inventive business processes and models from leading companies. When all of these diverse sectors combine resources and align goals, the possibilities for positive social change are endless.
At my organization, Common Threads, collaboration with corporate, community and academic partners helps us innovate to grow the number of children, families and educators we reach, and to optimize the accuracy and effectiveness of our nutrition education curriculum. To discuss successful innovation, Common Threads brought together some of today's leading minds for a panel discussion in Chicago. These visionaries and thought leaders came from the health and medical science community, as well as the corporate, academic and non-profit sectors. Together, they helped uncover actionable ways to empower today's youth.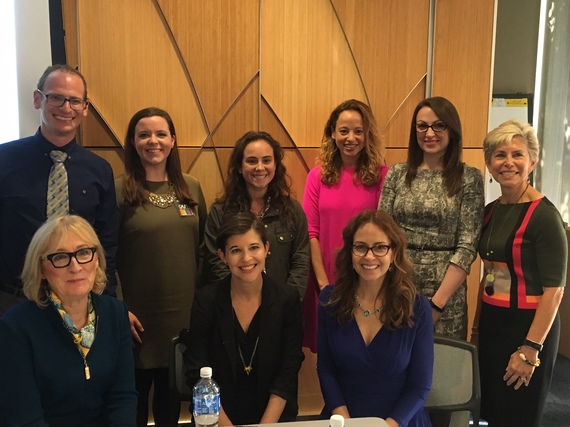 From left to right: Dr. Judith Shelton, Sam Koentopp, Tarrah DeClemente, Jen Brown, Alyssa Plotkin, Linda Novick O'Keefe, Dr. Melinda Ring, Lori Alexander and Shelley Stern Grach at the Chicago Innovations panel.
Corporate Innovation Brings Opportunity
Corporations are increasingly investing resources in developing state-of-the-art programs and products that fuel kids to succeed. Microsoft and other tech companies are emphasizing the potential value of big data to help community programs and other nonprofits learn about the students and families they serve. Access to more information allows them and their partners to find innovative, data-driven solutions to amplify community efforts.
In her role as Director of Civic Engagement at Microsoft, Shelley Stern Grach works at the intersection of technology and community, promoting STEM (science, technology, engineering and math) programs and using the latest tools to spur growth in underserved communities. She recognizes the importance of using open data to help solve health inequities. Grach encouraged the nonprofits in the room to seek out available relevant information, using "data science to help us do our jobs to make communities healthier."
"Gathering data - from individuals, schools and districts throughout the city and region is key to understanding how programs are making an impact," Grach said. "The Chicago City Data User Group Meetup gets together regularly to discuss ways to use open data, and this can be a valuable resource to organizations trying to plan innovative programs."
For Lori Alexander, Manager of Nutrition at Quaker Oats Company, effective research and collaboration are key to product innovation and building an iconic and healthy brand that resonates with consumers worldwide. Consumer-packaged-goods companies like Quaker need healthy food products that support their nutrition messages.
"Our team works with amazing researchers to translate scientific breakthroughs into what that means for our brands and products, and most importantly, for consumers," says Alexander. "We can take this research and ensure we're using it to better the communities where we work."
For global consumer brands, innovation doesn't stop with products. Companies need to be a voice for change in their communities and strengthen those words with actions that improve public health. Quaker recently partnered with Common Threads to fund its Family Cooking Classes throughout the 2016-17 school year, introducing a breakfast element to those classes to educate students and families on the importance of morning meals to kick-start a productive day.
"We want to make sure everyone is well-equipped with information about general nutrition, as well as the nutrition of our products, so they have the knowledge they need to make informed choices," adds Alexander. "Externally, we ensure both healthcare professionals and consumers learn about relevant research as it relates to our new products.
Addressing Healthcare Challenges through Innovation
The healthcare sector has been slow to take a collaborative approach to medicine, but Dr. Melinda Ring, Director of the Osher Center for Integrative Medicine at Northwestern University, says healthcare partnerships with community organizations have become more popular as the medical community turns toward a more holistic approach to healthcare, emphasizing disease prevention as well as treatment.
"Integrative medicine is intrinsically collaborative," says Ring. "We bring together different types of healing and therapies from around the globe and emphasize the importance of collaboration between the patient and healthcare provider."
One such project is a service learning collaboration between the Osher Center and Common Threads that will allow Osher medical students to enroll in a six-week course that combines hands-on cooking lessons with nutrition education from Northwestern faculty. Students who complete the course will then take that knowledge into the community and teach Common Threads' Small Bites curriculum in a Chicago Public School.
"There's been a continued movement in medical schools to understand how to use academic scholarship in a way that leads to feasible, real-world solutions," says Brown. "We want to create safe spaces for organizations to test out different collaborations and programs so they can see tangible success before trying to implement on a bigger scale or approaching legislatures or larger funding bodies."
Brown points out, however, that some partnerships are only formed on the CEO level, and that cooperation and communication throughout all levels of the organizations are what make truly authentic partnerships.
"Partners need to have strong working relationships and make sure the way they work together is compatible," says Brown. "We want to be able to tell if there is chemistry when laying the groundwork with partners and ensure they reflect the spirit and values of our department."
Driving Academic Innovation
As today's healthcare leaders elevate the role of collaboration and the importance of authentic partnerships in the medical field, many schools across the country are reaping the benefits and transforming curriculum and food service in schools. In her role as Manager of Student Wellness at Chicago Public Schools, Tarrah DeClemente is responsible for leading efforts in Chicago schools to establish healthy school environments for the 400,000 students they serve.
"There's this paradigm where we have healthy school meals, but then students go home and are bombarded by unhealthy options," says DeClemente. "The vision is that when [students] leave school, [their] experience at home mirrors that, so that's why we work to change the actual products. We also work with partners who have great nutrition education experience to develop programs that promote what is already available on school menus, making them fun and creative so students can take these lessons, meals and recipes home."
Chicago's Ariel Community Academy is also paving the way in innovative curriculum and programming, showing how it can transform a community and bring about academic excellence. Dr. Judith Shelton, Ariel Community Academy's Curriculum Director, plays an active role in the success of the school and has done so since its inception. Under her leadership, the school fosters a unique environment that personalizes education and provides resources targeted at meeting each student's specific needs.
"There's vast change taking place in schools and we have to raise kids who are savvy," says Shelton. "In our classrooms, financial literacy is an important part of curriculum starting at kindergarten and we also require students create small business plans."
Alyssa Plotkin, Regional Program Manager at After-School All-Stars, is dedicated to ensuring innovative curriculum and lessons resonate with kids beyond the school day. After-School All-Stars serves 70,000 students across the country with comprehensive after-school programming. Serving such a diverse community of students from New York to Honolulu, the organization attributes its impact to successful collaboration and innovative partnerships.
"Operating in 20 cities across the country, we have had to be as innovative as possible," says Plotkin. "Also, students have to go to school. They don't have to participate in after-school programs. That's why we have to do everything we can to make it as engaging as possible for them. That starts with giving our students a voice to understand what's most important to them and finding the best partners to give them what they need."
Closing the Gap with Nutrition Innovation
As schools and education leaders work to eliminate the gap between social and ethnic classes in this country, many are finding what happens inside the classroom is as important as what happens outside.
According to Dr. Shelton, truly connecting with students goes beyond lesson plans and classroom instruction.
"How do you reach students if they're not eating right? How do you reach them in a way that connects them?" Shelton insists. "When children and families cook great food together and share that with each other, there can be a lot of healing that takes place."
The Chicago school district is committed to offering a range of hands-on programs to keep students engaged and interested in its nutrition programs. The Kitchen Community, which builds Learning Gardens in schools and community centers across the U.S., is another innovative nutrition program seeing great success. Their efforts have become catalysts for community-wide improvements in childhood nutrition and student achievement.
"The Kitchen Community provides real food education to students in underserved schools across the country," says Sam Koentopp, Program Manager at The Kitchen Community. "We offer resources and knowledge to teachers so they can educate their students to grow real food, building an understanding of where our food comes from, why it tastes the way it does and how it affects our bodies and our environments. There's no better way to get kids connected to foods."
From the classroom and lunch line to medical schools and research labs of today's global brands, there is no one-size-fits-all solution to addressing the holistic health needs of today's youth. Through collaborative and innovative approaches, however, that cut across sectors and organizations, we can better address challenges and give more of today's at-risk youth a solid foundation for long-term wellness and success.
Related