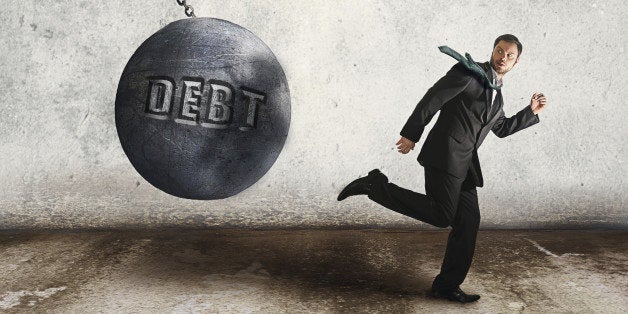 Your debt is making you unhealthy. In a nation where most people owe more money than what they make in a year, it's easy to simply accept debt as a way of life. But owing any money anywhere could mean losing everything in the blink of an eye.
Living paycheque to paycheque and only paying the minimum on your loans and credit cards can make you stressed -- affecting your mental health. If you become depressed because you might not be able to pay your bills on time, and you are less likely to want to get out the door and exercise -- which affects your physical health. Although it is well known that exercise can help improve mood, it is also known that is difficult for people who are depressed to find the motivation to exercise. Being inactive increases your risk of several chronic health conditions.
If you become suddenly unemployed and are unable to make even those minimum payments, you may lose the few possessions you still have -- which affects your socioeconomic status. And falling off the social ladder can potentially increase your risk of depression. It may also make you anxious as you have to adjust to a lifestyle that you did not choose.
If you don't have much money left at the end of the month, you may not be able to eat healthfully - affecting your nutritional status. How well you eat affects your physical health, and proper nutrition focusing on all food groups can also ward off many chronic illnesses.
If you don't have much money left after purchasing the bare necessities, you won't be able to afford good health coverage -- and with all the health problems you're accumulating, you're going to need prescriptions.
If you are so embarrassed about your financial situation that you avoid talking about it with the important people in your life, your social supports and relationships will be affected. Once again, this can increase your chances of becoming depressed or anxious.
Being in debt and living paycheck to paycheck could mean you're one of those paychecks away from disaster. Although some financial advisers will tell you to invest first and pay off debt later, if you want to be truly financially free, you should do the opposite.
Don't owe anything to anyone if you can avoid it (and you most likely can). Creating a budget and making debt repayment a priority within that budget will help you to achieve financial freedom sooner.
After you have paid off all of your debt, create a three to six month emergency fund (6-12 months if you're self-employed or a single family earning household) to cover expenses should you lose your job or have a bad month of sales.
Financial status is one of the social determinants of health. Paying off debt could mean the difference between a comfortable lifestyle and complete poverty if you're living paycheck to paycheck. Being in complete poverty can affect many other areas of health, as all social determinants of health have an effect on each another.
Creating a life of financial freedom requires discipline, learning to live within your means, and accepting that delayed gratification is superior than spending money that you do not have. It is a difficult undertaking, but one that you will not regret.
How is your debt affecting your life?
Popular in the Community