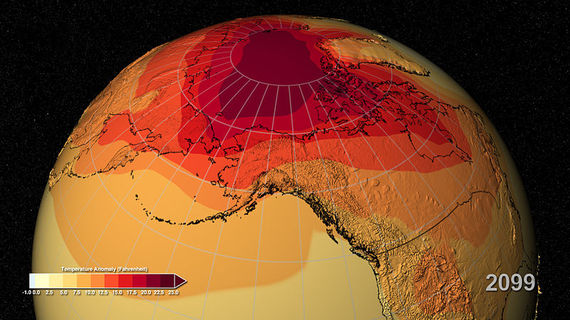 On the heels of the UN-sponsored climate talks in Lima, there are some lessons learned worth assessing. This superb analysis by Guy Ragen, a campaigner with the Australian Conservation Foundation, gives critical insight into how the international community can make sure Australia -- and other big carbon emitters like it -- come on board the path towards Paris in 2015. Take a look...
The Australian Government's surprising $200 million commitment to the Green Climate Fund (GCF) is a significant reversal for Prime Minister Tony Abbott. In the past he has attacked UN climate funds as "socialism masquerading as environmentalism" and repeatedly ruled out any Australian contribution.

Since coming to office in September 2013, the Australian Government has made a virtue out of turning Australia into a climate change laggard. Domestically the national carbon price was repealed, while Australia fought hard to keep climate change off the G20 agenda in Brisbane. Indeed when the US and Japan announced their $3B and $1.5B contributions to the Green Climate Fund in Brisbane, Australia ruled out making any contribution.

So this news while modest, represents a significant flip in Australia's position and has only happened after the Government found itself in a pincer of growing international and domestic pressure.

The Government was wrong-footed by the joint US-China announcement to curb emissions, which was three days before the G20, and by a speech made from President Obama in Brisbane that called on all nations to do more. At Lima during the past fortnight there have been reports of Australian officials getting the cold shoulder from international counterparts, and the possibility that Australia would be removed from the board of the Green Climate Fund if it didn't make a contribution.

Suddenly the Government got a taste of the type of pressure that is going to build as the world looks to Paris for an agreement in 2015. The Australian Government would be fools to underestimate what their recalcitrance on climate change means for our international standing. We received a coded rebuke from the US President in Brisbane, followed a few weeks later by criticism from China over the Green Climate Fund.

Alongside the intensifying international pressure, the mood has been shifting at home. Days before the Prime Minister announced our contribution to the Green Climate Fund, more than a dozen climate change and development not-for-profits called on the Government to contribute to the GCF. At the same time, new polling suggested nearly 60% of Australians thought we weren't "doing enough" to tackle climate change.

This has happened as the Government is beginning to feel pinch over renewable energy policy. For most of the year, it has tried to find the parliamentary numbers to water down the country's Renewable Energy Target. The backlash has been significant, with polling last week pointing to nearly 90% support for renewable energy in Australia.

Why then, is Australia's position significant?

While Australia only makes up around 1.5 per cent of global emissions, we are the worst offender when it comes to per capita emissions. Just this week, the Climate Change Performance Index rated Australia as the worst performing industrialised country in tackling climate change.

That's what makes Australia a key player in international climate negotiations. Developing countries are entitled to ask: if a rich country like Australia - which faces more droughts and intensified bushfires due to climate change - isn't prepared to act, then why should we? Anyone wanting to see a strong global agreement in Paris in 2015 will be interested in Australia's climate change stance.

So this reversal on the Green Climate Fund is a definite chink in the armour of a government, which has tried to make a virtue out of turning Australia into a climate change laggard. And that's significant. It shows that the pincer of building domestic and international pressure is working.

Maintaining this double-sided pressure will be crucial in the months ahead if Australia is going to play a constructive role at Paris. The next test is going to be our post-2020 emissions reduction target. Currently, we have a 5% target in 2020. To match the US target of 26-28%, Australia would need to raise its ambition to 30% in 2025. In his announcement on the Green Climate Fund, the Prime Minister also established a taskforce to develop Australia's post-2020 stance.

For those looking to Paris and hopeful of a positive contribution from Australia, the next few months are crucial. Already we've seen Abbott's Trade Minister warn that Australia may not sign up to an agreement in Paris if major trading partners weren't also signed on. If we want to see Australia making a meaningful and positive contribution in Paris in December next year, we need to ensure an Australian government still determined to do as little as possible feels the pinch both domestic and international pressure.
REAL LIFE. REAL NEWS. REAL VOICES.
Help us tell more of the stories that matter from voices that too often remain unheard.