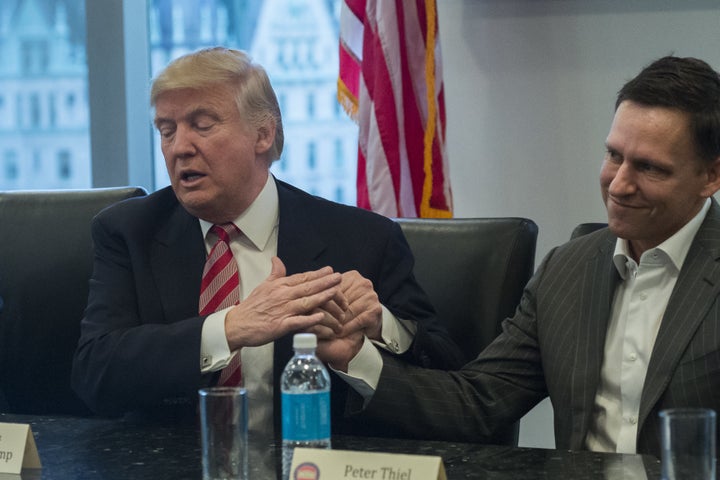 "I think Trump is very good on gay rights," gay billionaire and major Trump supporter Peter Thiel told New York Times columnist Maureen Dowd back in January, at the start of the Trump presidency. "I don't think he will reverse anything. I would obviously be concerned if I thought otherwise."
What a difference seven months makes. Donald Trump is turning out to be, in his actions as opposed to mere words or proclamations, among the most anti-LGBTQ presidents in history. Unlike George W. Bush, who promoted a heinous federal marriage amendment that had no way of passing ― while he left intact President Clinton's gay-affirming executive orders, including protecting gay federal workers ― Trump is actually using his power to roll back LGBTQ rights as a gift to his ravenous religious right base.
He rescinded guidelines to schools on protecting transgender students, has banned transgender people who are already serving their country in the military ― an actual White House order, rather than just a tweet, went to the Pentagon last weekend ― and his Justice Department has moved to prevent gay, lesbian, and bisexual people from being protected under federal civil rights laws. Trump also appointed a Supreme Court justice who is, by the accounts of legal experts, moving vigorously to dismantle or severely weaken the Obergefell Supreme Court ruling on marriage equality.
And this is just the beginning.
Thiel, who reveled in the attention he got when he spoke at the Republican National Convention (RNC) last year at Trump's invitation after he came out in support of Trump, was instrumental in helping Trump to be perceived as friendly to LGBTQ people. He lent his support, including financial, plunking down $1.25 million to help elect Trump, and posed himself as a "proud" gay advocate fighting for the cause.
Now BuzzFeed reports that Thiel is quietly throwing in the towel on Trump, citing six conversations with three people close to Thiel. In private, Thiel gave the Trump presidency a 50-50 chance of ending "in disaster" earlier in the year, and, more recently, has said he was "annoyed" at Trump's first few months and used the word "incompetent" to describe the presidency. And a source quoted by Vanity Fair who recently spent time with Thiel ― who served on Trump's transition team, sat near him during his inauguration and reportedly had his pick of cabinet posts in which to serve ―said Thiel just doesn't like hanging out with Trump.
In a statement to BuzzFeed, Thiel didn't deny the quotes of the anonymous sources:
The night he won the election, I said President Trump would face an awesomely difficult task. Today it's clear that resistance to change in Washington, D.C. has been even fiercer than I anticipated. We still need change. I support President Trump in his ongoing fight to achieve it.
None of this is particularly shocking: Thiel, attempting to enhance his contrarian brand, took a risk in backing Trump with money and hand-shaking photo-ops, and it has turned into a massive embarrassment. But it was clear Trump would be a "disaster" from back when Thiel got aboard the Trump train last year. Thiel could see, like the rest of us, that Trump is a racist and a misogynist, and highly unstable. And, as a gay man, he had to see Trump was using him to promote himself as supportive of "LGBTQ" people, as Trump claimed from the RNC stage, while the anti-LGBTQ Family Research Council (FRC) and other religious right groups were simultaneously helping hammer out the most anti-gay, anti-trans platform ever in the history of the RNC.
In the end, FRC and other evangelical groups won out, as that platform's anti-LGBTQ agenda is so far being followed to the letter by Trump. FRC president Tony Perkins is giddy at being invited to the White House "more times in the first six months this year than during the entire Bush administration" ― while Trump refused to issue a Pride proclamation in June, let alone have a Pride reception.
Peter Thiel had fancied himself a sort of gay rights activist in his crusade against Gawker, killing the online publication last year after financially backing the successful lawsuit against Gawker by Hulk Hogan. Thiel's animus toward Gawker began when he claimed to have been "outed" as gay by the publication. As I've explained, Thiel wasn't outed, since he was a public figure whose sexual orientation was widely known at the time in the industry.
That aside, Thiel has couched his crusade against Gawker as trying to protect the privacy of gay people who might be "victims" in the future against unwarranted exposure. In this way, he casts himself as someone who fervently cares about LGBTQ rights and did what he did for the cause. But backing Trump betrays the falsehoods behind Thiel's claims.
All of us who follow LGBTQ rights (and I assume Thiel considers himself in that group), unlike much of the access-driven media in its terrible election reporting, knew from the start that Trump was courting the Christian right, made major promises to its leaders ― including a Supreme Court justice choice who would overturn marriage equality ― and brought on among the most anti-LGBTQ governors in the country, Mike Pence, as his vice presidential running mate. And Pence is now in charge, along with Attorney General Jeff Sessions, of Trump social policy and of fulfilling the wish list of the Christian right, which Trump will surely need for any re-election campaign.
Back in January, Dowd asked Thiel if he was worried even about the Pence presence.
"You know, maybe I should be worried but I'm not that worried about it," he replied. "I don't know. People know too many gay people. There are just all these ways I think stuff has just shifted."
Gullible and naive? Hard to believe about a so-called Silicon Valley wunderkind who delved into politics as a diehard libertarian.
No, just as Thiel's anti-free speech crusade against Gawker was about settling a score with those he perceived as his enemies and not about supporting gay rights or privacy, Thiel's backing of Trump was all about his own opportunism. He basked in the spotlight, being the first gay man in 16 years to speak to the crowd at the GOP convention, even if it helped Trump fool people into thinking he'd support LGBTQ rights.
"Now we are told that the great debate is about who gets to use which bathroom. This is a distraction from our real problems. Who cares?" Thiel said in his speech from the RNC stage, referring to the transgender bathroom issue.
Who cares? Well, it turned out Trump cared very much, for the sake of his religious right base ― enough to allow schools to ban trans kids from bathrooms and to ban trans people altogether from the military.
Thiel also said from that stage, in what now seems so hollow and pathetic, "I'm proud to be gay."
If he were truly a proud gay man, he'd have spoken out against the fraudulent Trump ― back then, but even more so now. Currently embarrassed and "annoyed," he's hiding behind anonymous sources whose words he doesn't deny, while he doesn't have the guts to come out and say he was wrong and that Trump truly is a "disaster."
Thiel is surely not a gay man about whom any of us ― least of all Thiel himself ― should be proud.
Popular in the Community