Did you know that suffering from a broken heart isn't just an emotional metaphor? According to the American Heart Association, "broken heart syndrome" is a real, physical response to a surge of stress hormones.
The symptoms -- chest pain, shortness of breath and irregular heartbeat -- occur more frequently in women than men. It is typically brought on by an extremely stressful life event like the death of a loved one, illness or job loss.
Sometimes even more stressful than these events is the end of a marriage. In fact, divorce and marital separation rank numbers two and three respectively on the Holmes and Rahe Stress Scale.
Not only can this profound life change bring about physical illness, it can also result in depression, anxiety and feelings of isolation.
Luckily, there are ways to heal a broken heart (both figuratively and literally), and your pets can help!
The physical, mental and emotional benefits of pets are well documented. Studies show that having a pet can lower your risk for heart attack, reduce blood pressure and stress, and can lead to less medications and trips to the doctor.
In addition, animal companions help us feel safe, give us something to care for, and encourage interaction with others (after all, who doesn't pounce at a chance to talk about their dog or cat?).

Photo courtesy Beth Noska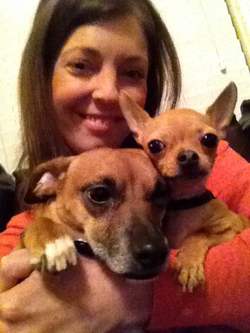 Beth Noska of Dallas, Texas recently experienced many of these benefits firsthand. Just shy of their two-year wedding anniversary, her husband moved out. "I threw a huge pity party in my honor," she says, "but I only had two others show up: my dogs, Big Bubba and Little Ernie."
Their companionship helped her get through the initial shock and, as the months went by, they gave her something else to focus on and care for. "They let me hang on to my desire to be needed and wanted. They taught me how to play harder and relax better. And they continue to help me be more whole again each day."
Candace Canty of Chicago, Illinois understands all too well. When her marriage dissolved, she didn't tell anyone until the ink was dry. So her two dogs, Clover and Guinness, "were the only 'people' with me. Without them, it would've been very lonely," she says.
"They've helped make the transition easier," says Candace. "We get out. We walk. There are activities to go to. You meet so many more people when you have a dog."
But what if the circumstances surrounding your divorce don't allow you to have a pet? This was the case for Jackie Walker of Tampa, Florida. Although she and her ex-husband agreed it would be best for their two dogs to stay with him, it was a difficult decision. There were so many things she missed about them, she says. "The greeting at the door, the unconditional love, talking baby talk to them, just the whole essence of the dog."
Although she couldn't have a dog at that time, "I needed to smell dogs, just be around them," she recounts. So she came up with a creative way to get her four-legged fix by going to a local pet store and visiting the pups there. Eventually, Jackie was able to adopt two new companions but this temporary work-around helped her get through.
Watch my interview with Candace and Jackie and read a letter Beth shared with me on my Pet Living blog.
If you find yourself in a similar situation, follow Jackie's lead and explore other ways to get in some creature cuddles, like volunteering for a rescue or pet sitting for a friend. Even just a few minutes each week can offer terrific physical and mental benefits and help heal your broken heart.
Did a pet help heal your broken heart after divorce? I'd love to hear your story.
Follow Kristen Levine on Twitter: www.twitter.com/petliving