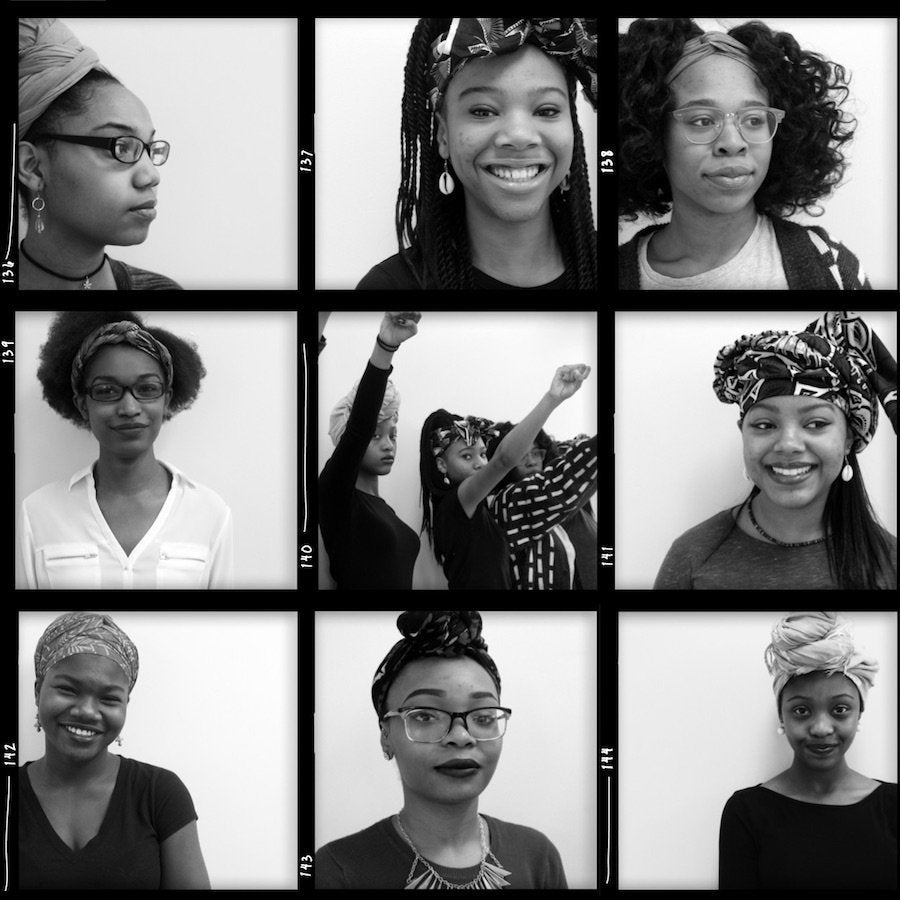 Photographer and youth organizer Scheherazade Tillet first had the idea for "Picturing Black Girlhood" about seven years ago, when she was visiting the Chicago Art Institute's "Girls on the Verge," an exhibition on adolescent girls. The show included work by photographers like Sally Mann and Lauren Greenfield, showcasing images of that precious and bizarre moment of being not a girl and not yet a woman.
However, Tillet couldn't help but notice that in the exhibition there were only one or two images of people of color.
"I felt like their voices weren't there," Tillet told The Huffington Post. As the founder of A Long Walk Home, a nonprofit organization that uses art therapy to inspire young women and protect girls from violence, Tillet works closely with women in her Chicago community. "I wanted to take my girls to see the show, but how could they identify with it if they didn't see themselves represented?"
As an organizer and a curator, Tillet felt moved to curate an exhibition of her own, one that told the story of black girls in America today. As a photographer, Tillet wanted to do more. "I wanted my girls to tell and archive their own stories," she said. "How do they define girl culture themselves? I knew a true story had to come from within." 
Ever since, Tillet has been collecting and archiving artwork depicting black teen girls, including photographs taken by the girls themselves. "I wanted to bring to life what it meant to be a black girl," Tillet said. "When you're in an exhibition you're in their world as opposed to just looking at their world."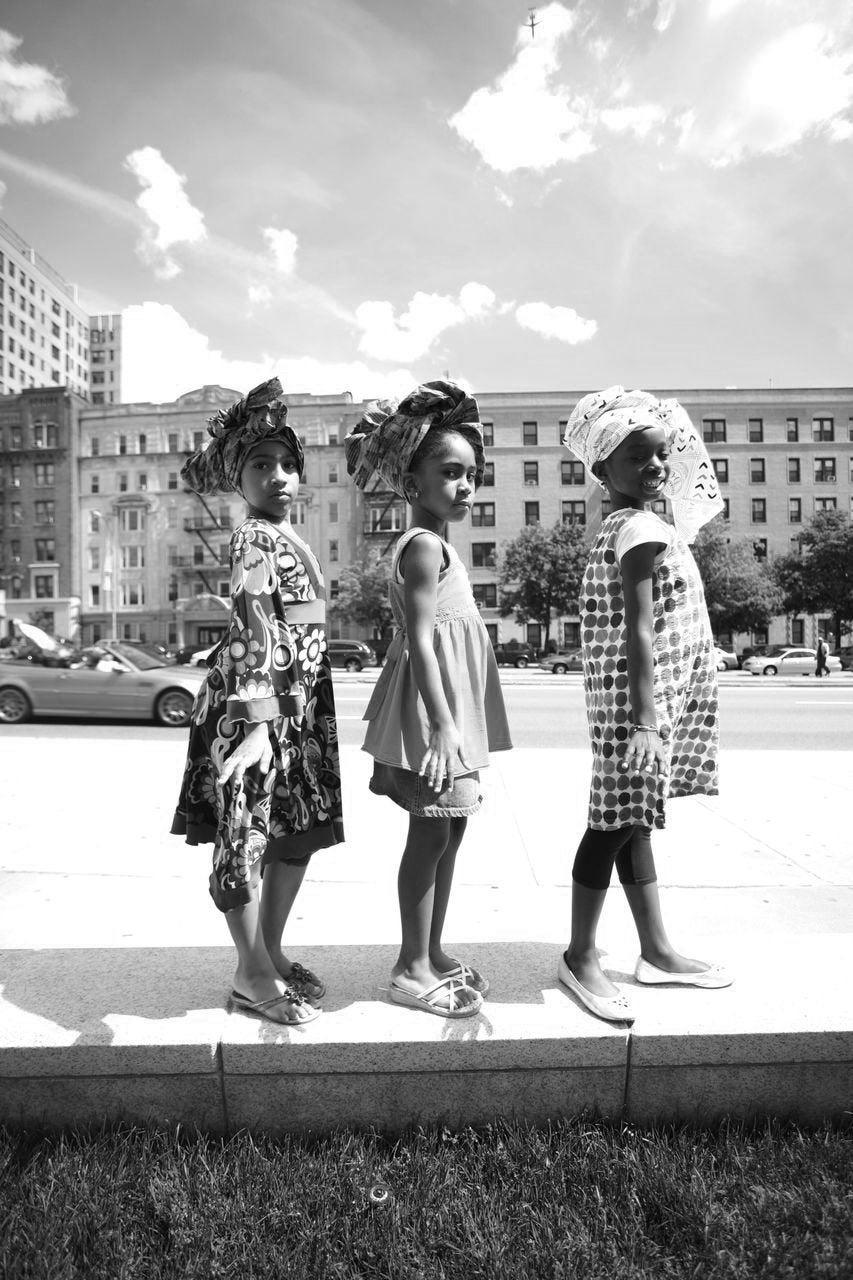 "Picturing Black Girlhood" is truly, Tillet stressed, a collaborative effort, featuring the voices of women and girls from around the country, including South Carolina, New York, and Chicago. Although particularities separate the experiences of growing up in the South and New York City, a few themes manifested consistently throughout the show. One major thread connecting the show was this idea of reclaiming space. 
For example, a 17-year-old photographer named Lorenshay Hamilton created a series about Rekia Boyd, who was shot and killed by a Chicago police officer in 2012. "Lorenshay lives where Rekia lived, she goes to school where Rekia went to school. It's honoring and making women aware of Rekia's story, while also reclaiming the space where the trauma happened."
Another image, called "#ItsBiggerThanAHeadwrap," by artist Jamaica Gilmer, is a response to a circle of girls who were told they were violating the dress code by expressing their culture through wearing geles in school. "Girls are being policed, for their hair, their anger, their emotion," Tillet said. "It was amazing to see young girls wearing head wraps when they were visiting the exhibition. They'd make a power fist and take a selfie next to the image; they were so proud." Beauty is another major theme of the exhibition, demonstrated through images of hair, selfies and Barbie dolls made in the image of real black girls.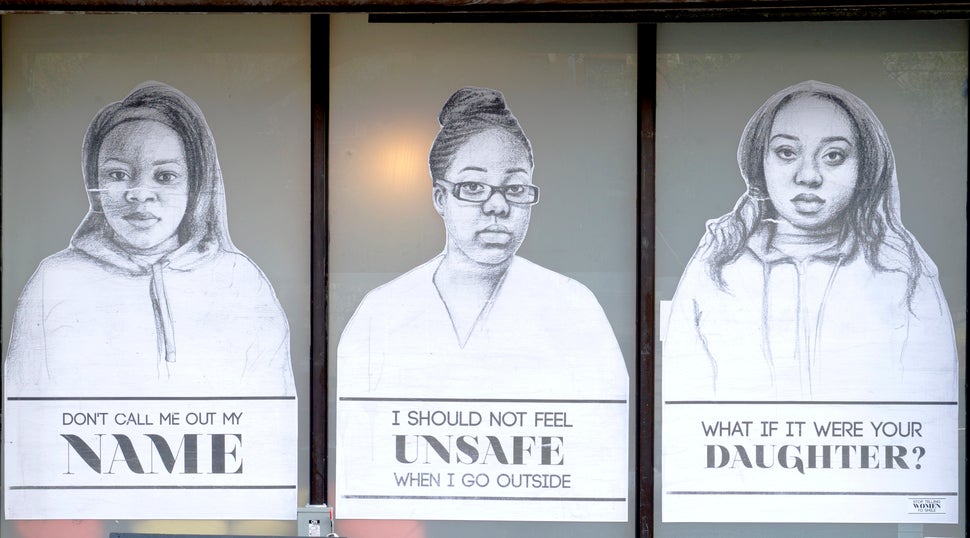 Fazlalizadeh's images are displayed in the windows of the exhibition, to be seen from the outside. Tillet was careful to engage both indoor and outdoor space in the show, since both are such crucial and distinct environments for many young girls. "I wanted to get at how black girls operate inside and outside, the space between double dutch jump rope and the really serious things that are happening to them, loss or sexual violence."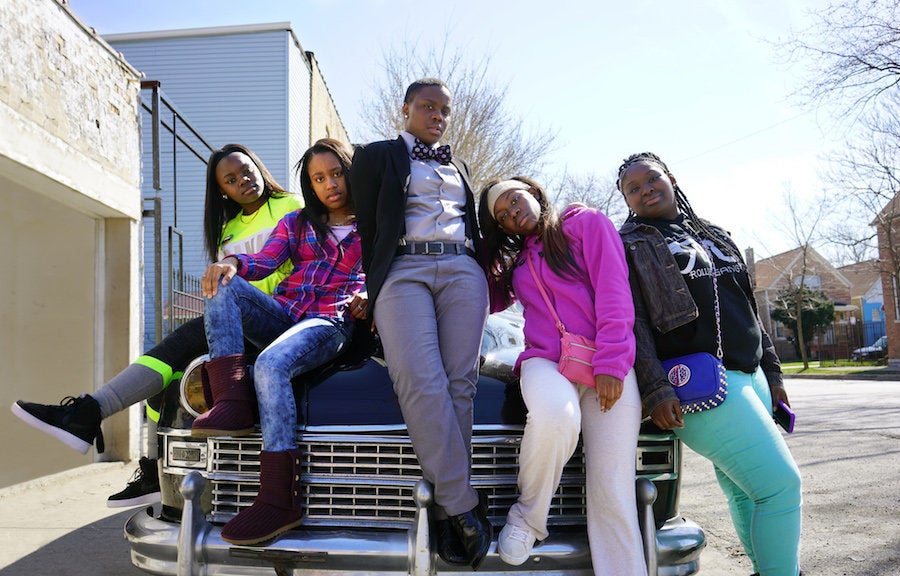 Tillet herself has some images of her own in the exhibition, including one standout photograph titled "Black Girls, Good Friday morning, Westside Chicago, Illinois." It's based on an iconic 1941 photograph by Russell Lee, taken just after the Great Depression of the migration movement from the South to the North. "He photographed black boys sitting on a car on Easter Sunday," Tillet explained. "So many black Americans have this photograph in their homes; it represents Chicago. But it doesn't have any girls in it." So Tillet made her own version, with girls, meant to speak to the leadership potential of young women in the black community.
Depicting black girls as leaders is one of Tillet's largest goals. "Black girls see themselves as leaders," Tillet said, adding that so many take on adult responsibilities like caring for siblings or contributing money to their household at such a young age. "But who else sees them as that? How do you make them more visible to support how they see themselves?" 
Providing them with a camera, a space and a voice certainly seems like a great place to start. 
"Picturing Black Girlhood" was a limited, three-day photography exhibit that ran from April 7 to April 9 in Harlem, New York. See images from the stunning show below.
Calling all HuffPost superfans!
Sign up for membership to become a founding member and help shape HuffPost's next chapter
BEFORE YOU GO
PHOTO GALLERY
2016 Black Girls Rock!