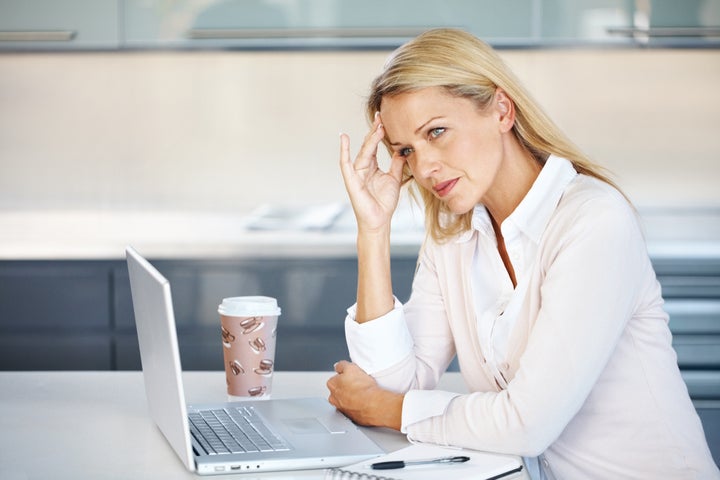 When I was in my early twenties, I became afflicted with what I deemed "post-college marriage mania." Rather than feel grateful that I wasn't planning to wed before the ink had dried on my diploma, I only felt left out (and a little jealous) as I watched my Facebook newsfeed clog suddenly with happy announcements of engagements.
Maybe it's the journalist in me, but I hate being on the outside of things, whether it's not being briefed on a friend of a friend's breakup-bound relationship or getting shut out of the press list for a red-carpet event. As other women my age brandished their prized new bling, my own very naked ring finger appeared inferior by comparison. As did my relationship with my then-boyfriend, who I'd been with for two years.
I didn't succeed in persuading that boyfriend to marry me --which is probably a good thing because I later realized I didn't actually want him to become my husband. After we broke up (and I grew up a little), I started dating one of those "great guys" I'd been hearing about. And, crazily enough, he's been open about his desire to marry me someday since the beginning of our relationship.
As more engagements popped into my newsfeed, and I started watching my close friends walk down the aisle in person, I noticed that the misguided, gnawing desire to join them had faded into a pleasant inner-musing of "someday." All in good time, I thought, feeling mature and secure in my healthy, no-pressure relationship.
Then, I discovered Pinterest.
According to the time stamp on my very first pin -- an image of pin-wheel-shaped table-number -- I began pinning 33 weeks ago. At the time, I was working for a women's e-magazine, Glo.com, and I had some free time in the afternoons to peruse Pinterest as I waited on edits or photos (even better, because the site was a lifestyle publication, my chosen vehicle for passing the time was considered "research").
It all started off innocent enough. I began boards for home décor and DIY projects that I knew I would likely never create. But as I looked for more ideas -- and imagined a version of myself who would actually go to the craft store and do them -- I started encountering a slew of wedding-related pins. (And, oh, how repin-worthy they were!)
Of course, I had no need for these wedding pins, as I was not even close to planning my nuptials -- my boyfriend, Greg, and I aren't yet engaged. But after encountering dreamy image after dreamy image of outdoor soirees with candlelit tables, I decided that there would be no harm in creating a board of ideas for party planning and ambiance.
But then I ventured beyond party planning down other wedding-related avenues. There were so many beautiful wedding dresses and I didn't want to forget that I really liked a sweetheart neckline and some kind of lacy overlay on the skirt, so I created a wedding dress board and pinned a couple of gorgeous gowns. Soon, however, "a couple" turned into 45.
At first, I justified my premature pinning with the fact that two of my best friends were engaged. My image gathering would enable me to react sensibly to any potential wedding-related conundrums that they might encounter. At least that's what I'd assure myself, as I pinned yet another fit-and-flair or completely unnecessary -- but oh-so-pretty -- "ribbon canopy."
My descent into the labyrinth of the visual social network continued. I thought, well, I've gone this far, may as well start an engagement ring board. Thanks to Pinterest, I discovered that I'd prefer something under two carats with a vintage-y, six-prong setting. Besides, wouldn't pinning a couple of ideas help Greg out when it came time to ring-shop? Wow, I mused, he's lucky to have such a forward-thinking gal like me!
Instead of getting excited about my far-in-the-future nuptials, however, the more pins I amassed, the unhappier I became.
Soon, that when-will-it-be-my-turn-dammit? feeling -- you know, the one that I thought I'd overcome years ago -- came creeping back. No, my pinning didn't directly cause any fights between Greg and me about the state of our union. But the anxiety that permeated my early twenties -- the worry that I would never indeed get a Big Day of my own -- settled back inside me. I felt more on edge, more tense when people asked me about when Greg and I might get engaged -- and more defensive when Greg said that he wouldn't propose until after we'd been together more than three years. (This benchmark, which we will hit this summer, had sounded reasonable to me when we'd talked about it in the past.)
Constantly fixating on wedding stuff quickly started messing with my head. I noticed that Pinterest not only reignited my misplaced desire to be part of the fiancée club, but it also helped foster another layer of insecurity: I could never live up to the perfection depicted by my pins (unless, of course, I felt like going bankrupt). My pinning sprees left me feeling hung-over and remorseful -- a little like when you drink too much wine and send that second "follow-up" text to a guy who's not really into you. My pins became a constant reminder of how engaged I wasn't: My boards may have been full, but, inside, I felt empty. (All right, all right. I'm being a little dramatic. But I didn't feel good. Especially when I realized that the cost of my Monique Lhuillier "dream dress" rivaled the balance on one of my student loans.)
I should have know this would happen, given that various research that has shown how social media sites negatively affect people's psyches. Dilney Goncalves, Ph.D., a marketing professor at IE Business School in Madrid revealed in a February 2012 study that being constantly barraged with covetable updates about job promotions, vacations and engagements can skew people's perceptions of reality, making them feel like everyone's lives are better than theirs.
While Goncalves' research focused mainly on Facebook, I suspect his findings could apply to Pinterest in the sense that the site provides a constant current of idealized still-life moments -- not just of weddings, but of fashion-forward outfits and carefully staged homes. The site promises that there will always be more beautiful images to gaze upon, which then can inspire unrealistic expectations.
But just because I knew Pinterest could screw with me psychologically, that didn't make me change my ways -- I was still tempted to preemptively collect wedding details. It was only when I started paying attention to my usage that I gradually noticed that my inner crazies ebbed when I didn't pin and flowed when I did, which eventually made pinning itself less and less fun. While there wasn't one clear moment in which I decided to cease my pinning, as soon as I did, my marriage mania began to recede. I started thinking far more practically about marriage once I completely stopped fixating on full skirts, dessert bars and vintage-inspired sparklers.
Don't get me wrong -- I'm still as excited for my future Big Day as the next gal. But I won't be pinning details for it any time soon. It's pretty clear that my sanity depends on it.
Related