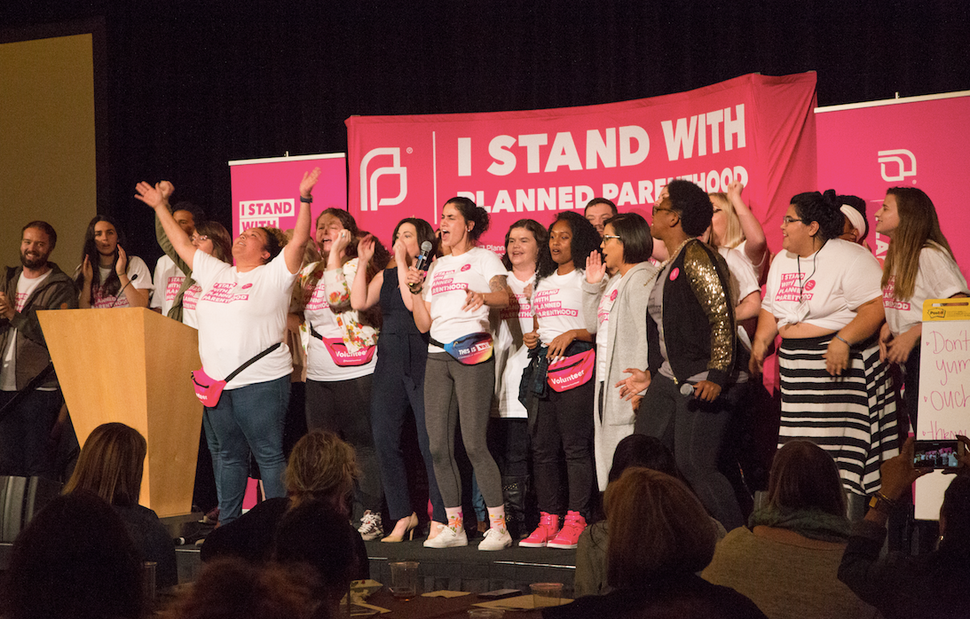 BELLEVUE, WASH. ― "When the patriarchy is completely slain, then we will rest," said Moira Pyhala, 20, as the people sitting around her laughed.
If this were most gatherings in the United States, you probably wouldn't expect that comment to land quite so well. But we're sitting around a crowded table in a ballroom filled with other crowded tables, and every single person there is in the business of battling the patriarchy. 
This is the northwest regional #IStandWithPP Organizing Summit ― essentially, Planned Parenthood activist bootcamp.
"We're everywhere. We're in the reddest place, and we're in the bluest place," Elaine Rose, CEO of Planned Parenthood Votes Northwest and Hawaii (PPVNH) declared from the center of a stage at the Bellevue Hyatt, that night. "You're gonna go home and help change the world."
She's speaking to Pyhala and the other 330+ women, men and gender non-conforming people sitting in a hotel ballroom just outside of Seattle, Wash. on a Friday night. Each person there is one of Planned Parenthood's top volunteers, and they traveled from around the western part of the United States ― from states like South Dakota, California, Montana and Alaska ― to spend the weekend learning how to "change the world" more effectively. (Similar summits took place in Oklahoma City, Charlotte and Phoenix. When the program is wrapped, about 1,000 volunteers will have gone through the training program.)
The goal of these summits, which are the first of their kind for Planned Parenthood, is lofty, but simple: To build out the foundations for 600 effective, intersectional, local action groups ― all in places where a Planned Parenthood health center exists. The hope is that these 600 action groups will be able to activate locally around the issues that impact each community most directly, whether that's abortion access, or police brutality, or comprehensive sex education, or DACA, or an anti-trans bathroom bill, or all (or none) of the above.
Although the organization is most visibly associated with reproductive rights, specifically access to abortion care, Planned Parenthood National Organizing Director Kelley Robinson stressed that the organization sees "any attack on the people that come through a Planned Parenthood health center's doors [as] a direct attack on our ability to provide care."
"We've been around for 100 years through the work of folks really believing in grassroots organizing," said Robinson. "But now, in this moment, especially as we're in our second century, it's been really critical for us to understand that the only way that we're really going to win is by training our volunteers across the country." 
In Bellevue, those volunteers looked like a diverse cross-section of America ― albeit a little younger, a little more tattooed, and wearing a little more pink.
It's been quite a year for Planned Parenthood. The health care organization has long been a target of right-wing legislators, having become one of the most potent symbols of America's sustained battle over abortion access. With the election of President Donald Trump, alongside a Republican-led House and Senate, Planned Parenthood's leaders and supporters knew the organization would likely continue to face sustained attacks. And it has. 
But the 2016 presidential election also motivated people to get active. Organizations like Planned Parenthood saw a surge in both donations and volunteers. According to a Planned Parenthood spokesperson, more than 200,000 new volunteers have signed up since Nov. 9 nationwide.
The only way that we're really going to win is by training our volunteers across the country."

Kelley Robinson, Planned Parenthood National Organizing Director
Nilofar Ganjaie, Lead Field Organizer at Planned Parenthood Votes Northwest and Hawaii, remembers the near instant jump in volunteer numbers post-election. Ganjaie, 24, who first started volunteering with Planned Parenthood when she was 19, credits PP with being there for her when she didn't have anywhere else to go to for health care. Before Nov. 8, she had about 200 volunteers signed up from the Seattle area, and about 50 who showed up regularly to events and activations. On Nov. 9 alone, she got several hundred volunteer requests. Today, she says that number is "well into the thousands." 
"I think that people were really moved to want to take action once there were very real threats to things ― like their access to health care or whether or not their families were going to be able to stay together," she told HuffPost.
Nearly a year after the presidential election, the volunteer-led momentum that started up last November hasn't let up. So Planned Parenthood leaders decided to harness that energy in the hopes of making it more directed, sustainable and intersectional.
Thus, the #IStandWithPP Organizing Summits were born.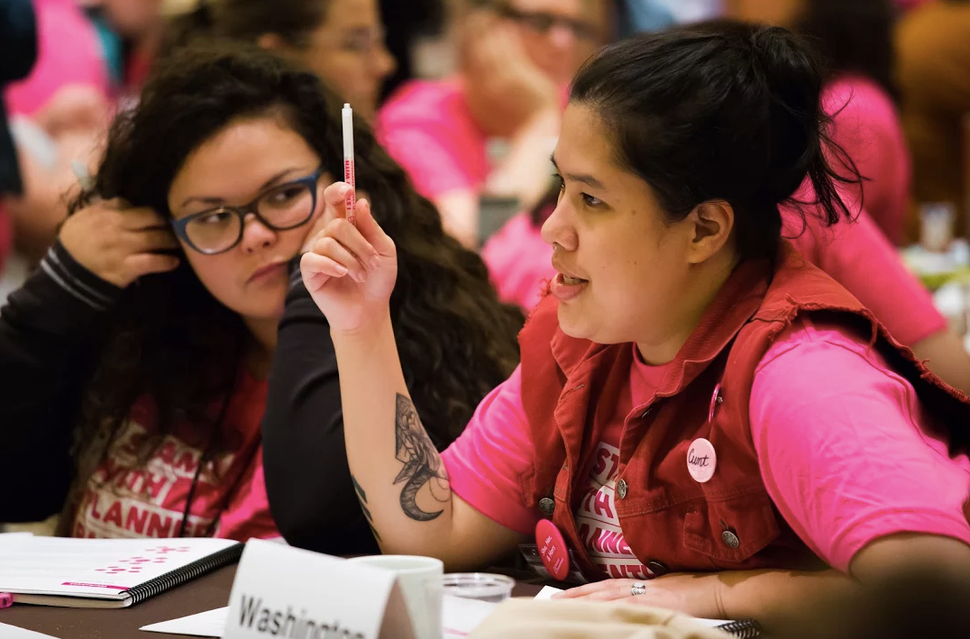 Like Ganjaie, most of the volunteers who came to the Bellevue summit had a story; a personal tie to Planned Parenthood that drove them to commit considerable time and energy to the organization. 
Pyhala, who is the President of Generation Action at the University of Alaska Anchorage, is one of those volunteers with a story. She grew up in a family that often depended on food stamps in the small city of Soldotna, Alaska. She didn't always have easy access to health care, and went to a school that didn't teach comprehensive sex education, which meant that she was never talked to about consent.
At 15, she was sexually assaulted during a house party. Pyhala says the months following the assault were some of the most vulnerable of her life.
"I was really stripped of my own reproductive justice," she said. "At the time, I wasn't comfortable coming out to my parents that it had happened to me because I never even had a sex talk. In my mind, it was like, 'Oh well, I just had sex.'"
Though Pyhala didn't talk to her parents about the assault, she did live two blocks away from a Planned Parenthood health center. She walked over and received the education and resources she didn't have at school or at home. 
″[I got] all of the information that I needed," Pyhala told HuffPost. "That includes mental health, that includes reproductive health, that includes education. And they really laid it out to me. This was not a friendly encounter, which I had already had a feeling of, but it really just brought to light that fact. It really was a growing point for me."
A year and a half later, she graduated from high school and moved to Anchorage for college. Once on campus, she became involved with Generation Action almost immediately. Although Generation Action focuses on an array of issues, from LGBTQ inclusion to racial justice to health care access, Pyhala's deeply personal experience with Planned Parenthood is what convinced her that the health care organization could be a vehicle through which she could fight for a world she wants to see her younger sister live in.
Ean Tubbs, 22, is another member of the Generation Action team with a personal connection to Planned Parenthood. He grew up gay and Mormon in Palmer, Alaska ― a place he described as a "very small, conservative town." 
"Growing up I just had a negative view of what being gay was," he told HuffPost, recalling a game he and his classmates played in second grade called "Smear the Queer."
"Everyone would tackle the one who had the ball, who was queer," said Tubbs, "and that shaped from a very young age what I thought being queer was. Everyone just wanted to tackle you and take you down."
He, like Pyhala, moved out of his hometown after high school and headed to Anchorage for college. It was there that he first went to Planned Parenthood, seeking out the sexual and health education he had never gotten. 
"Since then, I've just been doing all I can for Planned Parenthood," Tubbs told HuffPost.
He even lobbied Sen. Murkowski in person over the summer, in the midst of the battle over Trumpcare. Tubbs was canvassing at a farmer's market in Anchorage when he spotted Murkowski nearby. He went up to her, wearing his Planned Parenthood T-shirt, and before he could even speak she complimented his shirt.
"I was just like, 'This is going to go well,'" Tubbs remembered. "I kept it pretty quick and asked her, 'Do you stand with Planned Parenthood?' And she said, 'Yes, it's all about access, and I'm not going to vote on a health care bill that deprives people of that access.'"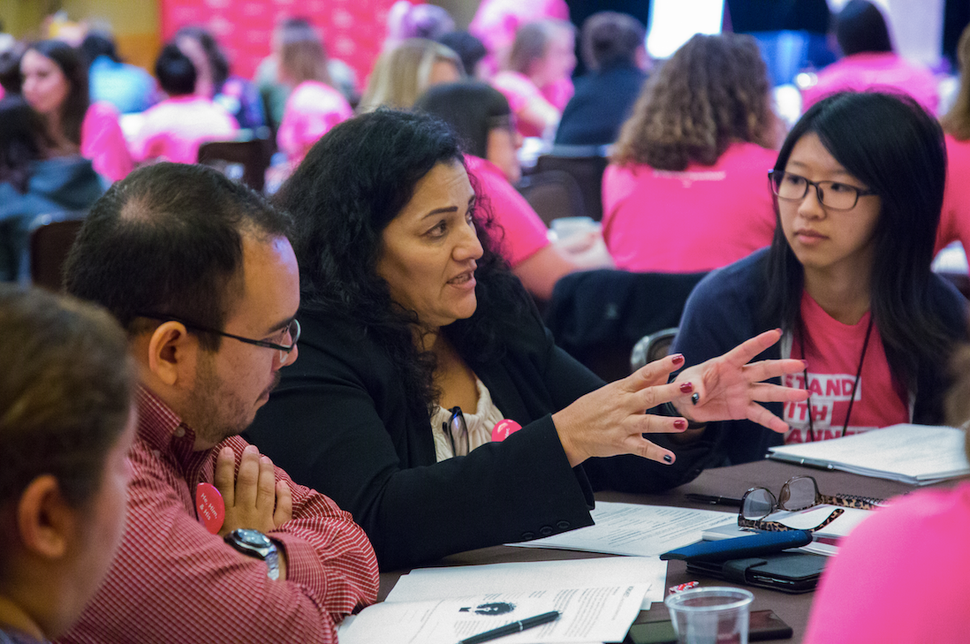 By late afternoon on Saturday ― after hours of sessions on how to use storytelling to reach people, how to build strong teams, and how to scale local efforts already in existence ― each state represented at the summit got busy mapping out concrete, region-specific goals.
For the Anchorage-based Generation Action group, those goals include forging stronger connections with sororities and fraternities on the UAA camps, as well as the Black Student Alliance. The Fairbanks-based group vowed to connect with Alaska-native groups more directly. The entire Alaska delegation discussed how they could motivate people in their state to vote in 2018 by pointing out that the new governor will be able to appoint three out of the five people who will serve on the state's independent redistricting commission.
Each of these goals and questions have national implications and resonance, but each are also unique to the state of Alaska, and the specific community that these Planned Parenthood volunteers live and work in. And therein lies the power of what Planned Parenthood is doing with these organizing summits. 
As Robinson put it: "Our end goal [is] to make sure that we've got these volunteer leadership teams that are robust and that are ready to support us in taking on the fights ahead where they're happening ― in local communities."
The people who will be integral in making sure these teams function understand the seriousness of their cause, and they seem prepared to take it on, knowing that they will likely face crushing defeats over the next three years. But they also know how to bring levity and joy to the work of movement building.
At lunch during the Saturday portion of the organizing summit, a group of organizers sat around a table near the big windows in the hallway of the Bellevue Hyatt.
"Should we say grace?" asked one woman, giggling.
"Thank you lord for the radical feminist people at this table," another quipped.
And then they all ate, fueling up for the fights to come. 
BEFORE YOU GO