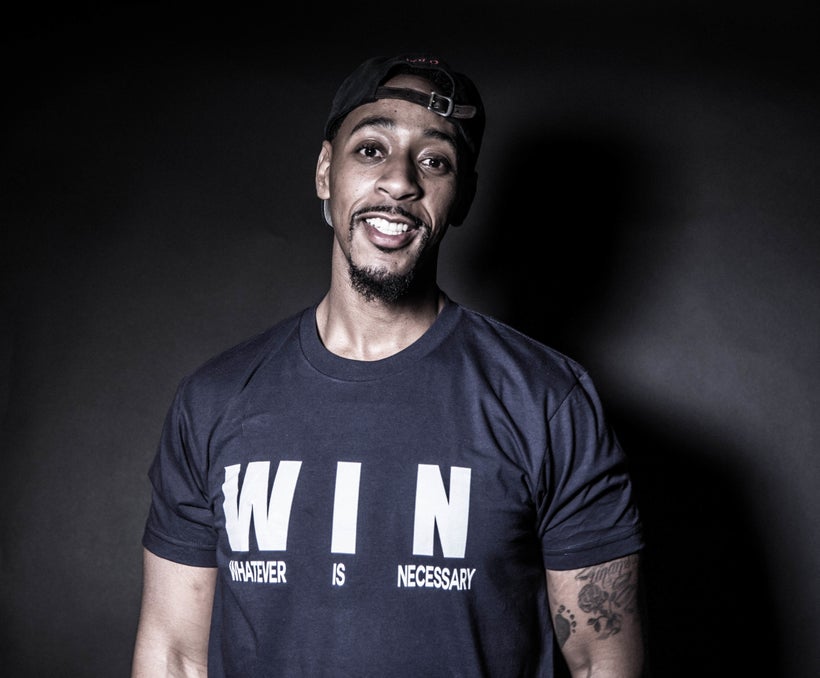 I'm shining the spotlight on friend and fellow ambitious entrepreneur, Isiah Fowler. I asked him if he could share his entrepreneurial journey, expertise and wisdom in today's article. He agreed and wrote an amazing article below. Isiah's one amazing entrepreneur and has such an important mission as an influencer in the world of podcasting. Thank you, Isiah!
Imagine spending almost two weeks in the ICU , being assisted to get out of the bed just to walk 3 steps to use the bedroom. To have a nurse at your bedside 24/7 because they honestly don't know if you're going to make it through.
Well this happened to me...
I'm an Air Force Vet and after coming back to Germany from Africa, I contracted a severe case of Malaria, and it wasn't anything nice. If you don't know what Malaria is, it's basically when your blood gets infected and becomes so thick it almost stops running through your veins.
For two weeks in the hospital, I got so much time to think about my life, what I've done and what I wanted to do. I was literally sitting on my deathbed. It was at that moment when I realized I haven't accomplished anything in my life that I wanted to, so I made a promise.
I said, "God if you get me out of this, I will get out the military and chase my dreams."
After walking out of that hospital 15 pounds lighter, skinny as a twig, I was determined to NEVER subject myself to that feeling of hopelessness again. So, what did I do? I started reading books. I started with Think & Grow Rich and then became obsessed with the mindset. After eight months of unlearning what I've been taught for the first 22 years of my life, I realized it was up to me. It was up to me to live my dreams and it was up to me to make it happen. I told myself I had to get out ASAP because this was bigger than me.
On April 1 2014, I left Germany and moved to Atlanta to chase my dreams as a full time and successful entrepreneur. I had no family in Atlanta, just my girlfriend and her family. I started off investing in Real Estate because I had seen all the YouTube videos and it was pretty practical. I've come across complete frauds, and it was extremely painful. I had my credit score go from 750 to a 450 because of the lies I've been told and it was painful, but I got through it.
In 2015, I got married to the love of my life and things were looking to get better. We had just flipped our first house successfully and made $30,000. We purchased another house right after that to keep recycling the money. This house happened to be a disaster and put us in the biggest hole I've ever experienced.
When you don't have much money you get really creative, and that's where Starts With A Vision Podcast came into play. I didn't have a lot of gas money, but I still wanted to do something. I started putting out YouTube videos. Then the YouTube videos turned into the Starts With A Vision Podcast.
I knew that this is what I had wanted because I was feeling very confident about it but another plot twist had to happen. The money wasn't flowing in, so my wife told me I should get a job but I wasn't going for it. We had a rental property paying our rent. I ended up working at a moving company for two weeks and quit. Why? Because $11 per hour was doing me NO GOOD and I knew I was worth way more than that.
Most people would say as a man I should have "provided" for my household. In my opinion a real man doesn't beg a job to pay him to take care of his family. He figures it out and makes it happen with his intellectual property. My decision to leave a $150 per week job ended me up in a divorce. I was so dedicated to making sure my whole family would be taken care of forever.
That was the most devastating thing ever. I had just started my podcast and I couldn't abandon what I had just committed to. I had my one day of tears and got to work. I was sleeping on my mom's couch for a while, just banging out content. Most people don't even know I was really talking to myself. I was encouraging myself because I was so depressed. I was masking my pain with the pure grind.
Slowly but surely the podcast started gaining momentum. I started meeting people. I felt this surge of energy and felt born again.
Then I came out with an Entrepreneurial Mix tape, put it out for free and sold out of 50 physical copies. I did some collaborations and was having five figure months. It was at this time that I knew everything happens for a reason.
Since then, I've been able to offer Podcast Launch, Management and Consulting Services to other entrepreneurs and companies.
This all started from me starting a podcast.
This has been a MAGICAL experience that seems to only be just the beginning. If you have a story or you've gone through pain, then don't be scared to make a business out of it. You've gone through the pain and suffering, so why not get paid for it now?
Isiah Fowler is a Podcasting Strategist & Consultant. he provides full service Podcast Consulting & services for established entrepreneurs, companies & small businesses. He can help anyone grow their business and/or Brand through the powerful medium of podcasting. 
REAL LIFE. REAL NEWS. REAL VOICES.
Help us tell more of the stories that matter from voices that too often remain unheard.
This post was published on the now-closed HuffPost Contributor platform. Contributors control their own work and posted freely to our site. If you need to flag this entry as abusive,
send us an email
.