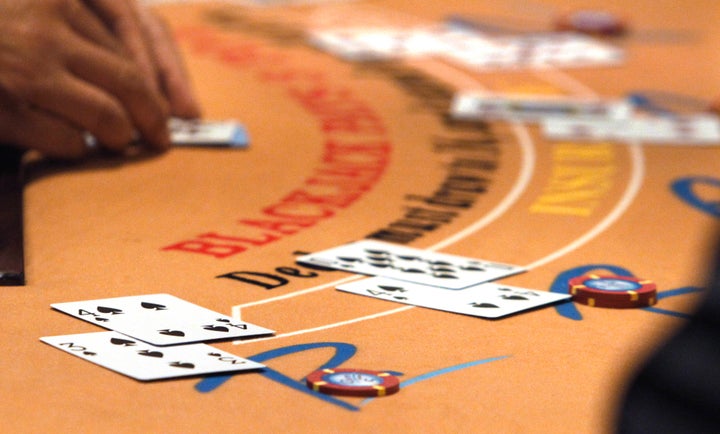 Americans are facing some serious challenges. Our national debt is $14,275,534,380,225.86 and growing. If you are not good at math, that figure is in the trillions. Unemployment is at 9.6 percent. Foreclosures caused 2.8 million Americans to lose their homes due to the banking debacle and is raising at 112 percent in 2010. Even more, Americans do not want additional taxes. And if you think the present situation can't get grimmer think for a moment about the future.
The mathematical literacy score of American youth is smack at the bottom of measured industrial nations. From Singapore to India to Iceland, other kids are academically destroying us. At least our youth measured slightly ahead of those in South Africa and Cyprus. Well, that is not exactly true; in "Advanced Math" the kids from Cyprus did better. So, where do we go from here?
How exactly is it that a card game might actually help these challenges?
1. Poker is a multi-billion dollar industry whose profits are not taxed in America.
2. Poker has the potential, and the desire, to support philanthropic programs.
3. The knowledge needed to play poker could substantially help fill the black hole in our children's math education.
Tens of millions of Americans play poker. Many of them online. Presently, our government is not taxing either the businesses or the players. Do the math. If you thought "Wow, is that stupid" after you hit those calculations, you are probably brainy enough to be a good poker player. In fact, Joint Committee on Taxation found that regulating internet gaming would generate nearly $42 billion over the next 10 years.
Why has poker not yet been legislated? Some individuals have outspokenly objected to the idea of supporting online "gambling". The issue of gambling in America was conceded years ago when lottery tickets became available at every corner gas station. If you are playing the lottery, your odds of winning are about as good as a 65-year-old grandmother becoming the next Miss America. Additionally, multiple brick and mortar casinos across our county already offer live poker play. Saying it's okay to play poker in a casino but not at home is like saying you can go have a drink at a bar but it's illegal to have a glass of wine at your dinner table.
So, what is the status of poker? On April 15, 2011 (appropriately tax day) Federal authorities unsealed an indictment against the founders of online poker's three largest and most popular sites. In its rash poker raid the FBI also decided to leave several online sites untouched and operating.
In 2005 the World Trade Organization decided that the United States violated international agreements by prosecuting operators of offshore Internet gambling sites. The WTO rejected the U.S. argument that the restrictions were necessary to protect public morality. International communities which license Internet gambling contend that the U.S. crackdowns against foreign betting is illegal and protectionist, since gambling for money is permitted in U.S. for state-regulated betting in sports like horse racing.
Mark Mendel, the Caribbean government's legal advisor, told Reuters:
"I don't think there's another country in the world that puts people in jail for engaging in trade that's lawful under international law,"
The game of poker presents a unique challenge to our judicial department because laws related to "gambling" are extremely unlikely to hold up in any court when the dialogue turns to poker. Poker is not a game of chance.
Anyone who plays poker, or at least anyone who wins, knows that poker is a strategic game based on math and the ability to calculate statistical odds along with an aptitude to recognize patterns in an opponents play. There is less gambling in poker than in old fashioned Monopoly where the opportunities for money grubbing property accumulation are destined by the random role of dice.
Examine the arithmetic. Major poker tournaments start with fields of thousands of competitors. The average pro is easily up against over 100,000 competitors in any give year. Yet, according to Poker News, pros like Phil Hellmuth can claim not one but 11 WSOP bracelets, Johnny Chan and Doyle Brunson ten, Johnny Moss nine, Erik Seidel and Phil Ivey eight -- the issue of chance is statistically ludicrous.
Companies running online poker in the United States should be paying taxes, regulated and following legal gaming policies. This will happen seamlessly if someone would actually write the regulations. Legislators (those guys who can't balance a budget, but make sure their own salaries will be paid, even as they threaten to halt government services and employees paychecks) need to start thinking about economic responsibilities and educational opportunities. In an environment in which 36 states are insolvent, and there is already some form of legalized gambling in 42 states, legalization is inevitable.
In addition to the taxation and educational benefits, poker is a game of staggering opportunity when applied to philanthropy. There are tens of millions of players worldwide. A huge majority of them happily clustered together online in one forum, where you have the chance to ask for their support for different causes. And, this is a community willing, able and committed to doing just that. For example, Jamie Gold, referred to as the "Poker Philanthropist" has hosted charity events that have now raised over $100 million for nonprofit organizations.
Recently, my company was speaking with Full Tilt Poker about how to bring people from around the world together in an online tournament where the proceeds would benefit the victims of the Tsunami in Japan. A project now abandoned due to a recent indictment. In addition to hosting the tournament the site was developing a click and donate option for its players. Millions of people worldwide having the opportunity to support charity. Imagine that model in play every month for different programs from education to poverty to hunger to health care.
What kind of people are playing world class poker? Chris Ferguson, Ph.D. in computer science from UCLA, for one. On his first trip to the World Series of Poker, Mr. Ferguson's consistent and extraordinary skill led him to seven final tables. Gambling? Chance? I don't think so. Another player, Andrew Bloch, has three degrees: a law degree from Harvard and two degrees in engineering from M.I.T. Greg Raymer has a Masters in biochemistry, and a law degree, all according to PokerTeam.com. Bill Gates, internationally recognized as a brilliant entrepreneur who built the world's most significant technology company, amassed a historic personal fortune and becoming one of greatest living philanthropists -- Poker player! Historically, poker has a very lofty following that includes: Andrew Jackson, Ulysses S. Grant, Warren Harding, Harry Truman, Dwight Eisenhower, Barack Obama, and, okay, Richard Nixon.
"Poker theories and situations can teach basic life skills, strategic thinking, geopolitical analysis, risk assessment, and money management."
Poker is actually a rare win-win for all parties in all situations. For Republicans who so often and so stridently speak out about Government not controlling the individual rights of our citizens, the idea of our federal administration telling people that they do not have the right to spend their own money, to play a game, from their homes, is horrifying. For the liberal Democrats who are looking for financial windfalls in taxable dollars, $42 billion is not a bad start. For the philanthropic community, these funds can make a profound difference. And, for all parties, the educational supplement for mathematics should not be glossed over or ignored.
The National Debt continues to increase an average of $4.08 billion per day. We all have much more important battles to wage then if we can play cards from our homes. And poker is a game we all lose if we don't get this right, and one where there is much to win if we play it correctly.
Support HuffPost
The Stakes Have Never Been Higher
Related
Popular in the Community