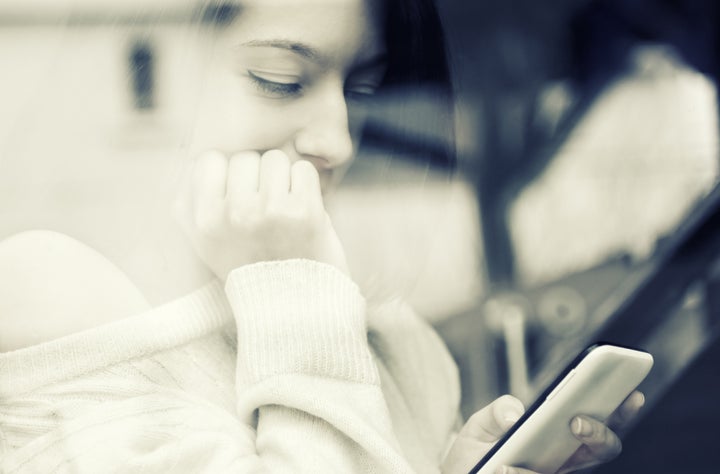 Last year, in what seemed like science fiction, emergency room medical professionals encountered a patient who was adamant her trafficker had tagged her with a monitoring chip. After some skepticism, the medical staff discovered that, indeed, imbedded in the woman's side was a tiny radio-frequency identification chip—the same type of microchip used to tag pets. The staff was dumbfounded, but for anti-trafficking experts, this discovery isn't shocking. Technology is friend and foe to the anti-trafficking effort. It's where traffickers lurk, target, and monitor their victims.
As technology becomes more sophisticated, says Jennifer Kimball, Polaris Director of Data Analysis, so too do traffickers in finding ways to use it to help them recruit victims, sell victims, and hide from authorities. At the same time, says Kimball, technology is one of the best means for victims to reach out for help. For example, a trafficker may frequently monitor a victim's phone but then not examine his/her social media accounts. "Sometimes traffickers heavily monitor Facebook and it isn't a safe way for a victim to communicate," says Kimball. "In other cases Facebook is the one space traffickers don't control and victims are able to reach out to family for help or post on his/her wall. It really does vary and it's important that there are a wide variety of options available for them to reach help, so that victims can select what is safest." It's these monitoring gaps that Polaris Project, which runs the United States' National Human Trafficking Resource Center (NHTRC), is trying to use to find and aid victims, disrupt traffickers, and, through innovative partnerships with Silicon Valley, the non-governmental organization (NGO) is also tracking and mapping trafficking data.
Polaris is constantly amending their approach to include the newest influx of popular technology. At present there is a proliferation of apps that are changing the technology terrain and how we communicate, but what remains the most used form of communication is text messaging. For victims, making a phone call can be far more dangerous than sending a text message. "People who are trafficked are closely monitored and may not be able to speak to someone on the phone, but they may be able to silently send a text message," says Kimball. "We didn't want that to be a barrier to people reaching help. There are already enough barriers."
In order to add texting to its artillery, Polaris collaborated with three California-based technology companies—Salesforce, Twilio, and Thorn: Digital Defenders of Children—founded by Demi Moore and Ashton Kutcher. Together they created the easy-to-remember text shortcode BeFree (233733). Meaning, all a victim, or person reaching out with a tip, has to do is send a text to BeFree. Twilio created the shortcode and message delivery system for the textline backend, which supports Polaris with free texting. Another company, Bridge Farm Consulting, helped link Twilio with Salesforce software, so that the textline conversations could be tracked in the NHTRC database. BeFree launched on March 28, 2013 and, so far, has had roughly 3,617 text conversations that led to 424 human trafficking cases. This year alone, from January through September, there were 892 BeFree text conversations that led to the identification of 124 potential trafficking cases.
Kimball says the BeFree textline typically involves multiple conversations over weeks or even months, and a larger percentage of victims reach out to NHTRC through text than by phone call, 23 percent compared to 11 percent, respectively. "This supports our hypothesis that texting is a way that victims feel more comfortable and safe reaching out," says Kimball. The number of victims reaching out through the textline just keeps increasing—in fact, there was a 24 percent increase in 2015. Kimball says this is because people hear about the textline through word-of-mouth from other survivors or through service providers. "Later, when they are in a bad situation, they reach out for help," says Kimball. The vast majority—82 percent—of text cases involves female victims of domestic sex trafficking (where victims are U.S. citizens or residents). In part, says Kimball, this is because the BeFree pilot targets English-speakers in its advertisements, which likely skews what populations reach out to the textline. For example, the advertisements are more apt to reach domestic sex trafficking victims than foreign forced labor victims. "Text messaging in other languages is very complex and it's hard enough to keep up with English lingo, let alone that of other languages," says Kimball. "That may be why forced labor statistics for the textline are low," says Kimball.
Each NHTRC BeFree or hotline case has about 150 data variables that are entered into Salesforce software by text/call specialists. This data syncs nightly with software by data analysis and visualization platform giant, Palantir. The system constantly updates and aggregates NHTRC data, allowing Polaris to quickly (and as close to real time as possible) discover recent trends and lesser-known trafficking types. The software goes far beyond just an easy interface, it maps trafficking cases, trafficker networks, and analyzes patterns—such as calls about the same recruitment company and/or traffickers, or multiple victims using the same phone number to contact the NHTRC.
The analysis tool recently uncovered an uptick in door-to-door magazine sales crew trafficking cases (yes, the woman or man knocking on your door asking if you want to buy a magazine subscription may be a trafficking victim). These highly mobile units typically traffic U.S. citizens and, because they commonly cross state lines, are difficult to monitor and stop. "By the time law enforcement can respond, victims have already been moved to another location," says Kimball. Thanks to Palantir, Polaris is now able to map traveling sales crews' movements and alert law enforcement to their route. The data also triggers the NGO to report the data to federal law enforcement because the cases cross state lines.
Polaris' partnerships with Silicon Valley haven't just improved the NGO's outreach— assistance to victims and disruption to traffickers—the data collected and analyzed provide essential insights that are discussed with a wide variety of actors, key-decision makers who can make changes to policy, strategy, and protocol. Among groups Polaris meets with to discuss these insights are the U.S. Government Accountability Office (Polaris raised concern over the temporary work visa program), legislative advocates (so they have the information they need when going to the hill and speaking with legislators), and banks or financial institutions to discuss how money is flowing. Polaris also shares insights with law enforcement and attorney generals so that they know the key nodes of recent trafficking structures. "The goal is to give the information they need to amend strategies, if needed, and potential pressure points based on how traffickers operate and who has the power to exert that pressure," says Kimball.
Popular in the Community