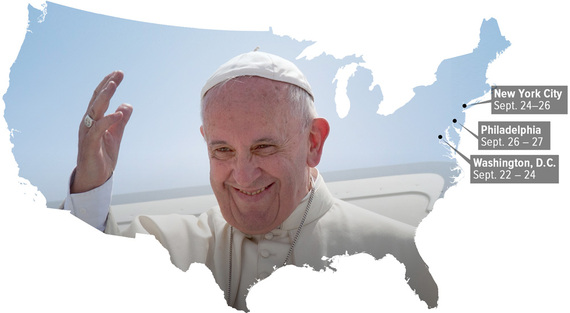 I'm so grateful that His Holiness, Pope Francis came to the U.S.A. His visit has already changed the hearts of everyone here. I listened to every word he blessed us with.

My parents were also born of Italian immigrant parents, and they have been blessed with 17 children and lived in Philadelphia. My father, when he passed away in 1988, was honored in all the Philadelphia newspapers for his contributions to the city, from fathering all of us to serving in World War II and the Korean War, and for his great artistic accomplishments. And my mother was honored in October 1958, when she gave birth to her eighteenth child, was acknowledged in all the Philadelphia newspapers as the youngest mother to have given birth to that many children in Philadelphia. Alas, one was stillborn.
Last week, one of my dear brothers was blessed to be seated at the Papal Mass in Philadelphia, and also present at the Pope's address to Congress in Washington. He was one who drank from the Pope's water glass, too. I pray that Pope Francis understands my brother's love for him. I have family, friends, and neighbors who worked many hours volunteering, and Tying of the Prayer Knots at the Basilica of Sts. Peter and Paul to help with the Meeting of Families. And I've been passionately sharing my love of Christ through writing and my simple book that I feel his Holiness would approve of because it resonates with everything he said to us in the U.S.! I may have erred in mentioning on the front cover of my book (and only on the front cover) that I studied A Course in Miracles. I thought it would encourage more people to read the book, which page after page gives glory to Jesus Christ and the Catholic Church. But apparently this turned off some Christians away from even considering opening its pages. Even though the Course pointed me back to the Gospel, I've heard that some feel A Course in Miracles holds danger for some. I know by the grace of God, I have been saved, since nothing turned me away from the Gospel.

I tried to submit my book to Catholic publishers and was rejected. My intentions were to do my part, as Pope Francis asks all of us to do. I am doing my very best. I only wish I had more courage to share this with Pope Francis before he left Rome to visit Philadelphia. But I know that nothing is impossible with respect to any of God's promises. I am getting older, and my story covers a period of 40 years of Christ guiding me. I am not a professional writer, but rather a mother, wife, sister, and friend, who has been devoted to and saved by Jesus
I'm also sorry I didn't answer the invitation for the Meeting of Families stories, but I thought, "Who am I to believe my family's story was worthy than His Holiness would choose mine." But now that he's come and gone, and shared his own deepest passion of the family, perhaps he might have chose my Philadelphia story because in some ways, it echoes his own.

I do this for the love of God and others. I would love to see Imprinted Wisdom approved by the Catholic Church before I die and meet God. I feel that it will bring so much HOPE for so many families, even my own, and give glory to the Catholic Church

I give thanks for the Holy Father, Pope Francis! I pray for him as he's asked, and hope he'll pray for me, too.

Catherine Nagle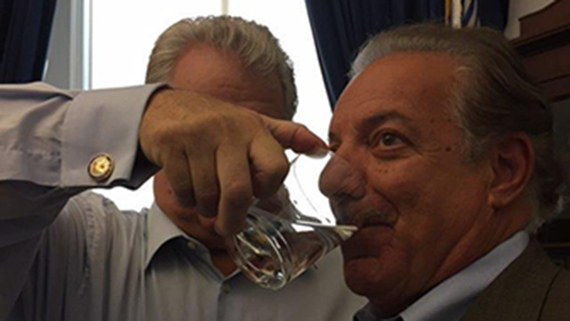 Ernie DeNofa with Rep. Bob Brady, drinking water from Pope Francis glass following Pope's address to Congress in Washington.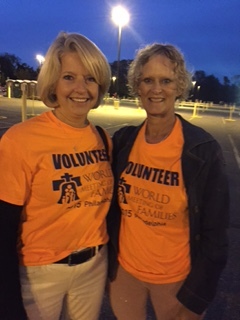 Wendy Webb Shoenewald and Laura Testa Thiroway, volunteers from St. Cyril of Jerusalem Church
About Catherine Nagle: Catherine grew up in Philadelphia with 16 brothers and sisters, reared by loving, old school Italian parents. Catherine's artist father's
works graced locations from churches to public buildings; her mother was a full-time homemaker. A professional hairdresser, Catherine worked in various salons while studying the Bible and pursuing spiritual growth through courses, seminars, lectures, and inspirational books, including TOB Conferences, among many others. The mother of two children and a grandmother, Catherine lives in Pennsylvania with her husband and son. She is the Author of Imprinted Wisdom.
REAL LIFE. REAL NEWS. REAL VOICES.
Help us tell more of the stories that matter from voices that too often remain unheard.