Prince Harry's Saturday wedding to Meghan Markle was full of subtle tributes to his late mother, Princess Diana. The couple wed more than 20 years after Diana's sudden death in Paris.
Meghan, now the Duchess of Sussex, walked down the aisle of St. George's Chapel holding a small bouquet of flowers that included Diana's favorite flower, forget-me-nots, picked from a private garden at Kensington Palace, where Harry grew up.
Many saw her incredibly long veil, a lace number including the flowers of all 53 countries in the British Commonwealth, as another nod to Diana, whose train at her 1981 wedding to Prince Charles appeared equally long.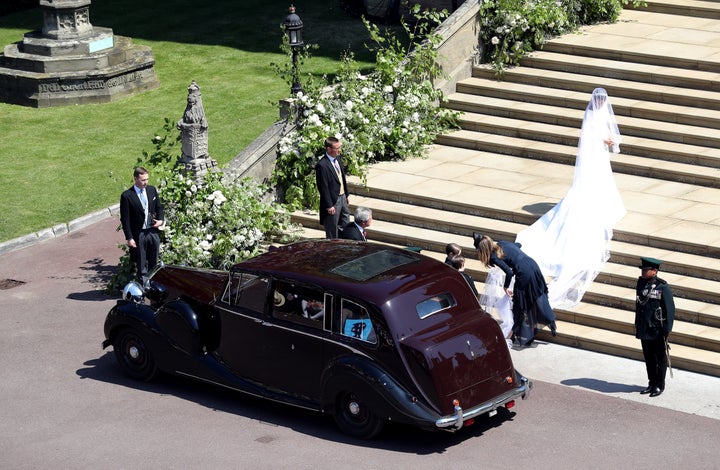 Of course, she already had her engagement ring, which included two diamonds from Diana's collection.
During the Windsor Castle ceremony, Meghan and Harry picked a hymn that was sung at Diana's funeral in 1997 ― eliciting a tear from the groom. The hymn, "Guide Me, O Thy Great Redeemer," was also part of Prince William's 2011 wedding to Kate Middleton.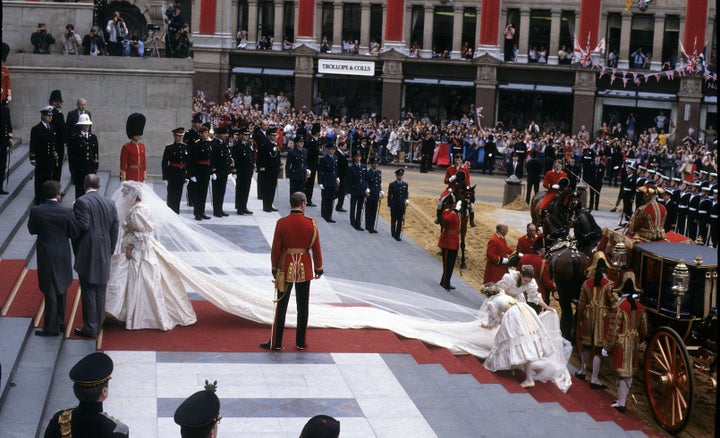 Diana's three siblings ― Lady Sarah McCorquodale, Lady Jane Fellowes and Earl Charles Spencer ― were all in attendance Saturday. Lady Jane completed a reading, as she also did at Diana's funeral.
"Set me as a seal upon your heart, as a seal upon your arm; for love is as strong as death, passion fierce as the grave," Lady Jane read from the Old Testament.
Instead of gifts, the couple asked guests to make charitable donations to organizations close to their hearts, including the Children's HIV Association, the anti-homelessness group Crisis, and The Myna Mahlia Foundation, an Indian women's group. Diana was famously generous with her time and remained actively involved in charity work until her death; she was particularly involved in AIDS-related causes.
The newly named Duke and Duchess of Sussex surrounded themselves with British aristocracy and a very high-profile group of friends at the royal wedding about an hour west of London, which brought out thousands of well-wishers who were treated to an uncharacteristically sunny day.