This January, history was made by a hat. Stitched together from a four-cornered pattern and a skein of pink yarn, the "pussy hat" emerged as the unquestionable emblem of the Women's March on Washington. And that emblem, worn by thousands of protesters on the day after President Donald Trump ― whose idea of "locker room banter" became public knowledge after the leak of a hot mic recording in October 2016 ― was inaugurated, is heading to the halls of museums.
Earlier this month, London's Victoria and Albert museum announced that it had acquired a pussy hat worn at the Women's March, knitted by Pussyhat Project co-founder Jayna Zweiman. Zweiman, along with Krista Suh, created the original pattern from which most pussy hats were born. Together, they posted the pattern online in a call to "craftivists" to turn January's protest into a "sea of pink."
The hat is now on display in the V&A's Rapid Response Collecting gallery, a space dedicated to items that shed light on current global events, political changes and pop cultural phenomena.
"The Pussyhat is an important acquisition for the V&A in the context of the Museum's Rapid Response Collecting project," Corinna Gardner, acting keeper of the V&A's Design Architecture and Digital department, explained in a statement to The Huffington Post. "The items we collect are evidence of social, political and economic change, and as a group they form a permanent legacy of objects that help visitors and researchers make sense of the world we live in today."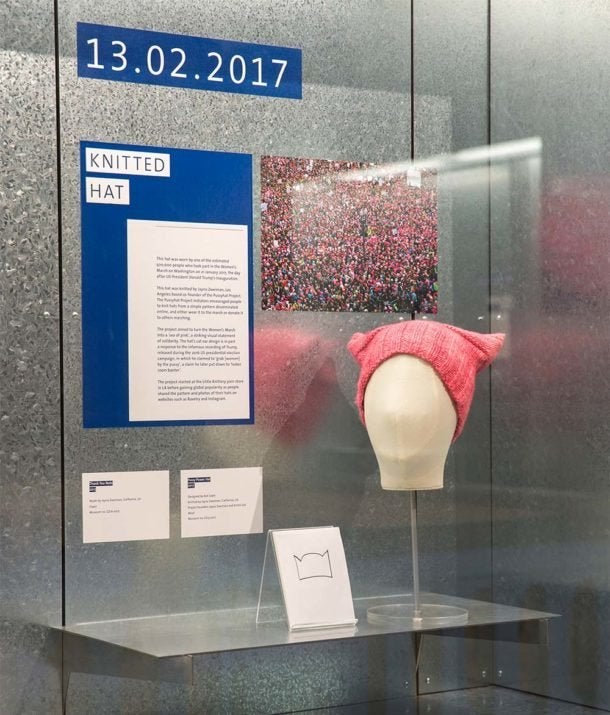 The V&A isn't alone in its acquisition efforts. From major institutions like the New York Historical Society and the National Museum of American History, to smaller organizations like The Fuller Craft Museum in Brockton, Massachusetts, and the Michigan State University Museum, curators across the country and abroad have added pussy hats, along with other objects related to the Women's March, to their collections.
"We had heard about the Pussyhat Project before the Women's March ― both through social media and news stories ― and it was clear that the hats were going to have a large visual and cultural impact on the event worldwide," Rebecca Klassen, assistant curator of material culture and exhibitions coordinator at the New York Historical Society, told The Huffington Post. The Society acquired several pussy hats, Klassen confirmed, "because the idea of collective effort is central to the project."
"We [...] knew that the scale of the march would be historic," she added. "Once we decided to collect objects related to the march, we would have been remiss to not include pussy hats."
The hats, Klassen noted, have become a graphic symbol of women's activism in the 21st century. While the pussy hat has garnered meaningful criticism from individuals who feel as though the term is not inclusive, it's difficult to deny the hat's significance as a visual cue.
"This modest pink hat is a material thing that through its design enables us to raise questions about our current political and social circumstance," Gardner continued. "[It] has become an immediately recognizable expression of female solidarity and symbol of the power of collective action."
Pussy hats, beyond their obvious significance to women's rights, have become an implicit symbol of opposition to Trump. The subtle cat ears function as a not-so-subtle nod to his remarks about grabbing women "by the pussy." If you're wearing a pussy hat, it's safe to assume your desire to reclaim the otherwise derogatory term "pussy" is aimed squarely at our current president; the discontent is worn on one's head.
Perhaps because of this, museums like the National Museum of American History are careful to describe potential collection objects like pussy hats in strictly curatorial, non-partisan terms.
"Museum staff was out collecting at the Women's March," Smithsonian Institution Communications Specialist Amelia Avalos told The Huffington Post when asked about its plans for collecting and displaying pussy hats. "As you can imagine, our curators brought in quite a bit of material and are still in the process of sorting through and deciding what will be added to the collection."
"At this time, there are no plans for anything they collected to go on view," she added, referencing a NMAH website with more information.
Nonetheless, the power of the pussy hats' presence in museums is impossible to ignore. When Fuller Craft calls the pussy hat phenomenon "the largest example of social activism through craft in U.S. modern history," their inclusion in places like the NMAH make perfect sense.
So to everyone with a pink pussy hat on your dresser right now: your unassuming knitwear is actually a part of history.
Support HuffPost
The Stakes Have Never Been Higher
Related
Before You Go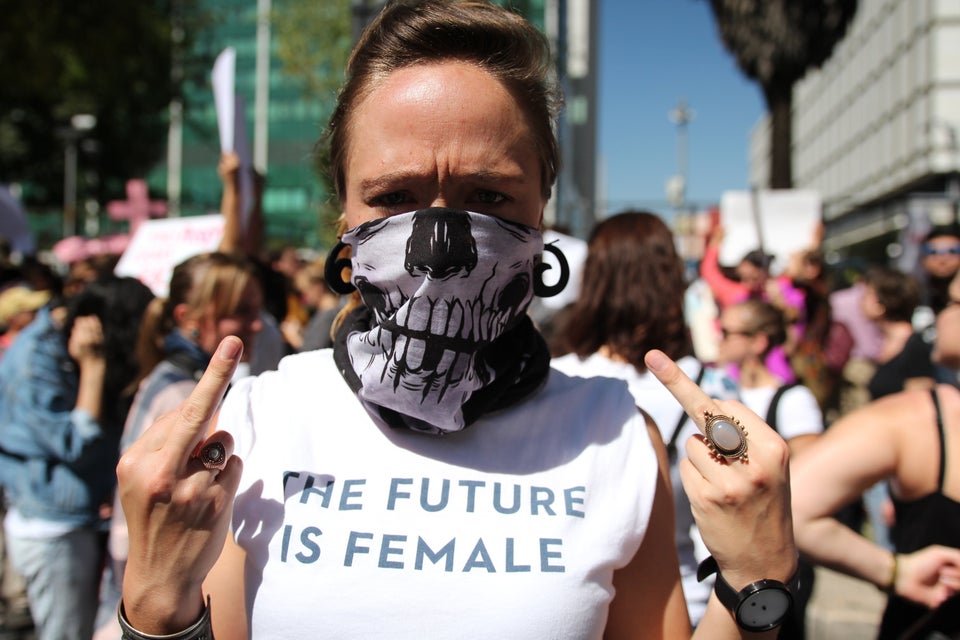 38 Stunning Photos From Women's Marches Around The World
Popular in the Community