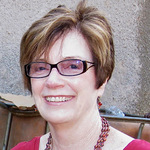 This is a guest post by Jean Semler, co-founder and president of ChangeALife Uganda, a partner of Segal Family Foundation.
The "Butterfly Effect" says the mere flutter of a butterfly's wings can cause a hurricane on the other side of the globe. Showing that even the smallest movement can change the course of the world. On this International Day of Charity, September 5, 2014, I'm reminded that aid can make a big impact even when it's collected one quarter at a time.
Believing that everyone can give a quarter, ChangeALife Uganda (CALU), a non-profit organization I co-founded in 2007, initiated an educational fundraising project called Quarters For Water, a partnership with US school children and donors.
Since 2010, New Jersey school children have raised $75,000, one quarter at a time. This is an amazing feat. What's even more amazing is what it bought the students of St. Lawrence School and the community of Migyera village.
Migyera is in a semi-arid rural area of north central Uganda. The small government well does not have the capacity to provide enough water for the whole village. Most people get their water by collecting rainwater and road run off. Women and children spend hours walking to nearby dams to collect small amounts of contaminated stagnant water, which becomes the source of life-threatening illnesses such as typhoid and malaria.
The quarters collected by US school children and other donors gave this community access to clean well water in 2014. This marked a huge accomplishment for CALU, but most importantly it was the first time the school children, the health center and the local community had access to a permanent source of clean water.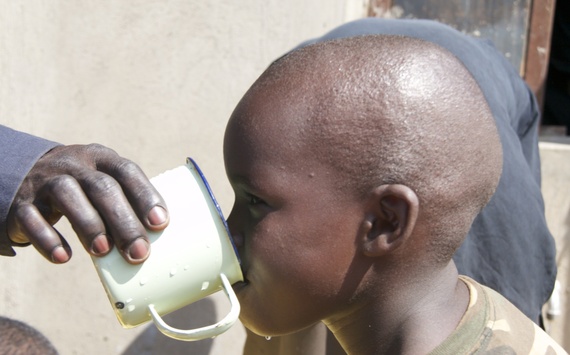 When we started in 2007, our ambitions were much smaller and began with changing the lives of 10 children. Father Lawrence Kimbowa, our advisor and the inspiration behind CALU, suggested we start by sponsoring the education of 10 children. We felt instant joy and success as those children - who would otherwise have had little or no education - went to school.
We saw how easy it was to change the lives of 10 children and knew that to have a larger impact on Uganda, one of the poorest developing countries, we needed to refine our work to target specific projects that can impact the community. We had to address four pervasive needs- education, healthcare, clean water and income generation- that prevent a more promising future. This required our humble New Jersey office to expand our programs and reach out to more individuals and donors for support.
Thanks to the generosity of many, we've been like a butterfly, fluttering our wings and affecting change in an African village 7,070 miles away.
With education as a priority we now sponsor 300 children in our Dollars for Scholars program and continue to strengthen St. Lawrence School, which is now ranked number one of 165 government schools in the Nakasangola District. Our Literacy for Living Program is educating 120 parents of our children, 90% of whom are women, to speak, read and write English. We opened the St. Francis Health Center in 2012 and partner with MILDMAY Uganda to help 315 HIV+ clients receive HIV care. Our microenterprise program provides microloans to 40 children and 56 families, increasing self-sufficiency and developing marketable skills to further their financial independence. These programs, including Quarters for Water, are changing and saving lives in Migyera.
When we first started working in Migyera in 2007 the government indicated that there was no underground source of water. Access to reliable, clean water was clearly a major need in the community and it affected our three other pervasive needs. In 2010, we used the Quarters For Water funds to purchase five water harvesting tanks and roof gutters to collect the rain run off from the school and health centers' roofs. This greatly improved the quality of life at the school, however this system was unreliable as a long-term solution since the water only lasted 31 days during the dry season.
As the quarters kept rolling in, we were able to take the next steps toward a permanent solution - drilling a deep well. After an extensive hydrological survey three potential sites were identified. We dug a 510' deep well in November 2011 and in the ensuing years constructed a pump house, a 50,000L water tower and laid 1.5 miles of pipe.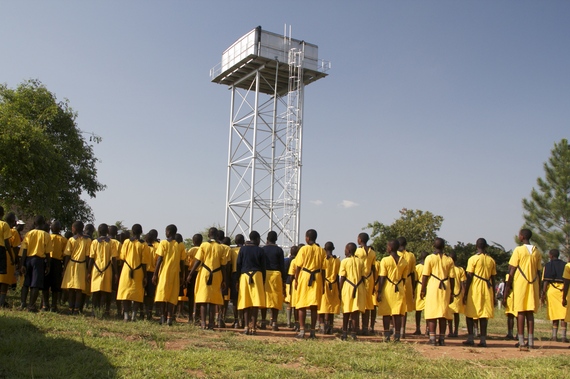 July 14, 2014 is now a memorable day in Migyera. A day filled with excitement and joy as we celebrated finally having access to clean, safe water from the deep aquifer.
"No longer will we be suffering water borne diseases due to dirty water used by animals or at home not be able to eat because of lack of water... our worries of diseases, thirst and hunger are solved," wrote Sylivia Naggayi, a student at St. Lawrence School.
The community celebrated with music, singing, speeches and traditional dances performed by the students. Smiles and laughter filled the school yard as the children for the first time in their lives jumped up and down and played in water as it fell on their heads, wet their shirts and cooled them off in the hot afternoon sun.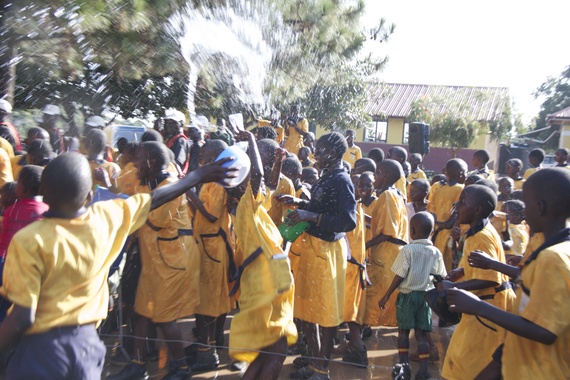 It was overwhelming; tears ran down my face thinking of the many donors - especially the quarters from hundreds of NJ school children and the caring and generous donors who made this gift possible. On this International Day of Charity, I'm reminded of what aid, love and compassion can do. It has been a long journey from when we started in 2009, and it's taken 5 years, but we finally have water in Migyera.
A favorite quote from Clarissa Pinlola Estes comes to mind, "Ours is not the task of fixing the entire world all at once, but the stretching out to mend the part of the world that is within our reach." New Jersey school children mended the village of Migyera and through Quarters for Water opened their hearts to charitable giving.
Related