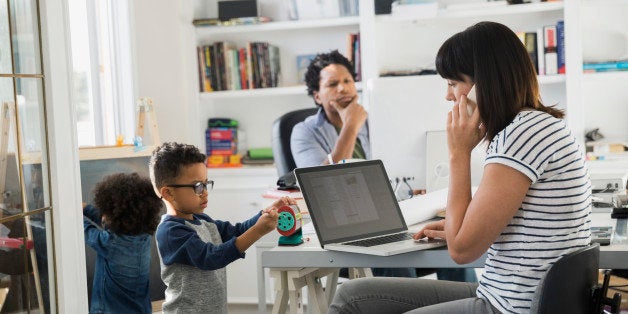 Working a regular 9 to 5 has never been my thing and that's part of the reason why I felt that getting a TV job would be perfect for me. When I started my career, I was young, ambitious, and ready for all the triumphs and challenges of the news business. The last thing on my mind was how my career could affect my marriage and my family life down the road.
Interestingly enough, I didn't know I wanted to have a career in news until college. I guess you could say that I fell into the business, so to speak. I wasn't your typical journalism major. In fact, my plans involved attending law school.
I enrolled at St. John's University as an english major with the hopes of getting into the Juris Doctorate degree program. But my failed attempts at studying for the LSATS, led me to schedule an appointment with a career counselor.
I remember confiding in her about feeling lost and not knowing what career path was the best fit for me. She handed me a pamphlet with a list of career options and told me to check off what interest me the most.
I remember choosing TV as my top choice. The information also included details on whether or not each career was suitable for family life, and I can recall journalism not being as compatible as other professions on the list.
However, I didn't let it stop me. The career counselor then advised me to apply for internships to get some hands on experience. After scoring an internship at a local cable station, I knew that I was exactly where I wanted to be.
I wasn't going to let some minor detail on a career pamphlet dictate my chosen job path. I had it all figured out. I'd work my butt off, then settle into a nice comfy TV gig and get married. I thought that by the time we decided to start a family, I'd be well established.
Things were going according to plan until the market crashed in 2008. That's when I got laid off from an awesome network gig and basically had to start from scratch.
But at that point my husband and I reevaluated where we stood regarding starting a family. There was no point in avoiding it anymore. So we decided to throw caution to the wind and welcome the possibility of getting pregnant.
While I still had dreams of scoring another network gig, I didn't want to miss the chance of becoming a mom. Let's face it; jobs come and go, but there's only a small window of opportunity to start a family naturally.
I've met other women in business with a successful career and family. I've also met women who had problems conceiving. I didn't want the latter happening to me. So my husband and I felt it necessary to get the show on the road.
We welcomed our daughter, Princess in August 2010 and our son, O, in 2013.
From the moment I laid eyes on our beautiful babies, I knew that things wouldn't be the same.
Our go-with-the-flow style living quickly changed to strategic daily planning with everything centered around our babies.
That meant little or no time for ourselves. In fact, we rarely had date nights and when we were alone, one of us (usually the hubs) would pass out. We were always exhausted.
Between work, school, and taking care of little ones, I felt like I was just going through the motions. There were moments when I was so tired I couldn't remember simple things. This went beyond having mommy brain. I'd be traveling on a highway with no idea of where I was or where I was going. My vision became blurry and I began having chest pains. Did I mention how cranky I'd get? It was insane.
The demands of parenting affected me in more ways than one. I also saw how much my husband was suffering from having to do so much. By the time I got home, he was usually knocked out on the couch.
We became two ships passing through the night and something had to change. Not only was I missing baby milestones, I was missing quality time with my husband too.
I knew that if this continued our marriage would suffer and there was no way we were going to let that happen. So we made a very important decision for me to quit my full time TV job.

It wasn't easy, but we did the right thing. My dreams of making it big in TV hasn't gone away just yet. I still grapple with my career choices. But in the end, I do believe I can still have it all - a solid marriage, time with my kids, and a successful career. But the reality is that it's impossible to have it all at once.
It's all about prioritizing. For me, my family comes first. I don't want to wake up one day divorced, wondering where we went wrong. I don't want to turn around and realize that our kids are in their 20s.
Instead, I choose to enjoy every waking moment with my family. A job may come and go, but a strong family unit will last a lifetime.
So whenever a young aspiring journalist asks me about career and family. I'll reply by asking what's more important to you, your career? Do you want a family? What kind of parent do you want to be?
The truth is everyone's goals are different. I've always wanted to be a hands on parent. I want to be there to help my kids with their homework and make it to all of their games. I couldn't imagine having a bicoastal marriage, although I've met people in the industry who've done it, none of which chose to have kids.
I've also spoke with parents who are fortunate to have a lot of help, whether hiring a nanny or support of family members. They've managed to make it work.
It all boils down to what's best for you and your family. When I resigned from my full time meteorologist position, my boss offered an opportunity to freelance. So I'm fortunate to still have a foot in the door and can return to work full time if I wanted to. Who knows, maybe I'll get another national gig someday.
While I haven't fulfilled my network dream again, I'm happy in my current situation. My husband and I are no longer two ships passing in the night. We've been able to enjoy some much needed quality time - not to mention, our kids are happy and I've got my sanity too.
Do you struggle between career, marriage, and family life? What's your biggest challenge?
Calling all HuffPost superfans!
Sign up for membership to become a founding member and help shape HuffPost's next chapter