The path to the Republican presidential nomination gets more and more difficult for candidates not named Donald Trump as time goes on. If the businessman wins most of the states in play on Super Tuesday, it will be hard for other candidates to win enough delegates to stop him.
That doesn't keep the speculation about the delegate math from running rampant across the Internet. Most of it focuses on Trump and Florida Sen. Marco Rubio, but similar scenarios can be created for all five remaining candidates.
The New York Times Upshot put out this great interactive for simulating delegate counts in the Republican presidential nomination contest, and provides a few examples of what could happen based on average support for each candidate and the delegates awarded for each state. Their first example shows Trump winning big on Super Tuesday, then continuing to ride that streak to the nomination.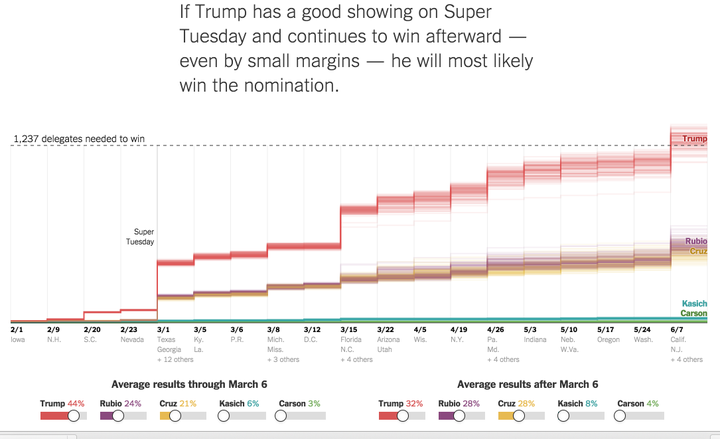 This is a fairly realistic scenario. It even assumes Trump loses a bit of support after March 6, dropping from an average of 44 percent support to an average of 32 percent support. In this hypothetical, Rubio, Texas Sen. Ted Cruz, Ohio Gov. John Kasich and retired neurosurgeon Ben Carson all stay in the race, but fail to stop Trump.
A second scenario, however, makes the argument that Rubio could compete -- even after losing all 12 states on Super Tuesday -- and win the nomination. Cruz drops out on March 2 in this scenario, although Kasich and Carson stay in. But note that in order for Rubio to beat Trump, his average support has to more than double, from 24 percent before March 2 to 50 percent after March 2. That means he would have to get all of Cruz's supporters, and then some.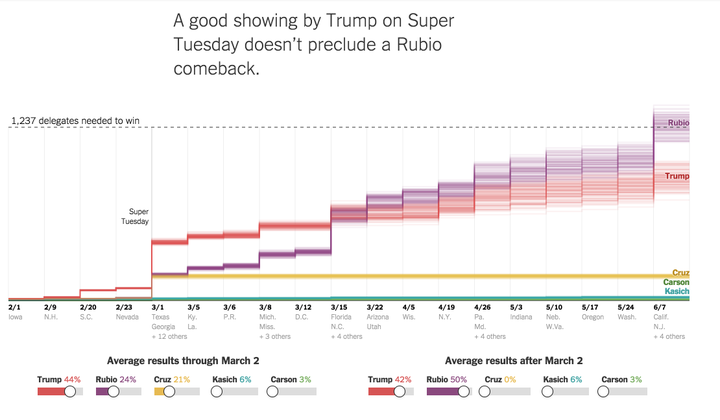 A shift in vote choices that large isn't impossible, but it's not very plausible either. If Trump wins big on Super Tuesday, he takes a lot of momentum with him. There would have to be a major shift in the race -- a substantial scandal or gaffe -- to push Cruz out of the race and ensure that Trump doesn't get any of his supporters. Rubio would need to win big in Florida and roll that into success in every subsequent state, including Trump's home state of New York.
The Upshot also includes a scenario in which Cruz makes a comeback -- which seems less plausible than Rubio's rise. Rubio would have to drop out before Florida on March 15, and Cruz would have to get all of Rubio's former supporters to jump from an average of 27 percent support to an average of 55 percent support. Kasich and Carson also drop out in this scenario.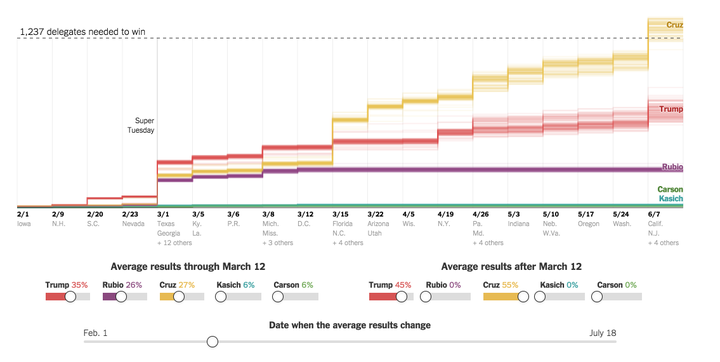 The interactive has a few more scenarios you can peruse, but also allows users to create their own. To demonstrate how these can be manipulated to make it look like any candidate can win, I devised scenarios for Kasich and Carson to win.
Kasich would have to immediately increase his average support nationally to 20 percent, including peeling off about 10 percent of Trump supporters. He could get away with that level until March 12, but would need to surge to an average of 50 percent support from then on. Still, it is possible for Kasich to win the nomination. As with the "Rubio and Cruz win" scenarios, there would have to be a major shift in the race to push Cruz or Rubio out of the race and ensure that everyone turns to Kasich.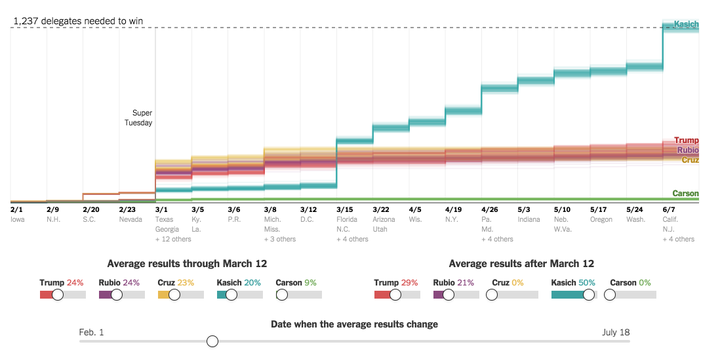 A similar scenario would work for Carson. Carson's support would have to immediately come up to 20 percent, then either Cruz or Rubio would have to drop out after March 12. If that happens, and Carson surges to an average of 50 percent support, he could lock down the nomination on June 7.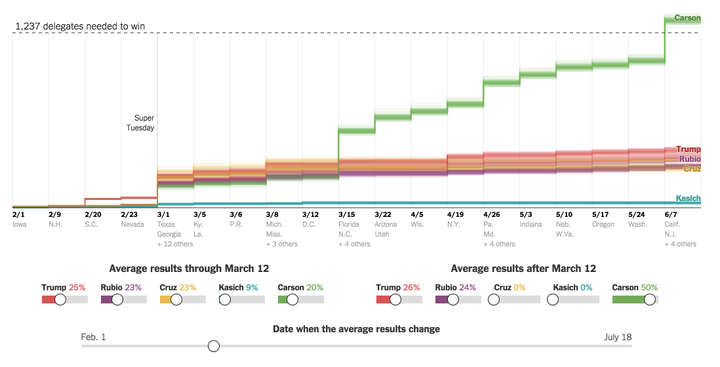 The race for delegates really is wide open at this point -- any candidate could still win. But the likelihood of a candidate winning gets pretty small if any one person runs the table on Super Tuesday. The most plausible scenarios are ones in which Trump wins, or there is no outright winner based on delegates. My final scenario has Cruz, Kasich and Carson dropping out after March 15, then Trump and Rubio tying after that point. Trump comes up just short of the delegates he needs to win, and we get a brokered convention.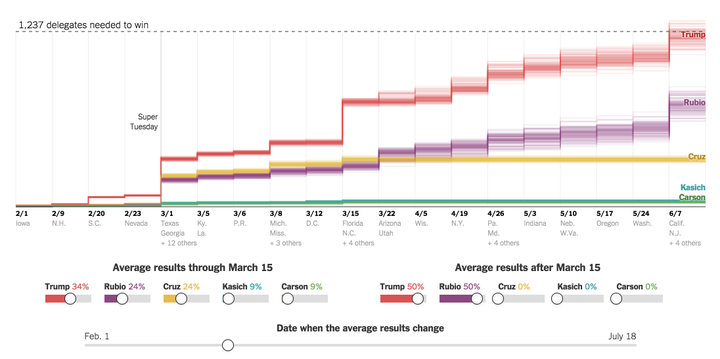 Popular in the Community