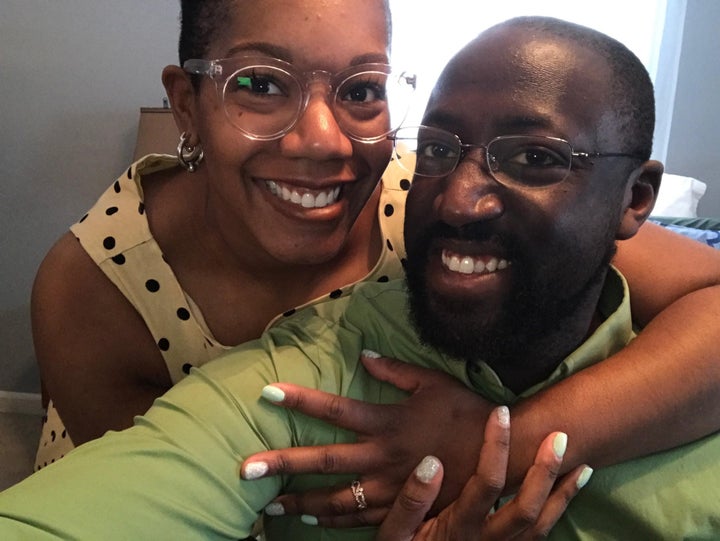 In the early afternoon of Thursday May 11th, I got an email from a colleague. First, she congratulated me on my upcoming book about the intersection of race and polyamory, then she congratulated me on my appearance in the New York Times. The piece, Is an Open Marriage a Happier Marriage?, had just been published that morning. The congrats were both a friendly greeting and a way to lead into the real content of the email while also saying, "I see you there, Kev. Doing big things."
The true purpose of the email was to ask if I'd be interested in taking part in a round table about family and parenting. Eventually, I would respond that I was indeed interested. But before I had a chance to even read that email, I received a second one from the same colleague. Delivered only eleven minutes after the first, it simply read "Oh my gosh, Kevin! I just read the article. You must be upset. I'm so sorry!" While this wasn't the way my day started, it pretty much encapsulated how the whole day went. Boundless excitement followed quickly by frustrating disappointment.
My wife and I contributed to Is an Open Marriage a Happier Marriage? because our names were thrown into consideration by Mark A. Michaels and Patricia Johnson, the authors of Designer Relationships: A Guide to Happy Monogamy, Positive Polyamory, and Optimistic Open Relationships. Mark and Patricia are familiar with the impact non-monogamy has on our family and our work regarding race and polyamory. Logically, they thought we'd offer some insightful perspective to such a piece. And what a mainstream piece! I'd be lying if I said that hadn't factored into my decision to participate. My Poly Role Models blog, while a fairly popular free resource, couldn't hope to hit the broadcast range of even the lowliest New York Times article. An increased readership could help countless people find their way to and through ethical non-monogamy.
Unfortunately, any perspective I could add or range I could reach is buried beneath a sad story of floundering marriages. To be clear, the sad story of floundering marriages are both valid and valuable. My work definitely covers that as well. But it covers more than that...and therein lies the problem.
Is an Open Marriage a Happier Marriage? is predominantly the story of a married couple, Elizabeth and Daniel, who have grown dissatisfied in their lives together. Their mismatched libidos create an unbearable strain on what was otherwise a happy union. If you've ever been in a similar situation, you understand. Sexual incompatibility is such a weighty factor that it can severely hamper strong relationships; even if it's the sole stressor. In response to the growing displeasure, Daniel researched ethical non-monogamy and discussed it with his wife. What followed was not ethical non-monogamy.
Elizabeth shot the idea down, only to find romance with a new fellow anyway. First, behind her husband's back, then to his face without his willful participation despite his pain. The guy Elizabeth took up with? He was also unhappily married and cheating on his spouse. He didn't even have the benefit of an unresolved conversation about the vague possibility of opening his marriage to use as a justification. Look, I'm not judging. Unreasonable expectations of exclusivity in the face of incompatible sex drives need to be discussed. Partners that come to ethical non-monogamy by way of infidelity needs to be discussed. These are already being discussed. In fact, the idea that ethical and consensual non-monogamy are just the product of unhappy marriages is already the predominant narrative. We've heard these stories before. They get pushed out to mainstream media every few months and frankly it's gotten boring.
It's clear that Susan Dominus has a specific story that she is trying to tell. But I question who that really serves. The non-monogamous newcomers, who don't fit this couple-centric view, won't find any love here. In this article, they are either outsiders or at the whim of a shaky marriage that views them as a crutch. Even those who do fit in the coupled model, on display here, don't have much to look forward to. The stable and happy couples featured are virtually voiceless in this article. What little speech we're given is limited to seemingly reluctant acceptance of the situation we've found ourselves in.
The name of the article challenges the traditional views on marriage with the idea of a happier alternative. So, where was that? I know you're not supposed to read the comments section, but I did. What I found was dozens of people remarking about how unhappy people are in open marriages, how easy it is to spot which partner is into it and which is just going along with it, how it's all just about finding excuses to cheat. That's the story these readers came into this article believing. With all of it's sad photos and stories of even sadder partnerships, those readers are left with a pretty solid confirmation of their pre-established attitudes. For those with lived experience inside of ethical non-monogamy, we are left with yet another narrowed view on a life we know to be both varied and vibrant.
As someone who provides a platform for dozens of true accounts of ethical non-monogamy, I've learned that each one resonates with those who need to find themselves and their experiences validated. Obviously, you can't tell every story in a single article but then why gather a wealth of resources that serve to expand the perspective? Authors like Eve Rickert, Franklin Veaux, Patricia Johnson, and Mark Michaels were all consulted and left out. Twelve thousand words are a lot of space to flesh out an idea. Especially with tons of time and energy spent on taking photos of the whole shebang. With the bulk of the content focused on un-photographed people using aliases, why were our names and faces used, only to ignore our observations?
Now, I'm not flat out saying that my wife and I are only included as token people of color. I am challenging anyone to show me what the difference would be if we were. Our voices are mostly unused, but our faces are pretty prominent in a photo that shocked the people in our lives. One friend said it is the saddest they've ever seen either of us look. Another said that, without context, they would've believed all of the photos to be from a story about divorce. A visual storyline to match the narrative of non-exclusive but unsatisfying marriages.
In the case of sexuality, the article is almost devoid of mentions, except in regard to the single gay couple, Logan and Robert. Though there was valuable insight in the bit of text dedicated to their perspective, their voices were mostly left out as well. In an article that read as extremely heteronormative, there were no occurrences of the words "lesbian", "bisexual", "pansexual", "queer", or "trans". There were six mentions of the word "gay". Five in a single paragraph containing a reference to gay advice columnist Dan Savage and the two sentences from one of that couple's husbands. The sixth "gay" is some dude's name. Again, maybe Logan and Robert are not included as token LGBT representation. But how would it have looked differently otherwise?
What we're missing is proper representation. Better representation. At least better than having our identities used as a prop to tell a story that doesn't see us or accurately reflect us. At least better than an edgy title that doesn't even bother to get out of it's own way. By which I mean, letting a story write itself with the pieces you put together. A great example of which would be Daniel Krieger's Polyamorous People feature for Narratively's People of Interest series. In which, Krieger trusted his subjects to be both interesting and honest without trying to force either. The results are a much wider set of experiences, along a broader range of personal identities, done in roughly a quarter of the word count.
The ideal solution to any of our image problems is simply to tell our own stories. Non-monogamy already bucks convention by its very nature. We come from all walks of life and practice our lifestyles in countlessly diverse ways. We don't need to be made into a compelling story. We already are. The story isn't how we exist, it's that we exist. All we need to do is open our mouths to speak our own truths. When someone on the outside of us attempts to speak for us, regardless of the platform, they carry in their preconceived notions and worse, they carry their desire to shoehorn us into those notions. While I thank and appreciate the New York Times for trying, what they gave us was not nearly what was promised or expected or needed.
But, hey, I guess it could be worse. At least there weren't any stock photos of three pairs of white feet sticking out from under a white duvet.
Kevin Patterson may be contacted at polyrolemodels@gmail.com
Related