As a professor at Univ. of Kansas (KU), I perform research all year long, but as I don't have classes to teach in the summer, it is more intensive with research projects. Our KU group is part of the CMS Collaboration that works with a detector of the same name collecting particle physics data from the Large Hadron Collider at the CERN laboratory near Geneva, Switzerland. The Collaboration seeks to finish results to present at summer conferences prior to their expected publication in a scientific journal that has gone through peer review. Just last week, there was the Division of Particles and Fields of the American Physical Society conference at Fermi National Accelerator Laboratory (FNAL) near Chicago. Here, the results of the incredibly hard work of thousands of researchers are publicly shown. For the CMS Collaboration, there are around 2500 people from institutes in over 40 countries who are authors on every paper that we publish for the refereed journals. Normally that number counts the "physicists" in the collaboration which includes professors, postdoctoral researchers (postdocs), and Ph.D. graduate students. There are also full time research personnel from different laboratories, such as FNAL in the U.S. Postdocs are full time researchers which have already earned their Ph.D. and are the workhorses for the collaboration. They hold similar positions to medical residents at hospitals and are not necessarily paid a lot to do their important work. Most of our KU postdocs are resident at CERN and not at KU. Some of our graduate students have finished their coursework and also work full time on research and work either at KU or CERN.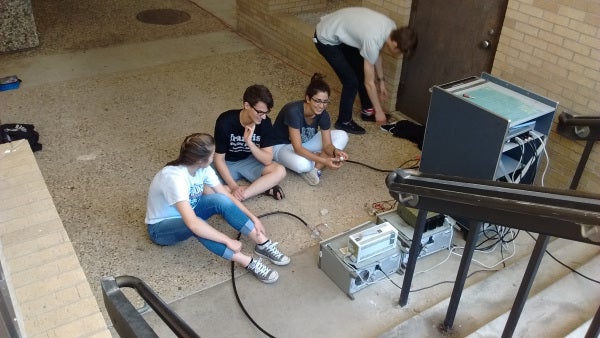 At KU, in addition to graduate students, our group also hires undergraduate researchers who are particularly active during the summer months. We sent a couple of them to CERN this summer to join our postdocs who supervise them in research tasks. The rest got to work with me and other faculty in Kansas. I particularly enjoy the high school students that join us in projects during the summer. Many particle physics research groups across the U.S. are lucky to have funding from the National Science Foundation QuarkNet program which is helping to develop America's technological workforce. Here, high school physics teachers and their students work together with university researchers on projects. At KU, we had 16 students this summer including a couple who worked with me. We had many more extraordinary applicants for the program than we could support. One student helped to develop a cable tester for CMS, and another helped to program a phone app called Shape Sleuth for our Quarked project. Some other QuarkNet students helped to make a CubeSat to launch or ground receivers to study cosmic rays. There is lots of comradery between the high school students, the high school teachers, the undergraduates, the grad students, the postdocs (via videoconference) as well as the faculty. So it has been a fun summer with all the work with the students and we have gotten some research done and I'm reminded that we have a bright future ahead of us with all of these incredibly talented people of the younger generation.
Calling all HuffPost superfans!
Sign up for membership to become a founding member and help shape HuffPost's next chapter
This post was published on the now-closed HuffPost Contributor platform. Contributors control their own work and posted freely to our site. If you need to flag this entry as abusive,
send us an email
.