It's no secret that residential brands such as West Elm, CB2, Crate & Barrel, and Restoration Hardware are rapidly becoming part of the "new normal" in contract furniture specifications, but why are specifiers turning away from contract furniture to these residential brands, and is this shift bad or good for our industry?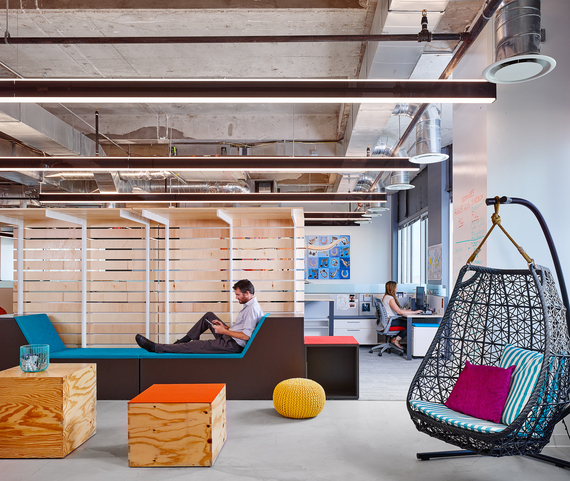 KSM South offices in Austin. Designer: Harley Ellis Devereaux. Furniture Dealer: Henricksen. Photography: by Casey Dunn

What is driving this movement?
2. Demand for Casual Spaces, Lower Price Points & Familiarity
As workstations are shrinking and more space is being dedicated to common areas, there is simply an increasing demand for more casual furniture with a home-like feel. Russell Frees, Executive Vice President at Henricksen, a contract furniture dealer with offices in the Midwest and East Coast, says, "The third space - the space with a living room feel - has become a much big component of the contract space. As designers are looking at how they can make a comfortable work setting at an affordable price point and create a cozier, more relaxed feeling, they turn to what they know: well branded residential furniture."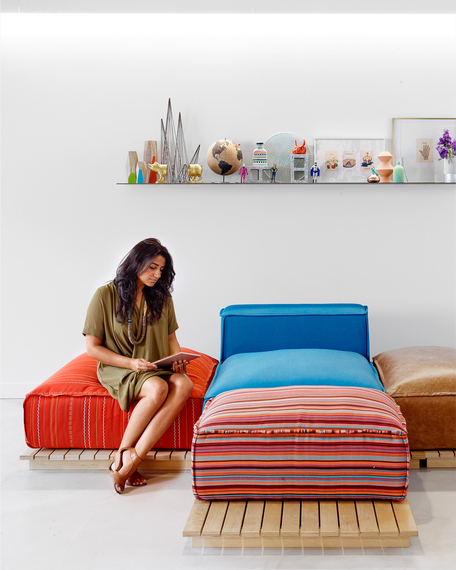 KSM South offices in Austin. Designer: Harley Ellis Devereaux. Furniture Dealer: Henricksen. Photography: by
Casey Dunn
2. Talent Acquisition
Companies are seeing their workspace have a direct impact on their ability to attract talented new employees. Frees says, "The cooler the space is, the easier it is to attract top talent. New generations entering the workforce work differently. If you go to a college campus, they don't have study carrels in libraries anymore. College students and even high schoolers are used to studying and working very differently. The office landscape is shifting to reflect that." Moreover, Sandi Jacobs, CEO of Sidemark, a West Coast dealership, had a revealing discussion with a client recently, which suggests a second aspect of talent acquisition may, in fact, be a reason that clients are gravitating toward the lower price points of retail furniture. Jacobs says, "I had a conversation with a client who is in the process of building a new campus here in the Bay area who said, 'My company needs to dedicate our capital funds to invest in talent and product development. The companies with the best of those wins.'"
3. Shortened Leases
With economic uncertainty and a robust start-up culture, now people aren't looking to buy furniture for 20 years; they are looking for things to last as long as their leases, which are getting shorter. Jacobs says, "My analogy internally is that companies used to buy furniture like they buy homes. They wanted it to depreciate over time. Now they really want the lowest entry cost. They want it to be cool, hip, and in line with what is going on in the market now. Then, they want to be able to walk away when the lease is over in three to five years because it costs more to move the furniture than it did to purchase it." Frees echoes this, saying, "The length of typical leases is getting shorter. They are now three to five years, maybe seven, but companies no longer expect their lease or their furniture to last for ten to twelve years. We are in an ever-evolving kind of market and world now that makes owners a bit more apprehensive to sign a long term deal."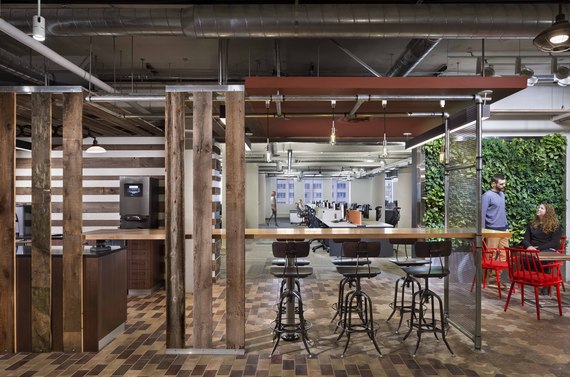 Fieldglass offices in Chicago: Designer: NELSON. Furniture Dealer: Henricksen. Photography: by Jamie Padgett, Padgett and Company

This begs the question: is this shift bad or good for our industry?
Of course, the answer is not quite so simple. It is clear that there is something missing from the contract furniture market: a need that is increasingly being filled by retail manufacturers. Most would agree that we should be aware of the implications of this movement.
Obviously these retail selections are frequently made due to the desire for a lower price point, but there is a tradeoff with quality and warranties. Jacobs says, "Many are simply trying to get a lot for their money. However, residential and retail grade furniture is not built to the BIFMA standards of commercial furniture. As these companies figure out that they have the ability to sell to the commercial market they are providing discounts for dealerships like Sidemark, but it's nothing like the bundled discounts we get from a contract manufacturer. Still, the product is 1/3 of the price, and sometimes that's all that matter ... but the warranty question always comes up. For the most part this furniture is priced to the point where it is cheaper to simply replace it. Residential quality furniture does not have the durability that commercial furniture has. It is competing with the major manufacturers that have ten-year to lifetime warranties. Sidemark is at times buying online product for clients that is not warrantied at all."
For contract dealerships, the retail furniture influence is causing some shifts in the dealer business model. Frees shares, "Because retail websites don't have a model that is structured for the contract segment, these retail transactions require a lot more resources to specify and track orders. As much as possible, we try to vet out manufacturers before we place an order. Many of them are just a brand getting made somewhere else. None of those products are on CAP or in automated pull-down spec sheets. The orders are placed over the phone, via e-mail quote, or at times even handwritten. This means that there is more room for error. Contract manufacturers have products on CAP. We specify, download, and order. It's foolproof."
Jacobs shares some of the shifts in Sidemark's model, "Many dealerships have created a role of merchandiser or ancillary specialists because it is a lot of online searching. Right now we are searching for wood stump coffee tables. We go in and Google, compare prices, and reach out to companies to see if there are volume discounts. There are lots of resource and internal hours invested. This started ten years ago when we began sourcing ping pong tables and billiard machines. Now rather than having multiple people using that time, we centralize it to one person or department who can streamline the process." Much effort is being focused on creating new expectations with clients and specifiers alike. Jacobs says, "One of the things we do up front is set the expectation that with commercial-grade product we are full service. We pick it up, we fix it. With all this other stuff, it breaks, you pay to replace it."
As we navigate through a time of great change in our industry, it highlights new opportunities for innovation in the contract furniture segment. Jacobs closes with this thought, "The furniture industry is built on an old model. There really hasn't been much disruption. If the biggest disruption is that people are ordering on West Elm online, that's not much. Really our entire model is built on just-in-time manufacturing. They source raw goods when they get the PO and it is custom-built. That's what gives clients unlimited choice. Where is the middle ground between just-in-time manufacturing with ultimate customization and ordering online or going to IKEA? I think the manufacturers are starting to address this, but overall there's nothing filling that gap right now." Perhaps this is a call to the industry that there's a huge opportunity for innovation.

This article originally published in Office Insight on April 11, 2016. It is republished here with permission.
Related
Popular in the Community