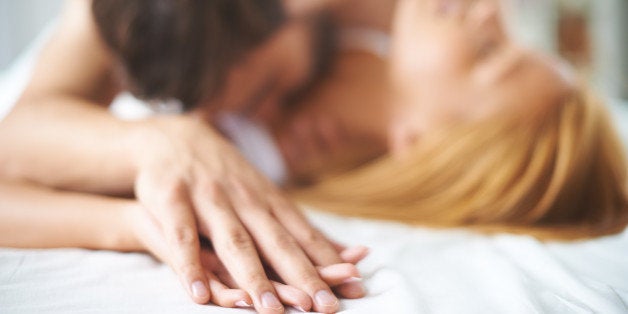 When my in-laws found out that I write a sex toy review blog under my legal name, their reactions were mixed. My mother-in-law asked if I believed in the G-spot, and if I practiced my kegels regularly (yes, and not as often as I should, respectively). Meanwhile, my father-in-law turned a bit red, drawled his signature "Oohhhh-kay . . ." and asked what I planned to do about getting a real job.
My father-in-law is definitely not the only person to consider this a catastrophic personal and professional decision. But it's been worth it for me--not just for the free dildos, but because of the lessons I've learned about pleasure, consent, and self-care.

How to Talk About Pleasure
Before I started putting into words what I liked and didn't like about a sex toy, I wasn't really communicating my desires in my everyday sex life either. Phrases like, "I want you to" or "___ feels amazing," weren't in my vocabulary. Instead, I just let my partner wander aimlessly about the topography of my body, hoping they got something right.
Like many people, I sometimes have a hard time asking for what I want. It's not that I was raised to be placid and demure--quite the opposite, actually. I felt comfortable stating my opinions about books, movies, and later, politics. I learned how to rebuke unwanted and inappropriate attention (such a disturbing thing to have to practice at age 10). I even found it easy to talk with my friends about sex, swapping stories and trading tips. But nobody taught me how to ask for what I wanted in the bedroom specifically. Sure, I had sex ed in school, but the focus was purely on STI and pregnancy prevention, not pleasure.
It was easy to start by critiquing sex toys: They didn't have feelings, they weren't listening to me, and my pleasure was the explicit focus of the experience.
In my early reviews, I was tempted to say things like, "If you have a clitoris, you need this vibrator!" The fact is, one toy will never work for every single person with the same piece of anatomy, and it does everyone a disservice when you pretend otherwise. If this supposedly magical, perfect device doesn't work for someone, it alienates that person and can even close down their willingness to communicate about pleasure. Once some blogging friends pointed this out to me, I started challenging myself to describe toy use and physical sensation more specifically.
Nowadays, I can tell you specifically what works for me 99% of the time: I love pinpoint clitoral stimulation. I prefer strong and rumbly motors over buzzy ones, and I like to use most of my toys at about 75% power. I strongly prefer silicone to ABS plastic or glass, though all three are body-safe.
I can also tell you who might love a particular toy even if I didn't. A super-strong, mains-powered wand would work amazingly well for someone who likes broad stimulation and craves more power than most other vibrators can provide. The ultra filling girth and dual-density realism of a toy like Vixen Creations VixSkin Maverick would be fantastic for someone who's enamored of phalluses of a certain size.
Part of this comes from having tried, at my best estimate, about 75 different sex toys in the last four years. But beyond simple experience, I had to figure out the best ways to communicate useful information to my readers that struck a balance between informative and erotic.
Once you're writing things like, "By rocking this dildo up and down against my G-spot, I unlocked some seriously powerful orgasms," it becomes a lot easier to get specific when you're between the sheets with a partner. "Ooh, that's good," becomes, "Okay, go slowly against the left side of my clit." Which of those directives is more helpful?

Body-Safe Materials And Vaginal Health
My first foray into the world of sex toys was through a multi-level marketing home party company back in 2011. I hosted a party in my first off-campus apartment just a few days before my male roommates were scheduled to move in. I had a great time at the party and couldn't wait for my goodies to arrive. By the time I received my rabbit vibrator in the mail, I had decided to sign up as a consultant, believing that I would finally get to talk about sex and make some extra money at the same time.
The company had been founded to combat the shame of buying sex toys from a "seedy adult store." If anyone objected, we sold "marital aids." Every so often, a passing reference was made to lesbian couples, but the vast majority of the material was geared toward heterosexual couples looking to spice up their relationship. That's how we packaged female sexuality.
If you were to leaf through a catalog of that company's products at the time, about 80% of the toys would have been made of jelly or softened PVC. The problem with these materials is that they're porous and they contain phthalates. A porous toy can never be completely cleaned, even with the overpriced toy cleaner that we were pushed to sell with every purchase. As a result, it can harbor bacteria and viruses, leaving the user with recurring infections. Phthalates are used to soften hard plastics like PVC and are believed to be endocrine disruptors. Of course, we were not given any kind of information on material safety.
The training that we received on lubes came in the form of a single table that showed compatibility or lack thereof between our lubricants and various materials. The water-based lubricant was effectively no better than Astroglide, but was being sold for something like $16 a bottle (because pyramid scheme). We also sold a creamy, flavored, emollient lubricant, which is a vaginal disaster waiting to happen.
If this seems suspicious, keep in mind that there are no government regulations on sex toys. This means that a company can use just about any material with any concentration of phthalates or potentially toxic coloring agents. Moreover, there is no regulation for what is labeled as silicone, so it's advised to shop with companies that have proven themselves trustworthy. While regulations exist on lubricants, they are not so broad as to cover often-problematic ingredients like glycerine and parabens, not to mention osmolality. (If you didn't know what half those words meant, you can find a great explanation of the science of lubricants at Bad Vibes.)
I found all of this out the hard way, after I suffered both a UTI and bacterial vaginosis at the same time. After a trip to my gynecologist, I started looking into the company's lubricants and from there I fell down the rabbit hole. I discovered Hey Epiphora and Dangerous Lilly, two bloggers who cared a lot about what their pleasure products were made of. Soon I learned that the products I had on hand were more like ticking time bombs than intimacy enhancers. The brightly colored, candy-flavored version of female sexuality I was selling--and that was being sold to me--was actually extremely unfriendly to the real live female body.
Since 2010, the market has changed. It's not because there's been a change in regulations--instead, it's down to consumer awareness, and women and other folks voting with their dollars. Sex toys have become more mainstream, so safety information has become more accessible. Some larger companies are even developing affordable silicone lines. It's undeniable that there exists class privilege in the purchase of body-safe sex toys, but we're getting there.
But one thing I've learned is that no official regulatory organization cares enough about our health to make sure that our sex toys aren't a vagina's worst nightmare. We have had to effect these changes ourselves, advocating for safer sex toys and higher quality lube, and encouraging women to take an active role in their sexual health--not just being informed about birth control and scheduling regular STI screenings, but learning how to choose products that are good for their bodies.
I Am An Authority, And So Are You
Which brings me to the greatest lesson I've learned: I'm an authority, and so are you.
I used to assume that, if my partner had more sexual experience than I did, they would automatically know what to do during sex. If I wasn't enjoying it, that must be my problem, not theirs.
Saying yes to--or staying silent about--things I didn't enjoy ultimately did both myself and my partners a great disservice. It treads the murkier waters of consent, where no one is ignoring a protestation but there's no joy in it either.
It took a long time for me to stop saying yes simply because I thought I should. Now, yes is given on my terms, while my partner consents on theirs. We might have less sex than someone else thinks we should, but we always have sex that we both want to be having.
To be clear, I had had sex before that was completely consensual, but in which consent wasn't discussed. I don't think that's inherently wrong. I do think that clear, enthusiastic consent is a great thing to encourage and aim for. With clear, enthusiastic consent, you open the channels for sexual communication.
Communication can take good sex and make it great sex. While you can absolutely learn confidence and new moves by having a variety of partners over the course of your life, it doesn't mean that you'll be able to just jump in and please anyone immediately. There's foundation knowledge, like how to stroke the G-spot, and then there are the kinds of particular, nuanced moves that individual bodies like.
A partner who spends time getting to know your body can learn a lot about it, but they'll never be able to experience your pleasure firsthand. Each of us is the number one authority on our own bodies. You might not know it yet, depending on how much time you've spent exploring your own body, but you are the expert. And for me, nothing made me learn to embrace my own expertise more than using and writing about toys.
Calling all HuffPost superfans!
Sign up for membership to become a founding member and help shape HuffPost's next chapter