There are moments in our lives that serve as major turning points, causing us to reassess what is truly important. Phil Reitnour has had a couple of those events, starting with the death of his beloved wife after a four-year battle with breast cancer. In her final days, Phil made a promise that he would protect their four children and keep them safe.
That promise was put to the test a few years ago when Phil and his children were attending the Shane Victorino Golf Benefit in Maui. It was late at night when Phil and the kids left the event, and the road back to their hotel was a darkened 4 lane highway sitting in the shadow of sugarcane fields on either side. Phil had barely turned onto the road when a red pickup truck came out of nowhere and tried to force his vehicle off the road. Surprise turned to terror for the family as the driver of the truck continued his road rage assault for a full 20 minutes.
The driver of the truck spent that time cutting in front of Phil's car in a manner that caused Phil to brake hard and swerve in order to avoid contact. Nothing that Phil did behind the wheel of his vehicle deterred the other driver, as he seemed determined on making Phil stop his car for a confrontation. Disregarding the fact that he may cause a major accident. Phil had no idea if the truck driver was drunk, angry or borderline insane, but he did know that help was needed to ensure safety for his family.
A resident of Pennsylvania, Phil was unfamiliar with the roadways of Maui, so he couldn't place a call to 911 letting them know where to send help. Even if he did know the coordinates of his location, making the call would still have been challenging given that he was focused on maintaining control of the car. Phil knew that the only way out of the situation was to find some help. The family finally found it in the form of an EMS crew who had pulled into a safe parking lot for a coffee break. The truck driver followed them into the lot, hovering behind the bank in the drive through lane. It wasn't until Phil reach the EMS crew and pointed in the direction of the truck that the driver finally decided it was time to leave, albeit at blazing high speeds as he peeled off into the the dark night.
That incident made it clear to Phil and his kids that there needed to be a better way to find and receive help quickly. With more than 70% of 911 calls being made from a wireless device, Phil set out on a personal journey to improve our nation's emergency preparedness system by providing security operators and first responders with key information, situational awareness, and location data, even while in a moving vehicle.
His solution was to create a next generation 911 solution by developing a personal safety mobile application -- EmergenSee. Using features already built into smartphones, the app easily transmits live streaming video directly to your own trusted safety contacts, Professional Security Partners and Professional Monitoring Agents while tracking your GPS location and "breadcrumb" movements to reduce response times by half. EmergenSee also provides a secured time stamped video recording of the incident that documents not only road rage incidents but other potentially dangerous situations such as bullying, domestic violence, and physical assaults. These features and benefits are supported by EmergenSee's own Backend Command Center that works closely with government agencies, operating 24 hours a day and 365 days a year.
In addition, universities and Enterprise Security Partners can setup geo-fencing around their entire campus to monitor and respond to a variety of situations. For example, precautionary safety escorts can be dispatched to a concerned student walking through the quad or parking lots until he/she feels safe. Furthermore, security administrators can use the Mass Broadcast Notification System to easily communicate critical life saving information to their entire community within seconds.
As Phil Reitnour learned on that fateful night in Hawaii, danger can strike at anytime or anywhere. However, with the proliferation of inexpensive yet effective mobile technologies like GPS and advanced sensors, we can leverage the information available at our fingertips to help expedite response times and increase situational awareness. In the connected and digital age in which we live, there are more opportunities than ever to react, locate and rescue those impacted by emergency and disaster situations.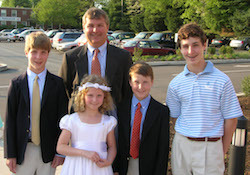 EmergenSee is a 2015 Powerful Answers Award $500,000 Winner and is participating in the Powerful Answers Accelerator program at BootUp Academy. This program is designed to strategically accelerate companies' growth through intensive workshops and knowledge exchange sessions that provide best practices in business planning, product development, UX/UI design, global go-to-market strategies, communications, financing and growth hacking.
Related
Popular in the Community