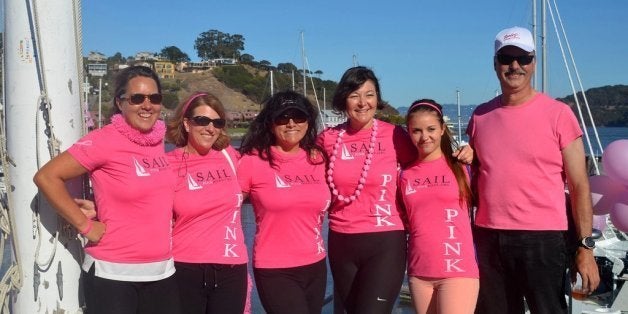 I came to Seattle by way of California, and before that, Winnipeg, where I was born and grew up. I was adopted at birth, and met my biological mother when I was 19 years old -- well after her first diagnosis, treatment and remission from breast cancer at age 38. It really didn't register at the time how close I came to never having known my mother, who's now the closest thing I have to a sister and best friend.
Four years ago in Seattle, I stepped foot on a sailboat for the first time and never looked back. Sailing, and particularly racing, taught me a lot about who I am and what kind of life I want. It taught me how to be fearless when it mattered most, in a sport where safety coming first means the ability to react when you might be exhausted, cold, wet or just plain terrified by the conditions. I fell in love with it, and started getting involved any way that I could.
Just two years later, I found myself competing in a world-class regatta at one of the best sailing venues in the world, the San Francisco Bay. It was there I met a local sailor preparing to sail around the world in support of breast cancer research. Coincidentally, I had also just received the news that my mother had been diagnosed with breast cancer for the second time. This time, it was very real. She was my mother now, and I was present to experience it with her. Needless to say, finding out about an opportunity to be part of something which combined my passion for sailing and a cause so close to my own heart and family struck a chord. My crew and I went back down to SF to participate in the first pink boat regatta the following month and had so much fun, we knew it had to come to Seattle.
Nine months later, 50 boats showed up for the first annual pink boat regatta in Seattle, donning more pink than the Puget Sound has ever seen. One crew re-configured an old pink spinnaker into a "bra-zinnaker." Another raced with a crew made up almost exclusively of breast cancer survivors. The boat to take home the 'pinkest boat award' had spent countless hours applying pink duct tape to the entire hull. To this day, their mainsail still displays a pink ribbon. My own mother flew in from Northwestern Ontario, Canada at the last minute, post-double mastectomy and between rounds of chemotherapy, to take part in the festivities. That first year, she stood by me, beautiful and strong, as our sailing community raised an unprecedented $36,000.
Fast-forward just a few months later, when the nonprofit we had been working through fell apart and dissolved. As it stood, the regatta would end with it. This seemed ridiculous. "This regatta deserves to continue," I stressed to my yacht club. "It's making an impact and our community will support it." This was nevertheless asking the club to take a sizable risk, financially and otherwise. I promised we would break even while donating 100% of net proceeds. I was allowed to proceed with the regatta essentially on probation. I got in touch with The Breast Cancer Research Foundation, an organization that donates 91 cents of every dollar spent to research and awareness, and set up a fundraising page. Letters started going out eight months prior to the event, but getting sponsors seemed nearly impossible. There was a certain amount of skepticism surrounding the upheaval of the previous organization and we needed to prove the regatta would stand on its own and be better than ever. I was getting frustrated.
Then, it happened. One by one, slowly but surely, the requests started coming in. Our race leaders from the year prior and a survivor used their own company to sponsor the venue. A local sailmaker stepped up to pay for the band. Community members with big, fancy yachts asked (asked!) to volunteer as spectator boats for survivors and donors who preferred not to sail. The local printmaker called to ask if he could make banners and stickers for us free of charge -- he had recently lost a dear friend. LUNA bar called from California and asked to "send a few LUNA bars our way." We received more than 400 of them. Most of all, though, the participants kept the event going.
There were fierce fundraising battles and clever schemes to help generate donations. People showed up entirely in pink to other local races in support of the upcoming regatta. The event took on a life of its own, and it was one of a community already passionate for sailing, standing together to be passionate about sailing to help end breast cancer. We had raised more than $30,000 before a single boat hit the race course, and by last count, the September 2013 event has raised over $39,000.
This year, we added a 'spirit award.' One of our race participants painted the names of each loved one whose life had been lost to breast cancer on their mainsail. During a day of laughter, festivities, and pink ridiculousness, it was perhaps the best reminder of why this event needs to continue making an impact, and why I refused to let it die. Next year, we're going to do this thing again, and it's going to be better than ever. Too many of us have a mother like mine, and I just happen to be fortunate enough she is still here to stand with me as we fight. I hope one day maybe neither of us will need to anymore.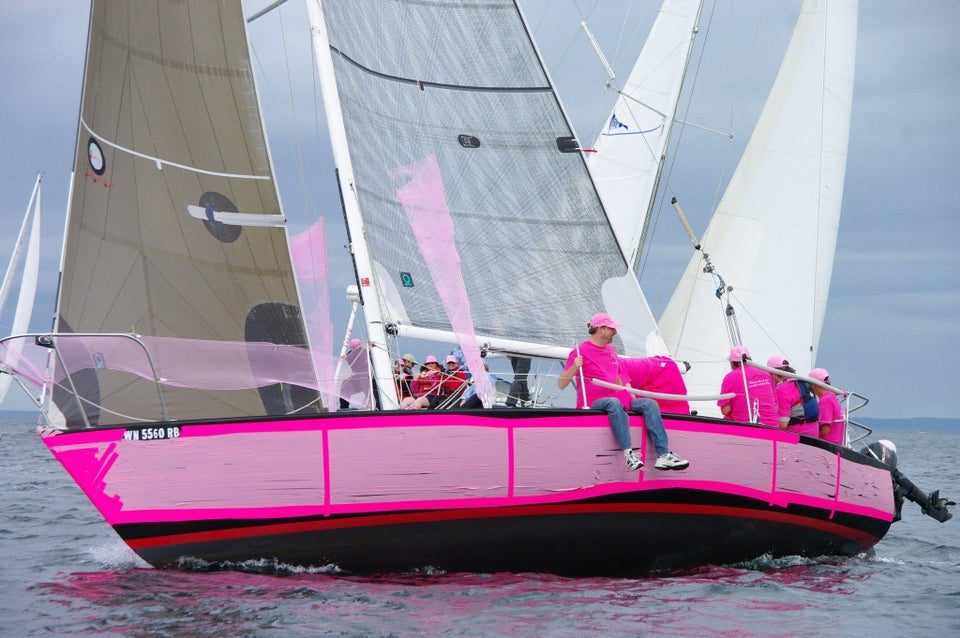 Pink Boat Regatta
Support HuffPost
The Stakes Have Never Been Higher
Related
Popular in the Community